Xiaomi Redmi Note 5 Pro vs. Mi A1: MIUI takes on Android One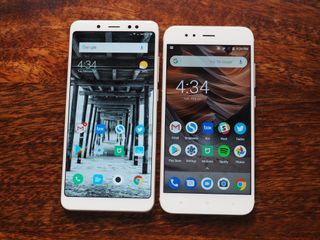 Xiaomi surged up the ranks in India last year on the back of a flurry of launches in the budget segment. The first in that wave of devices was the Mi A1, which is unlike any other Xiaomi device previously released. Instead of the standard MIUI, Xiaomi teamed up with Google to bring Android One to the device, resulting in a device with a gorgeous metallic design paired with pure Android.
The Chinese manufacturer hasn't divulged Mi A1 sales figures, so we don't really know how many units have made their way to end-users. But if one infamous poll is to be believed, there's considerable interest in Android One over MIUI, at least for a subset of Xiaomi customers.
For its part, the Mi A1 was one of the best — if not the best — budget phone of 2017, thanks to its design, software experience, and blazing-fast performance. With the Redmi Note 5 Pro looking like a strong contender for the best budget phone of 2018, it's time to see how the Mi A1 has fared over the last six months and if it's a worthy challenger to Xiaomi's latest budget phone.
Xiaomi Redmi Note 5 Pro vs. Mi A1: Specs
Swipe to scroll horizontally
Category
Redmi Note 5 Pro
Mi A1
Operating System
MIUI 9.2 based on Android 7.1.1 Nougat
Android 8.0 Oreo
Display
5.99-inch 18:9 FHD+ (2160x1080) IPS LCD panel
403ppi pixel density
450nits maximum brightness
5.5-inch 1080p (1920x1080) IPS LCD panel
401ppi pixel density
SoC
Octa-core Qualcomm Snapdragon 636
Eight Kryo 260 cores up to 1.8GHz
14nm
Octa-core Qualcomm Snapdragon 625
Eight Cortex A53 cores at 2.0GHz
14nm
GPU
Adreno 509
Adreno 506
RAM
4GB/6GB
4GB
Storage
64GB/64GB
microSD slot up to 128GB
64GB
microSD slot up to 128GB
Rear camera
12MP with 1.25um pixel size and f/2.2 lens + 5MP with 1.12um pixel size and f/2.0 lens
PDAF, LED flash
1080p video recording
12MP with f/2.2, 1.25um pixels + 12MP telephoto f/2.6 and 1.1um pixels
Dual-tone flash, PDAF
4K@30fps
Front shooter
20MP with LED Selfie light
1080p video recording
Beautify 4.0
5MP with f/2.0 lens
1080p video recording
Connectivity
LTE with VoLTE
Wi-Fi 802.11 ac, Bluetooth 5.0, GPS, GLONASS
Micro-USB, 3.5mm audio jack, IR blaster
LTE with VoLTE
Wi-Fi 802.11 ac, Bluetooth 4.2, GPS, GLONASS
USB-C, IR blaster, 3.5mm jack
Networks
LTE: 1/3/5/40/41
LTE: 1/3/5/7/8/20/38/40
Battery
4000mAh battery
5V/2A over MicroUSB
3080mAh battery
5V/2A over USB-C
Fingerprint
Rear fingerprint sensor
Rear fingerprint sensor
Dimensions
158.6 × 75.4 × 8.05mm
155.4 x 75.8 x 7.3mm
Weight
181g
165g
Colors
Gold, Rose Gold, Blue, Black
Black, Gold, Rose Gold, Red
Where both are evenly matched
From the very beginning, Xiaomi's focus on build quality allowed it to stand out in the budget segment. At a time when the category was rife with plasticky phones with shoddy construction and materials that flexed under pressure, Xiaomi introduced all-metal designs with an alluring design and outstanding build quality.
That reliance on quality paid off handsomely for the brand, and with the Redmi Note 5 Pro, Xiaomi is introducing even more rigorous quality control to minimize hardware defects. Sure, the Redmi Note 5 Pro is essentially using the same design language as the two-year-old Redmi Note 3, and while the aesthetic is starting to look stale, it is one of the most well-built phones available in this segment.
Out of the two, the Mi A1 looks more premium, and that's down to the design at the back. Both phones have been inspired by iPhone designs — the Mi A1 has the antenna lines from the iPhone 7, and the Redmi Note 5 Pro has the same camera arrangement as the iPhone X. But as we're seeing more and more often, if it's a popular design, phone manufacturers are going to steal the idea.
Image 1 of 5
Both the Redmi Note 5 Pro and the Mi A1 have dual cameras at the back, but the former has the sensors arranged vertically whereas the latter features a horizontal configuration. Although both devices have dual cameras, the secondary sensor plays different roles in each — the Mi A1 has a telephoto lens and the Redmi Note 5 Pro features a depth-sensing module.
Xiaomi is one of the few manufacturers to offer IR blasters across its range of devices, and both the Redmi Note 5 Pro and the Mi A1 feature the module at the top of the phone.
What the Redmi Note 5 Pro does better
The major design change with the Redmi Note 5 Pro is the switch to an 18:9 5.99-inch panel. Xiaomi is starting to offer taller displays in the budget segment with the Redmi Note 5 series, and the design itself isn't quite as bezel-less as the Mi Mix 2, and more in line with what we've seen on the Pixel 2 XL instead.
The taller size and reduced bezels means you get more screen real estate in roughly the same size as the 5.5-inch Mi A1. And although the Redmi Note 5 Pro has an 18:9 panel, the quality of the display itself is the same on both devices. Viewing angles are great, as are contrast levels and sunlight legibility.
An added bonus with the switch to the 18:9 form factor is the removal of the hardware navigation buttons, with Xiaomi now offering on-screen keys instead. The move makes it possible to switch the configuration of the back and overview buttons on the Redmi Note 5 Pro. The Mi A1, on the other hand, relies on hardware nav keys, with the back button located to the left of the home button and the recents key on the right.
The Redmi Note 5 Pro also wins out on the hardware front. Xiaomi switched to the 14nm Snapdragon 625 last year, choosing energy efficiency over sheer performance, and as a result there was a decline in power from the 28nm Snapdragon 650. The downturn was noticed mostly when playing visually-intensive games, with the Snapdragon 625 more than able to meet everyday usage tasks.
With the Redmi Note 5 Pro, that's changing again. The phone sees the global debut of the Snapdragon 636 platform, which brings Qualcomm's semi-custom Kryo cores to the budget category. The Kryo cores used in the Snapdragon 636 are based on ARM's A73 core, which is one of the fastest performance cores on the market today.
The Redmi Note 5 Pro is the spiritual successor to the Redmi Note 3, and unlike last year, you're getting great performance as well as long-lasting battery life. Honestly, the Redmi Note 5 Pro sets a new benchmark for the budget segment in terms of performance.
Then there's the battery side of things. The Mi A1 delivers astonishingly great battery life even though its battery size at 3080mAh isn't quite as large as what you get on the Redmi Note phones, but it doesn't come close to the Redmi Note 5 Pro. Like last year's Redmi Note 4, the Redmi Note 5 Pro is a battery monster, delivering at least two days' worth of usage from its 4000mAh battery.
One of the major new features in the Redmi Note 5 Pro is the camera, and while the Mi A1 had one of the better cameras in the budget segment last year, it's not as good as what Xiaomi has managed to achieve this year.
Xiaomi Redmi Note 5 Pro on the left, Mi A1 on the right.
The Redmi Note 5 Pro consistently takes better pictures, both in daylight as well as low-light conditions. It's under artificial or low lighting where the camera truly shines, as this was the one area where budget phones traditionally struggled. Even shots taken in daylight have much more detail and dynamic range on the Redmi Note 5 Pro.
Where the Mi A1 wins
There's no doubt that Xiaomi makes great hardware; but as good as the hardware is, the software side of things haven't evolved quite as much over the years. That was why the Mi A1 was a welcome move. The phone offers the best of both worlds — you get Xiaomi's gorgeous design and build quality, coupled with pure Android and the guarantee of fast updates.
Sure, Xiaomi put a lot of effort into customizing MIUI for the Indian market, and there are a few features in the ROM that would've been a great addition to Android One. The dialer in pure Android, for instance, is barebones to say the least, as is Android Messages. At least when it comes to stock apps, Xiaomi does a much better job.
That said, MIUI is no match for Android One when it comes to the design aesthetic. MIUI over the years has ballooned into a ROM that's laden down with features, and while Xiaomi introduced much-needed optimizations in MIUI 9, we're long overdue a complete visual redesign.
The Mi A1 picked up the Oreo update at the start of the year, and Xiaomi is doing a decent job when it comes to rolling out security updates. In this area, it's a no-contest — the Android One-based Mi A1 absolutely muscles the Redmi Note 5 Pro when it comes to the software experience.
Which should you buy? Your call
At the end of the day, Xiaomi is in a win-win situation here — for the longest time, it's fans have been clamoring for a device with pure Android, and it has delivered just that in the Mi A1. The phone is ideal for those looking for an uncluttered software experience, and it has the best bits of MIUI thrown in for good measure in the Mi Camera as well as the Mi Remote app.
The Redmi Note 5 Pro, meanwhile, showcases the best that Xiaomi has to offer in the budget segment. There's no outright winner here, as both phones offer incredible value for money. If a clean software experience is what you're after, then the Mi A1 is ideal for you. If you want a phone with the best hardware available today and a class-leading camera, then the Redmi Note 5 Pro is the obvious choice.
If I had to choose, I'd go with the Mi A1 simply because it delivers the best software experience in this segment, and it's guaranteed to be one of the first phones to receive platform and security updates. That said, I do like the Redmi Note 5 Pro's camera better, and the hardware on offer with the device is just staggering. An Android One variant of the Redmi Note 5 Pro would be the perfect device for this segment.
The Redmi Note 5 Pro also comes with an 18:9 panel with configurable on-screen navigation keys, and the variant with 6GB of RAM and 64GB of storage should be more than adequate for even the most hardcore users. Then there's the dual camera at the back, which has the potential to be one of the best in this segment for a long time. The front 20MP camera is no slouch either, and if you're one to take a lot of selfies, there's Beautify 4.0 and a software-assisted portrait mode.
Sure, MIUI is in need of a visual overhaul, but Xiaomi at least optimized the ROM in MIUI 9, and things aren't as slow as they used to be. The upside with the Redmi Note 5 Pro is the sheer performance on offer, and it's unlikely we'll see a phone come close to matching that in this category anytime soon. The fact that it costs the same as the Mi A1 at ₹13,999 is a masterstroke.
If you're looking for even more grunt, then the 6GB version of the Redmi Note 5 Pro is all set to make its debut in the country shortly.
See at Flipkart (opens in new tab)
Android Central Newsletter
Get instant access to breaking news, the hottest reviews, great deals and helpful tips
Harish Jonnalagadda is a Senior Editor overseeing Asia at Android Central. He leads the site's coverage of Chinese phone brands, contributing to reviews, features, and buying guides. He also writes about storage servers, audio products, and the semiconductor industry. Contact him on Twitter at @chunkynerd.
If it weren't for the software being pure Android (my favorite version of Android)on the Mi A1, I'd pick the Redmi Note 5 Pro over the Mi A1 as it has a much better design as the Mi A1 is way too iPhone 7 like in design but I've already decided on the Pixel 2 XL as I'll get 3 years of software updates as well as security patches and I'll have the best camera on a smartphone.

One has the iPhone 7 back design and the other has the iPhone X vertical camera design. These Chinese OEMs LOL!

I guess in the end what we all really want is battery issues instead of better processors, more ram, better cameras, better screens, face unlock and cheaper phones

"Xiaomi is doing a decent job when it comes to rolling out security updates. " We didn't even get february update, oreo on mi A1 is buggy and 8.1 is nowhere to be seen when non android one phones like nokia 3 are already in beta for 8.1.
Xiaomi isn't doing a "decent job", to be quite honest. I should have gone for a more reliable brand.

Did you do a factory reset after the oreo update? My mi a1 works perfect after I did a factory reset

I got my phone a month ago, first thing it did was updating to january patch, I factory reset it even if it was brand new because it's a OS version change. Still, I have battery drain and problems with it. Glad to hear yours work perfectly. But anyway it doesn't change the fact android one program is handled poorly by xiaomi. 8.1 was released in november for google's devices. Mi A1 should have been updated already because that's the point of android one, timely updates, and it's one of the reason (with stock android) I chose this phone over another one (honor 7x). Redmi 5 pro is already in beta for 8.1, so there goes for android one... I was probably a bit naive to expect xiaomi taking android one program seriously.

Nokia is doing an incredible job on releasing security updates. "Decent" is a fair way to describe the Mi A1's security updates as it's barely a compliment. What brands are more reliable than Xiaomi? The updates on the Mi A1 and other Xiaomi phones may have been bad but does that really make Xiaomi as a brand unreliable considering how good everything else about their products are for their price?

I chose this phone partially on the premise of it being an android one phone, which means up to date regarding software. It's literally what made the difference with the honor 7X I was considering, this and stock android. Oreo on mi A1 is quite buggy, and I don't think we'll see 8.1 before long at this point. There goes for the android one sale argument. Let me quote Xiaomi's own store page for Mi A1 "Mi A1 ships with Android Nougat, and will receive 2 years minimum of OS upgrades. And since Android One users are among the first to get new OS upgrades when they're released, you'll have access to the latest features and innovations even sooner." The fast software update and stock android was one of the key point that made me favor the Mi A1.

I agree - the OS MI A1 came out with was awesome - the battery life was VERY impressive. Being smart, I checked for OS update reviews and chose to wait and had an awesome time with this phone. When Oreo came out, being an idiot, I've opted to update right away - after all, Oreo update promised an even better battery life! Aaand.... there it was, battery life went down 50%, and Xiaomi still hasn't issued an update in the last 2 months. I thought they were supposed to issue updates as soon as they came out? Yeah - like you said, it would have been better if I went with another A1 product -

Well at least using one of these isnt considered unpatriotic by the US government. Yet. ☺

Hey, you mentioned the battery supports 5V 2A which I think is the standard charging option but Redmi Note 5/Pro actually supports Qualcomm Quick Charge 2.0 It comes with a standard adapter but you can use a different adapter with QC2.0 support for fast charging. Try it on your own.
Android Central Newsletter
Get instant access to breaking news, the hottest reviews, great deals and helpful tips
Thank you for signing up to Android Central. You will receive a verification email shortly.
There was a problem. Please refresh the page and try again.