Xiaomi's next big bet in India: Building a connected ecosystem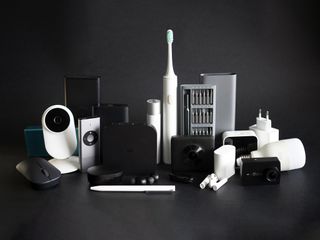 (Image credit: Apoorva Bhardwaj / Android Central)
Xiaomi's rise in India came on the back of its handset business. The Chinese manufacturer overtook Samsung to become India's largest phone brand in January 2018, and it has carved out a healthy lead over the last two years.
But Xiaomi is much more than a phone manufacturer. It sells over 1,000 products across several dozen categories in China — including rice cookers, walkie talkies, screwdrivers, scooters, keyboards and mice, smart lighting, and so much more. The last time I visited a Mi Home store in Beijing, I ended up buying an instant translator, a powered screwdriver set, a flashlight, garbage liners, and a suitcase to store them all. Xiaomi is the IKEA of the East, and it is now looking to bring its ecosystem products to India.
Xiaomi is increasingly focusing on the ecosystem to differentiate itself from other brands. And the Chinese manufacturer has a huge lead in this area — it started out making strategic investments in IoT and smart home brands over five years ago, and in doing so it has turned into a major player in the smart home segment.
As someone that has been interested in Xiaomi's ecosystem for a long time, I wanted to learn more about how the brand decides what products to launch in a new market. So I talked to Raghu Reddy, chief business officer at Xiaomi India and overseer of the brand's ecosystem play, to get insights into what the brand has in store for India.
Xiaomi introduced a few lifestyle products in India over the last four years as part of its broader strategy. The Mi Band series debuted in India back in 2015, followed by the Mi Air Purifier in 2016, the Mi Router 3C in 2017, the Mi TV in 2018, and the Mi Water Purifier and Mi LED smart bulb last year. The Mi TV turned out to be a timely launch, with Xiaomi now the dominant player in the smart TV category in India. Reddy noted that the launch of the TV took over 14 months as it had to be customized for the Indian market, and that included bringing local content partners onboard.
In 2020, Xiaomi is kicking things up a gear. The brand already launched the Mi Box 4K, the Mi TWS 2 earbuds, and the Redmi Earbuds S in India over the course of the last month, and it is now getting ready to launch the Mi Notebook series in the country. The Mi Notebook is launching in India on June 11, and the product itself will be customized for the Indian market. While Xiaomi focused on the budget segment with its phones, the notebook will be aimed at the high-end category.
The Mi Notebook is Xiaomi's biggest launch following the debut of the Mi TV series two years ago, and the brand will be looking to emulate a similar success story. The laptop segment in India fields a lot of players, but Xiaomi is looking to undercut the likes of Dell, HP, ASUS, and others with the Mi Notebook.
The introduction of the Mi Notebook is exciting as it was the most requested product from the Xiaomi community in India, so I asked Reddy what parameters Xiaomi considers before deciding to launch a product in the country. He said that first and foremost, the product needs to be right for the market, and that an existing product in China may not necessarily be ideal for the Indian market. So before Xiaomi launches a new product in the country, it looks at whether any customization is needed for India.
Case in point: the Mi LED bulb. The smart bulb itself is made by Yeelight — one of Xiaomi's ecosystem partners — but because the brand itself doesn't have any recognition in India, Xiaomi launched the product under the Mi label. Next up comes the issue of certification. All products that launch in India have to get a certification from India's standards body, Bureau of Indian Standards. This process usually takes several months or more based on the product. For the Mi Notebook, there was a dedicated team within Xiaomi India that has been working over the last 18 months to get the product certified for the Indian market.
Of course, another big factor to consider is after-sales service. So before Xiaomi launches a new product category like the Mi Notebook, it needs to train its service center personnel and make sure there are adequate parts on hand. Even after all of this, there are products that don't do well once they debut in India. Reddy mentioned that the Mi Router 3C was one such example — the router market is stagnant in India, and he noted that Xiaomi didn't see the momentum it was looking for with the router.
Xiaomi has hinted at releasing its Wi-Fi 6 router in India, and while Reddy didn't confirm outright, it is possible Xiaomi will try its hand once again given that everyone is working from home now. Another product that didn't quite meet Xiaomi's scale is the Mi Air Purifier. Xiaomi is the dominant player in this category, but Reddy said that the air purifier category as a whole accounted for just 250,000 to 300,000 sales in India last year.
As for long-term strategy, Reddy stated that Xiaomi plans to launch two to three "easy" ecosystem products in India a year; products that don't need any additional customization and don't have to go through a lengthy certification process, like the Mi TWS 2 and the Redmi-branded true wireless earbuds.
In addition to this, Xiaomi is leveraging its crowdsourced platform — Mi Crowdfunding — to bring a few products to India that don't necessarily fit into its broader market play. We've already seen the introduction of the Mi Screwdriver Kit (opens in new tab), and the Mi Electric Toothbrush T100 is now live on the platform (opens in new tab) for just ₹549 ($7.25). Interestingly, Xiaomi went the crowdsourced route for the Mi Robot Vacuum as well, and while that particular product didn't meet its initial plan of 10,000 backers, Xiaomi updated the goal to 3,000 units and has ensured backers that they will get their hands on the vacuum.
I asked Reddy why Xiaomi didn't launch the robot vacuum in the country directly, and he stated that the category as a whole saw just over 5000 sales in India in 2019. In that context, it did not make sense for Xiaomi to invest in marketing for the robot vacuum, so it put it up for sale on the crowdfunding platform. Crowdfunding isn't a thing in India, so for Xiaomi to see even a modicum of interest in this platform is remarkable.
Because Xiaomi relies on numbers before it rolls out a new product in the country, the brand isn't going to release the likes of the Mi Laser Projector in the country. There's just no market for a $1,700 projector in India, so don't hold out for the product to show up in India.
All of Xiaomi's ecosystem products — from the robot vacuum to the water and air purifiers and smart lights — connect to the Mi Home app. It serves as the hub for all of Xiaomi's IoT efforts, and it already has 40 million MAUs (monthly active users) — with a majority of users located in China. By bringing the ecosystem products to India, Xiaomi is now looking to diversify its brand and position the Mi label as more than just a phone brand.
Ultimately, Xiaomi is being very strategic about what sort of products it brings to India. The Mi TV illustrates this point well: the smart TV segment in India accounted for just 15% of all TV sales prior to the debut of the Mi TV back in 2018; that number is now at 50%. Reddy mentioned that Xiaomi isn't necessarily looking to be the first in a category, but if it can provide enough differentiation with its products, it will bring them to India. What that means is that you can look forward to a lot of exciting products to make their way to India over the coming months and years.
Harish Jonnalagadda is a Senior Editor overseeing Asia at Android Central. He leads the site's coverage of Chinese phone brands, contributing to reviews, features, and buying guides. He also writes about storage servers, audio products, and the semiconductor industry. Contact him on Twitter at @chunkynerd.
Android Central Newsletter
Thank you for signing up to Android Central. You will receive a verification email shortly.
There was a problem. Please refresh the page and try again.