Xiaomi's new Mi headphones support both over-ear and on-ear experiences for $80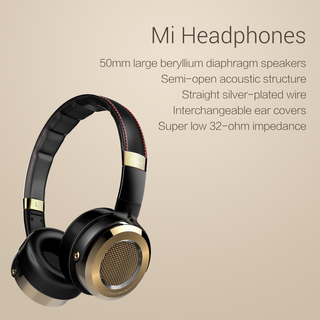 Unable to decide whether to go for over-ear or on-ear headphones? Xiaomi may have an ideal solution for you in the product that is a new pair of headphones. The company today announced the new accessory, which comes with both over-ear and on-ear covers.
The new headphones sport 50mm large beryllium diaphragm speakers, a semi-open acoustic experience, and a silver-plated cable to boot. From the images provided, the new accessory is a premium looking purchase, but with a more affordable price tag.
They would certainly pair well with the company's new Mi Note Pro. We'll look to have more information on availability in due course.
Source: Facebook (Xiaomi)
Is Xiaomi firing on all cylinders lately???

I think it's nice to see phone manufacturers selling Android friendly headphones. Puts pressure on the traditional manufacturers to make a bit more of an effort with their stuff.

These could be great, if they get the sound right Posted via the Android Central App

Finally, quality Chinese products with out the Beats logo and 300% markup. Rooted LG G2.
Rooted GS3, Stock Galaxy Note 4
If it ain't Tech, it ain't Right!

Hopefully better sound quality than Beats too (not a huge task) Posted via the Android Central App

Queue all the "Beats Sucks" posts from the wanna be audiophiles who haven't even heard the latest from Beats, but will comment anyway just to be part of the supposedly "informed crowd" http://www.innerfidelity.com/content/time-rethink-beats-solo2-excellent I'll just leave that there. You audiophiles should know him. Those Xiomi look good. Posted with my Nexus 6!

Or you know, I really just don't like the sound of Beats because I've used said headphones and they sound about as good as 40 dollar Skullcandy in ears for the music I listen to. "I'm da Blur boys!" - Me with 1200 ping. Yes. My Internet got worse.

It doesn't suck but it's mediocre compared to other headphones in that price range. It's severely overpriced. Posted via Android Central App

The fruity company buys beats and suddenly the internet is filled with beats apologists... :)

Not true at all. My daily driver is a Nexus 6. I have a Moto 360, and my tablet is a Galaxy Tab S 10.5. I'm not using any "fruity products" at all. My point was, the Solo 2's sound fantastic. The first iteration might have been crap, but unfortunately that's all people seem to remember. The link I dropped is a highly respected reviewer of audio equipments web site, and he rates them highly (The Solo 2's). I think they sound amazing as well.

It doesn't have to be about you, but the gadget sites... Remember how they were all hating Beats up until a year ago, simply because they really do not reproduce sound very well. They just have a lot of bass.

The Solo 2 are their best sounding model in the entire lineup tho, several of the other models still under perform given what Beats/Apple charges. Tyll wasn't interested in reviewing any of the other models for a reason btw. That being said, having an inconsistent lineup isn't exactly a rarity... Even staple brands like Senheisser have some duds. Philips, of all things, actually has one of the most consistent top to bottom lineups, it's a shame their US distribution suffered a little lately. No bias here btw, I've got a pretty electric collection including: Beyerdynamic, Philips, NAD, V-Moda, JVC, Etymotics, Xiaomi, MEElectronics and even one old pair of Senn IEM.

Beats Solo HD Bluetooth stereo headset BH-505. Look up model number on Amazon.
Returned Beats after testing the model without the 300% markup logo. Rooted LG G2.
Rooted GS3, Stock Galaxy Note 4
If it ain't Tech, it ain't Right!

If you ever used any of their headphones , you know this will be a great product. I use their in ear buds everyday and I love the sound.

The Piston 2 are an amazing value, they aren't just excellent IEM for $20, they'd still be great at 3x the price (stiffer competition past $75 tho)... And I say that despite loathing the typical "giant killer" hype places like Head Fi build up around FotM models, this is the exception tho. The Android compatible remote is a rare treat too, they'd be a huge hit if they managed to find a US distributor, even with a price hike. IEM and headphones are very different animals tho, it'll be interesting to see how these do.

Semi open (no such thing IMO, these look very open) is also not very optimal for portable use, closed seems to be way more popular with the mass market... It'll be interesting to see how they position these.

The Xiaomi pistons are amazing earbuds for costing around $20. My quest for the audophile on a budget has ended with these and these are my go to earbuds. Word of advice if you're going to seek out a pair buy from a reliable source as there's lots of fakes out there that sound terrible.

I have high hopes for these headphones! I have their piston 2 in ear headphones. They blew me away and still do! They beat competition twice and even triple its price. Posted via the Android Central App

Yup, it's rare that I agree with that kind of giant killer hype but those little gold beauties deliver. I thought my Ety hf at half off (Cowboom clearance sale at $60) were a good deal, and I still like them better (tho they're tuned very differently); but the Piston 2 are easily the best value for the money across all my headphones & IEM (about 4 pairs of HP & 4 IEM spanning $20-300 price points).

When can we buy it? Take my money! :-)

I just received mine from the site www.ibuygou.com
The cost was higher, usd 125 incl. DHL shipping.
But wow they are so much better than anything I've gotten in this price category.
I listened to classical music on a train trip of several hours to create my bubble, in combination with the xiaomi note. The sound was extraordinary. Did not tire the ears at all (which is a problem I get with Pistons, even high quality ones).

Not gonna lie, those headphones look pretty high tech, I want a pair. :p Posted by an absolute LEGEND.

Xiaomi Mi Headphones HiFi

Xiaomi has also launched its own online store in India...till now Xiaomi products were sold exclusively via Flipkart in India...does that mean Xiaomi is ending its partnership with Flipkart in futrure..??
http://www.electronicprovince.com/xiaomi-opens-online-store-in-india/
Android Central Newsletter
Get the best of Android Central in in your inbox, every day!
Thank you for signing up to Android Central. You will receive a verification email shortly.
There was a problem. Please refresh the page and try again.