Wordpress for Android v2.1 enters public beta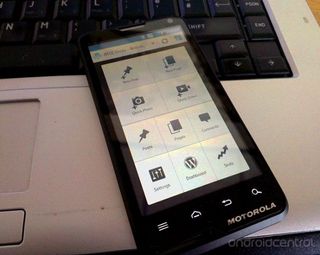 Wordpress for Android has been steadily improving over time, and the latest attempt has just been released into public beta. V2.1 promises some "totally radical stuff" -- their words, not ours.
What is this totally radical stuff? To save us hunting for it, the developers have posted a handy changelog, which looks like this --
Autosave timer while editing posts. Every 60 seconds the post will be autosaved.
Edit comments! You can edit comments while on the go now.
You can now set the width for linked images.
All new WordPress.com reader. Navigating posts is much faster and you can add comments to posts that you are reading. You can also share the post to other Android apps!
Small improvements to the UI, most notably that the delete post button has been moved to a less prominent spot to prevent accidental taps on it.
Reliability improvements
Translation updates
The developers are really keen for people to test this out, and run those new features through the mill a bit. If you run a Wordpress blog, then hit up the source link below to get your hands on a copy.
Source: Wordpress
I've never really liked using the app. Its great for basic users who just need to make quick, simple posts, but it is almost unusable for advanced users who want to do more than post a quick text or pic. It also isn't really designed for self hosted users. For those of us that are, you deal with the added wordpress.com bloat, like the stats button. Then there is the dashboard button, which doesn't take you to a dashboard in the app, it just opens a browser window. Pointless that way. I have been advocating a major UI overhaul to make it more usable. I see no reason why the app shouldn't be able to do almost everything that you can via a browser. It makes it pointless to use the app if you have to turn right around and fix things via the browser. I even started a mockup of what it should look like here: http://www.behance.net/gallery/WordPress-for-Android-UI-Concept-Version-...

PLease find out these below android application and send me the reviews on the google play after downloading it. https://www.androidcentral.com/e?link=https2F2F... https://www.androidcentral.com/e?link=https2F2F... https://www.androidcentral.com/e?link=https2F2F... https://www.androidcentral.com/e?link=https2F2F...
Android Central Newsletter
Thank you for signing up to Android Central. You will receive a verification email shortly.
There was a problem. Please refresh the page and try again.