Will you be upgrading to the Samsung Galaxy S9?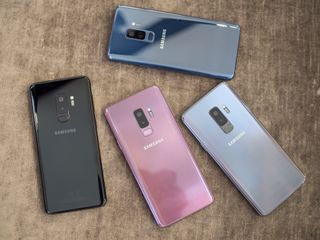 After months of leaks and rumors, Samsung finally took the stage in Barcelona yesterday to officially unveil the all-new Galaxy S9 and Galaxy S9+. These are Samsung's top two phones until the Note 9 makes its debut in the second half of the year, and each one packs a ton of features and upgrades over 2017's Galaxy S8 series.
A lot of our forum members recently started talking about the Galaxy S9/S9+ and whether they'd be upgrading to them from their current phone, and this is what they had to say.
Now, we'd like to hear from you – Are you upgrading to the Galaxy S9?
Join the conversation in the forums
Joe Maring was a Senior Editor for Android Central between 2017 and 2021. You can reach him on Twitter at @JoeMaring1.
It seems like a nice phone but I'll pass. I'll wait for the Note 9 and see what they do with that one.

Yes. I have LG g6 and I'm tired of it randomly rebooting. Also the screen at times doesn't register any inputs. So I'm done with LG. The only one I loved was the G5 but I want waterproof phone, thus my g6

I have a G6 but I don't have any problems with it randomly rebooting at all

No. But then, the last Samsung phone I bought was... An Omnia? I think...

I'm on the fence with this. I use the s8+ and have zero problems. I think this would be a minimal upgrade but I do like the 845 processer, duel camera's & 6gb's. I use the forever program with Verizon so I will think about it, Maybe. Can't decide!

I shouldn't but I still will. The tech junkie in me has to have the latest and greatest!

No. I still have the Note 4 and it is going strong. I'm not excited about all these new "pretty" looking phones. I would give the GS9 Active room for consideration if they bring back the removable battery. Feels like a long shot at this point and I know I'm missing out on all the hardware upgrades, but these all glass phones with curved displays and notches don't make me want to upgrade at all. I guess I'll stick with the Note 4 until it dies or the OEM's decide to do something different.

An "active" phone will NEVER have a removable battery.

Galaxy S5 Active had a removable battery and was IP67. Why do you think any forthcoming Active will never again have that option?

Yeah, but it's because my phone is way old now

Note 9 for me but otherwise the s9+ is verrry tempting.

"I'll wait for the Note 9. It will have everything the S9 has with added features." Uh...you can say the exact same thing going Note 8-->S9...lmao

Yeah, them putting a stylus into the S9 has really blurred the lines between the two... /S

IF price drops to below $500, I'd then consider the S9+.

Depending on what phone you have the trade-in deal can bring the price down $350

So, you're saying it's worth upgrading from my Galaxy S5 to ?
Hmmmmm

Big time samsung owner here. I'm not saying this to degrade samsung, just my feelings. Now that my high res library has grown substantially, I waited for the LG v30. I bought one at launch, and have been happy with it from day one. Beautifully designed, great battery life, gorgeous amoled screen (although I will admit samsung is still a tad better), nice camera, and the icing on the cake, that 32bit ESS Sabre quad dac. I no longer have to carry a separate DAP around to enjoy my tunes away from home. I know there are many apps available in the playstore that let you play these files, but if your device does not have the correct 24 or 32bit dac to properly decode the music, you are not getting the music in high res. If, some day, samsung puts a hifi dac into their phones, I'll seriously look at going back.

I'm probably going to keep my iPhone X, but must admit I'm overall impressed with Samsung's latest.

The only thing that could tempt me to buy this is the Dex function. However I think I am in the 1% minority that is even vaguely interested in using a phone as a PC.

Think I probably will as it's going to be an upgrade from my s7 even though I begrudge losing a physical home button.

I went from S7 to S8 in spite of same concern. But I was changing carrier so had to make a change. Took about 5 sec. to get used to pressing the lower screen instead of an actual button. Non issue!

I am on the Jod program at tmobile and I will jump from the Note 8, to the S9 plus...The reason, I recently dropped my Note 8 from 3 feet face down on the cement and it cracked my screen while using a Otterbox Semmatry case!...I was very surprised this case didn't protect my phone! ...I contacted Otterbox and there response was, very sorry this happened, so! we will send you a new case to protect your BROKEN phone!... This goes to show you that if your phone falls at the wrong angle, this can happen! ...

So you have to fix it before they will take it exchange for your JoD. Cases won't protect the fragile screens on these edge phones when there is the slightest bit of uneven ground. Even a speck on the cement, if it makes contact with the screen, will crack a screen when dropped from some height. That's the problem with Samsung phones now in my opinion. I too have JoD and will get the S9+ but just because I can. I'll likely trade it back in a month later for whatever releases in April. If nothing excites me I'll just jump back to the X.

Yeah I'm upgrading. I've never had a Samsung phone but the additional polish on this over the S8 makes we want to try it. I've got the V20 which is a great phone but I'm ready to have one of, if not the best, camera on the market

Yes! Loving the camera. I upgrade every year anyway.

No. I'll wait for the Pixel 3 XL

Nope, getting the Note 8!

Nope. The 9 series is the "tock" for Samsung and are inherently bland, with disappointing updates. We are definitely in the era of 2-year cycles. Expecting compelling updates y/y is gone. Add in phones pushing 1K in price and the need to upgrade has been terminated save for the fanatic with $ or industry types writing reviews.

The idea of upgrading from the S8 to the S9 is just an oddity to me. This phone is just a lame attempt at making more money through minimal and I mean minimal updates. Yeah the camera with it's variable apature seems nice but in today's "camera" phone moments, how many flagships really take a bad photo. Really the S9+ is a copycat of the Note 8 in everyway. Dual camera ✓ 6gb ram✓ Sd card exapnsion ✓ Infinity Display ✓ IP68 ✓ full metal and glass design ✓...so I say anyone insterested in a New S9+ save your money and spend like $750 on a brand new Note 8 that is size and features almost identical to each other.

Except for one huuuge thing. Band 71 for Tmobile users

My S5 is still going strong. And I bought a in the box new one this year as a backup ($120). So I'm good for some time to come. I just can't get behind all glass.

Yes, I actually am this year. Samsung met my checklist for changes and improvements except for no 128Gb option for the US, which I can live with by pushing all photos and videos to a 4k compatible MicroSD card. Release day unlocked is huge for me, made the reservation yesterday for my pre-order this Friday. After trade-in, $490.00 for the S9 Plus, I'm good with that. Speck Presidio Grip case will be here this Friday so that it has a decent home to go into immediately.

Still happy with my S8 proper. But you never know. Didn't plan on upgrading last year from the s7. But I cracked my screen and decided to upgrade. Currently don't have a screen protector on my SIDE so we'll see

No. Upgraded from Note 5 to Note 8. Very pleased, it does everything extremely well, and will age well. I'd have no problem using this phone 5 years.... Yeah yeah, battery replacement in two years time... That's battery tech reality for all manufacturers. My next phone will have a 5G modem. Truth is, my heavy data use is free through very fast WiFi off of residential (home) network. I respect it's your choice to burn money upgrading annually or as a few commentators have said... Wow, from a Note 8 to S9... I have no interest in never ending annual mobile hardware expenses. Oh... Another blog discussed the 20 Oreo based updates to the S9... There are improvements... But it's mostly cosmetic. I could care less when my Note 8 gets Oreo. Do an online search: 20 new software features in Oreo for the Galaxy S9. Interesting, but mostly trivial sub menu stuff.

Yes, ordered the S9+ and a case today. Worthy upgrade from my S7 Edge, but I feel I may want the 10 next year when I didn't want the 8 last year.

No, I'm going to keep my Note8. The phone that has never had a problem with the fingerprint sensor.

Nope. Too expensive. I'll up
grade to the S9 or Note 8 when my S7 gives up the ghost. By then, prices should be significantly lower. $800 is too much for a phone imo, regardless of its specs.

S7 edge still rocks for me. Will skip the s9 cycle.
Android Central Newsletter
Get the best of Android Central in in your inbox, every day!
Thank you for signing up to Android Central. You will receive a verification email shortly.
There was a problem. Please refresh the page and try again.