Why should you use a business VPN?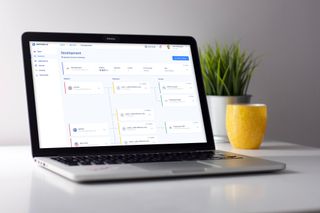 (Image credit: Perimeter 81)
Virtual private networks are a common part of the digital world. Tens of millions of people across the world use them for protecting their privacy, securing their data, unblocking geo-restricted content and many other reasons.
While it's fair to say that many of the best VPNs are geared towards individuals, they're also incredibly useful for businesses that are conscious about their security and privacy online. Business VPNs are an excellent way to secure all devices that are used throughout your organisation, protect employees as they use internet services and ultimately keep one step ahead of cyber criminals. Here are a few reasons why you need a business VPN.
Avoid geo restrictions
One of the major advantages of using a VPN is being able to access blocked content regardless of your location. So if you have offices in various regions across the world or have staff who regularly travel to countries where cybersecurity laws are far stricter, then you can easily avoid geo restrictions and ensure your teams can access business services as usual.
Huge security benefits
Another benefit is being able to secure all the devices that connect to your business network. Like many companies, you may allow employees to bring their own devices to work and connect to your Wi-Fi network via a BYOD scheme. But without proper safeguards, there's always the risk of sensitive data being leaked outside the business.
However, by investing in a business VPN service and asking employees to install it on their devices, their internet traffic will be encrypted around the clock. Therefore, whenever they send (or get sent) data, it'll always be encrypted. As a result, you won't need to worry about nasty data leaks.
Generally speaking, using a VPN service will improve security throughout your business. If you employ a large number of people (many of whom may be working at home due to the global coronavirus pandemic), keeping them secure when using online services and company devices can be difficult. But if the entire workforce begins using a VPN service, you're essentially adding an extra layer of security to your business and don't have to worry about anyone falling victim to cyber crime.
Since people are accessing services and data that are shared by your company from any and everywhere, that means that sensitive information could potentially be at risk. With a business VPN you can hide that data behind the extra security, and only allow people access when they are connected to a VPN.
Choosing the right business VPN
When it comes to choosing a business VPN, you'll see that there's a lot of competition out there. Some of the most popular business VPNs include the likes of Perimeter 81, Windscribe, ExpressVPN and NordVPN Teams, all of which have different benefits for corporate users. It's definitely worth reading reviews to see what other people are saying about the different business VPNs out there, as this will help you to make the best decision for you and your business.
There are some potential downsides, though. Firstly, there's the issue of cost. If you have a large workforce and are looking to get a VPN service installed on all of their devices, costs can easily increase based on the amount of users.
And while most VPNs are easy to set up as an individual, doing this across an entire organisation will take a lot more time and effort. So it definitely helps to have a comprehensive plan in place before making a potentially costly investment. When done right, VPNs are hugely beneficial and will make your business more secure.
We test and review VPN services in the context of legal recreational uses. For example:
1. Accessing a service from another country (subject to the terms and conditions of that service).
2. Protecting your online security and strengthening your online privacy when abroad.
We do not support or condone the illegal or malicious use of VPN services. Consuming pirated content that is paid-for is neither endorsed nor approved by Future Publishing.
Get the Android Central Newsletter
Instant access to breaking news, the hottest reviews, great deals and helpful tips.