Why this lifelong PlayStation fan got an Xbox Series X over the PS5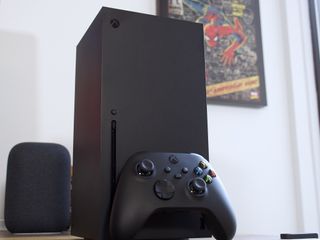 (Image credit: Joe Maring / Android Central)
2020 was...something. There weren't many bright spots this year, but throughout all the months cooped up at home, one thing I had to look forward to (along with tons of other people) was the release of the next generation of gaming consoles.
All of my life, I've considered myself to be a pretty devoted PlayStation fan. I spent a lot of my childhood playing through countless titles on the PS2, was introduced to so many amazing franchises on the PS3, and was the proud owner of a PS4 and PS4 Pro during this most recent generation. I also had an Xbox 360 and Xbox One S as secondary consoles during those times, but they were never my go-to destinations for console gaming.
Going into 2020, I was pretty confident that the PS5 would be my next primary console. I mean, why wouldn't it be? PlayStation has always been the platform I gravitate towards, so buying an Xbox Series X in place of it didn't seem to be a likely scenario
Fast forward to December, however, and I currently have a Series X hooked up to my living room TV with no PS5 in sight. And you know what? I couldn't be happier. I know that's a blasphemous statement coming from a self-proclaimed PlayStation fanboy, so let me explain myself.
The PS5 and Xbox Series X both have the same general goal: to be a fast and future-proof system that can power all of your gaming adventures for the next few years. Both consoles have achieved that goal with ease, but the way in which Sony and Microsoft are approaching it is drastically different. Where Sony is leaning strongly into the generational divide and sticking with the model of paying $60-$70 for every new game you buy, Microsoft is fully embracing the Series X (and Series S) as a gateway to the best trick up its sleeve — Game Pass.
I first started dabbling with Game Pass about a year or so ago, initially using it to catch up on Xbox franchises I never spent much time with (Halo, Gears of War, etc.). It proved to be a nice addition to the games I was playing on my PS4, but as time went on and I dug a bit deeper into Game Pass, I've started to realize that almost all of the games I was playing were Game Pass titles.
Not only is the sheer value of Game Pass unmatched by anything else in the industry, but what I've come to appreciate even more is how it makes me step out of my gaming comfort zone. Dead Cells, Celeste, Ori and the Blind Forest, and A Plague Tale: Innocence are all things I've played because of Game Pass, and I've thoroughly enjoyed every single one. None of those are games I would have ever thought about buying outright, but Game Pass has provided an avenue for me to try something different.
The more and more I got sucked into Game Pass on my Xbox One S, the more I realized it's something I want to experience to its fullest potential. So, naturally, the Xbox Series X started to become the more appealing console. There are certainly titles on the PS5 I'd like to play at some point down the road, but as someone that can't really shell out $60+ every time I want to play a new game, being able to spend $15/month (or nothing at all when using Microsoft Rewards) for hundreds of different options is something I just can't ignore.
Game Pass was certainly a big deciding factor, but it's not the only thing that ended up pushing me to Team Xbox for this generation. In terms of overall simplicity and ease-of-use, Microsoft easily pulled ahead of Sony.
Smart Delivery didn't sound like the most exciting feature on paper, but as it would turn out, it's proven to be one of the nicest conveniences about the Series X|S. If one of my Xbox One games receives a patch that optimizes it for the Series X, that update happens automatically in the background without me ever having to lift a finger. The opposite is true for upgrading your PS4 games on PS5, with Sony requiring you to manually enable upgrades if/when they're made available.
There's also the matter of expandable storage. Not only is there no option currently available for expanding the PS5's SSD, but when an official solution is made available, you'll need to actually open up the console and install it yourself. On the Xbox Series X, adding another 1TB of space is as easy as plugging in the Seagate Storage Expansion Card (opens in new tab).
It's a little pricey at $220, but using the card couldn't be any easier. I took mine out of its packaging, plugged it into the back of my Series X, and it instantly popped up with another 1TB for me to store all of my games. And, if I somehow find myself needing another card down the road, swapping between them will take just a couple of seconds.
There are plenty of other wins, too — such as Quick Resume for instantly jumping back and forth between multiple games, backwards compatibility for virtually all Xbox/Xbox 360/Xbox One games, and the seamless UI that doesn't need to be re-learned if you're coming from an Xbox One.
For me, playing games is all about having a fun escape from the real world. I don't want to think about my console like another gadget I have to troubleshoot and manage — I just want everything to work as seamlessly as can be. Microsoft did that with the Series X. I can play virtually any game in Xbox history, access a bunch of them at a great price via Game Pass, and potentially headache-inducing things like expandable storage and cross-generational upgrades are handled with ease.
I'd love to pick up a PS5 in a year or two and check out some of Sony's best PS5 games, but when it comes to the gaming console I'll be calling home this generation, it's going to be the Series X. The value and simplicity behind the console are truly remarkable, and the best part is that those things are only going to get better in the coming years.
You can't really go wrong picking up either console (assuming you find one in stock), but at least for me, I'll be spending my time with the Xbox.
Power your dreams
(opens in new tab)
Simply amazing (if you can find it in stock)
If you don't already have an Xbox Series X, buying one is quite the challenge. Should you come across available inventory and are in the market for a new console, it's definitely worth your attention. Between incredible horsepower, the inclusion of Game Pass, and so much more, the Series X has a lot going for it.
Get the Android Central Newsletter
Instant access to breaking news, the hottest reviews, great deals and helpful tips.
Joe Maring was a Senior Editor for Android Central between 2017 and 2021. You can reach him on Twitter at @JoeMaring1.
Also as a lifelong Playstation fan, I'm really contemplating that new Xbox. But my reason is mostly design. The PS5 is atrociously ugly. Like Sony didn't even try to make it appealing. The Xbox X being very reminiscent of a m-ITX Lian Li case is much more esthetically pleasing.

Good for you author. I personally don't care for the asymmetrical controller of the xbox and the console exclusives do not appeal to me but you are right about Game pass being awesome. However, I have PS Now and it's crazy good. I do wish it was more compatible (android/iOS support would be nice) but the service is great. I realize that most of the time the console exclusives take a good year or two before they hit the service but there is plenty to play in the meantime. I don't care for the design of the PS5 but honestly, I couldn't care less. I will look at it every now and then but most of my attention will be on the controller (which is fabulous) and the screen (obviously). Plus, Sony exclusives appeal much more to me. I have tried PS Now on PC as well and its rocking! To each their own of course. I do have one beef with the author's comment about expanding storage. Yes, the ability to expand the PS5 storage currently isn't available (which is kinda silly) but it is coming. yeah it'll require you to manually open the case but it isn't hard at all and since all you have to do is get the right ssd you will have a myriad of options available. Yeah they aren't cheap but neither is Microsoft's option (though I like the whole plug it in the back and you are done option). Still, it'll come with time. I realize we live in a "RIGHT NOW" society but we can wait folks; it won't kill us.

As a former Xbox lover and now almost 50 yr old gamer.....PS has those single player games that I like to play. The PS4 was the first PS console I purchased just for Spiderman and GOW, absolutely fantastic games! I don't play too much at all anymore though. I love those single player fantasy/adventure games that capture my interest. I guess I'm now a casual gamer as they say. Xbox is more for multiplayer and young, dedicated gamers it seems. My humble personal opinion of course.

You are right. I have always been an XBox gamer. Namely I've had an XBox360 since it was released. No upgrades since. I like my single player games and replay them when I like, and I just can't find anything better than a Kinect alternative. However XBox Series power is Game Pass indeed. However it has nothing to offer for casual gamers, who play 10 games at most during a console's lifetime and would use the console's services for the rest of the time.

I never saw the point of being a console snob (kinda reminds me of being racist). I owned all of the consoles. Both xbox and playstation as any real gamer will tell you that they follow games not consoles.

The Xbox ecosystem is far more affordable than PlayStation's.

I did the same thing! I was able to snag an Xbox Series X at Best Buy last week when they had a bunch in stock and I don't regret it one bit! Xbox Game Pass is probably the best thing about the system! I've been playing the classics that I haven't played in years. I forgot how much I enjoy Xbox exclusives over Sony's exclusives. I won't be picking up a PS5 until they're widely available, probably mid-2021. And I'm ok with that.

LoL who cares about the design if games are phenomenal especially the exclusives. I used to buy two consoles only (Xbox and PS) but now I just cannot justify buying Xbox with their lack of exclusives. Gamepass is cool but I can sign up for it in other platforms (MS out did themselves on this). After having PS4 being so awesome at providing exclusives I just had to get a PS5 again this time. So now I own a PS5 and a Switch.

What exclusives does the PS5 have? None. Spiderman is a PS4 game. I played it on the PS4. Do you mean the promise of exclusives? Console exclusives? Those PL5 games are gonna show up on PC. Also, not all the Game Pass games come to PC.