Why the Galaxy Fit 2 looks like the fitness tracker of my dreams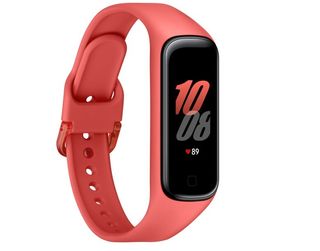 (Image credit: Samsung)
When it comes to the best smartwatches and fitness bands, they're seeing something of a revolution right now. Now that just about every company in the niche has gotten really good at doing all of the basic workout and activity tracking, new avenues are being explored to find ways to expand these devices' usefulness even more. This can be seen with wearables like the Fitbit Sense and Amazon Halo, with the Sense monitoring users' stress and Halo analyzing your voice to help you speak better.
The potential for these radical new features is really exciting, but as I talked about in a previous editorial, the transition to that point will likely be a rocky one. It's going to take a while for us to get comfortable with a watch telling us how stressed we are or an Amazon-made device listening to our speaking patterns. In the meantime, there's still plenty of room for traditional tracker options — room for something like the Samsung Galaxy Fit 2.
The Galaxy Fit 2 (a successor to 2019's Galaxy Fit) was quietly unveiled on September 2 alongside a few other Samsung devices, and at first glance, there's nothing all that exciting about it. It has a pretty generic design, tracks your sleep and activity, and supports automatic workout detection for five types of exercises. For all intents and purposes, it does all of the usual fitness tracker things you've come to expect in 2020.
That said, it does all of those things with a feature that matters more than you might think — battery life that lasts for over two weeks on a single charge.
Source: Samsung
I'm someone that chooses to rock an Apple Watch as my go-to smartwatch and fitness wearable, and as much as I enjoy using it, having to throw it on the charger once per day is a huge pain in the butt. If I don't time my charging correctly, that means missing out on steps when I walk my dog or tracking my sleep overnight. It's something I have to regularly think about when wearing the watch, and I'd be lying if I said it didn't bring down the magic of it quite a bit.
A device like the Galaxy Fit 2 is obviously a lot less capable than an Apple Watch, but if basic fitness tracking is what you're seeking out the most with your next wearable, being able to wear something for two weeks at a time and not have to worry about running out of battery is beyond impressive. Sure, the Fitbit Inspire 2 delivers 10-day battery life with similar features, but that's still five fewer days and gives you a pretty bland black-and-white display compared to the Fit 2's color AMOLED one.
The Galaxy Fit 2 isn't necessarily breaking new grounds with anything that it brings to the table, but it looks like it'll excel in all of the key areas that matter for any fitness band — ample tracking capabilities, a gorgeous display, and stupendous battery life. It might seem boring or uninventive when stacked up against something like the Amazon Halo, but I think the appeal of the Fit 2 is much greater (at least right now).
Samsung has still yet to unveil anything in the way of pricing or availability for the Galaxy Fit 2, but as long as it can hit the $100 marker, the Fit 2 has the potential to be a really exciting option that a lot of people should pay close attention to.
I'm certainly interested in the new world of holistic health tracking that the market is headed towards, but for right now, the Galaxy Fit 2 has my attention.
If you can't wait
A fitness tracker you can buy right now
The first-gen Galaxy Fit doesn't have the same legendary battery life of the new model, but if you need a reliable tracker right now and don't feel like waiting, it's still a decent purchase. It tracks your daily steps, calories, sleep, and can alert you if it detects a high or low heart-rate.
Be an expert in 5 minutes
Get the latest news from Android Central, your trusted companion in the world of Android
Joe Maring was a Senior Editor for Android Central between 2017 and 2021. You can reach him on Twitter at @JoeMaring1.