Why aren't you getting the Galaxy S20?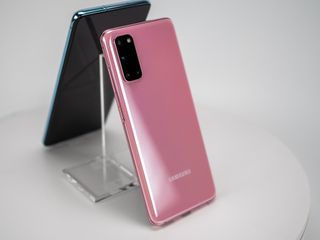 (Image credit: Andrew Martonik / Android Central)
This past Friday, Samsung officially opened pre-orders for the Galaxy S20 series. The S20, S20+, and S20 Ultra are all exciting new additions to the Galaxy family, bringing things like 120Hz displays, Qualcomm's Snapdragon 865 processor, big camera upgrades, and more.
There's no doubt that Samsung has crafted a trio of rock-solid Android handsets, but that doesn't mean everyone out there needs to upgrade to an S20 from their current phone.
Recently, members of our AC forums got to talking about why they aren't upgrading.
What about you? What aren't you getting the Galaxy S20?
Android Central Newsletter
Get instant access to breaking news, the hottest reviews, great deals and helpful tips
Joe Maring was a Senior Editor for Android Central between 2017 and 2021. You can reach him on Twitter at @JoeMaring1.
I'm waiting for the OnePlus 8 Pro and LG V60 first which will both(or at least the 8 Pro) come at a lower point than any of the S20's. Also the V60 will come with the beloved QuadDAC and manual controls for photos and video that aren't stuck to just the main camera on the Samsung phones. That's one of the first things I tested at Best Buy. Also you can't even change the ISO and shutter speed on the go after you hit record. And the 8 Pro seems to offer everything the Galaxys do except the "space zoom" which I don't really need as 3x zoom has been great in my OnePlus 7 Pro. The addition of wireless charging and official IP certification levels the playing field this year.

I have considered the s20 series. But my S10+ is doing really swell? Even after a year it's still blazing fast. I've had no problems whatsoever. Samsung will give me 6oo.oo bucks on an upgrade. So the base model would cost me 399.oo. Sounds enticing, but nah? My S10+ is still simply a pleasure to use?

Price. Don't see a reason to spend that much for a phone I won't be using to it's fullest. And I'll be making compromises in other areas to get it. Just not worth it.

Cost way too much. Too many very good mid-range phones available to spend so much to get soo little difference.

The only reason is that I upgrade every other year not every year and I have the S10 plus. I think the S20s are awesome however.

Just got Pixel 4XL. Not planning on getting another phone until 5g is actually working in my area. I estimate at least 2 years

I seriously debated it for about 5 minutes. But the 2-3 years of updates isn't worth that price. If they could guarantee 5 years of updates I'd be tempted

Based on what I'm seeing, there's nothing mind-blowing about the camera. Yes, it's excellent, but so is the one on my Note 10+. Danny Winget's camera comparisons have impressed me, but I don't think they've impressed me $1400 worth. The Note also already has all-day battery life.
I wasn't going to buy the S anyway, but if this is an indication of things to come, I may pass on the Note 20 as well, and go for the Fold 2 after all.

Agree 100% with all that, but I thought you really liked the Flip?

Because i have the Galaxy S10!! Don't need to upgrade just yet. 🙂

My Samsung S10e is still working fine. Also, I prefer smaller phones, and I didn't see that an S20e was released. If I were going to overspend on a phone, I might get the Samsung Z flip.

I usually upgrade every year because of the high trade in value of the previous model. Even with the $600 trade-in of my s10, I still find it hard to pull the trigger.

I'm running a one year old Note 9, with a fresh factory battery, just received Android 10, have another full year or more of security updates, the phone is running stellar... there is absolutely no reason, for me, to go chasing a newer phone when this one just began its second year of OS updates and is running flawlessly.

A complete lack of anything particularly compelling compared to my S10e.

Realistically, NO candy bar style phone should cost more than $1,000. Samsung has lost their minds. By summer, the abysmal sales of S line will force the sale of LTE versions in the USA. Combined with the ritual $100 price drop, the 20 Ultra LTE should ring up right around $1,100. Imagine what the Note 20s will cost at launch!

The phone is extremely overpriced

I have a perfectly working Note 10+. No need to upgrade.

I'm waiting for the Note 20.

My s10e is working perfectly. No need to upgrade.

I have an S8+ with multiple cracks on the screen so I should be a prime candidate for an upgrade, but not at those prices. If I'm going to spend that kind of money, I'll wait for the Surface Duo. By then I'll have enough MS/Bing rewards to get about $500 off and not have buyers remorse immediately afterwards.

After alot of consideration I still very much enjoy using my wired headphones on my s10+. Plus it's still blazing fast with the 8gigs of ram. I really don't think there's must difference between 8& 12gigs of ram? Is 120hz display really nessacerry in a phone. My 60hz does just fine?

Easier to type on a wider phone.

You know, when crazy phone addicts like we have here on this site are saying its too expensive, you know its not going to sell well. I will be waiting for the price to drop in a few months to get my S20U.

Still loving the U12 Plus, especially after the camera and video updates.
The S20 Ultra 10x zoom is nice, but it's the only thing it brings to the table, and I can just grab my Nikon.

Simple. I have a great phone already, the Note 10+. Just six months of ownership. Some people will jump all over the S20 phones. I played around with all 3 phones at a local Best Buy today. Really good phones! For me, this Note 10+ will be the phone I have for years. I'm happy.

I'm not getting it because I'll stick with my Pixel 3. I'd rather get consistent updated versions of Android and monthly security patches than have a phone that MIGHT get the next version of Android..... 10 months after it's release and comes preloaded with carrier bloat and OEM bloat that can only be disabled but not deleted.

+1 no way I am giving up my pixel 3.

$1400.00 + tax for a Whopping 2 years of software support. Lol 😂, Nope.

Because my Note 10+ is less than a year old

I'm not upgrading because I like my Note 9; still runs great.

Usually I'm excited about getting the latest and greatest, but for some reason I'm willing to wait until a price drop and when they get 5G working in our area. Unfortunately we aren't a 5G area and I really don't travel to any areas that have 5G.

I'll never buy another phone at launch. Wait a couple months and get one half price.

I'm a sucker for gizmos. I switched from iPhone to samsung because I loved samsung trade in program. With 300-400$ I upgraded from s9 to s10 and to s10 to note10+. Now the only upgrade I consider worth is the ultraS20. but the price tag after trading in my brand new note10+ is still 700$. So I'm going to pass on this one. I hope that Samsung will understand the the prices are too damn high. Apple seems to have understood that if the rumors of the next iPhone prices are correct. Send a message and save some money!!

I just got the S10+ this past July and it should be all the phone I need for the next 2 or 3 years.

After watching the S20 Ultra vs iPhone 11 Pro comparison, I just don't see any noteworthy advances. I'm still waiting on the leap in tech and quality that's so remarkable that there is simply no subjective comparison. You should be able to take one glance and say "THAT is by far the better result". Nobody has gotten there yet. Plus, the Ultra is FAR too large. It's not practical to use or carry. Finally, even with what are laughingly being called "massive discounts", these devices are way too expensive. Let's see how prices have dropped next year.

I'm not in the market for a phone. But even if I was the size is too off putting. My 1+6T is about as large as I'm comfortable with, anything more is excessive.

I'm waiting till this fall to decide. #1 That's when my phone's paid off. #2 I'm waiting for the Note 20. (I want my stylus!) Idk if it'll be worth the price jump this time, though. #3 The S20's will be a lot cheaper then, especially with the sizeable Black Friday deals!
Android Central Newsletter
Get instant access to breaking news, the hottest reviews, great deals and helpful tips
Thank you for signing up to Android Central. You will receive a verification email shortly.
There was a problem. Please refresh the page and try again.