White LG Optimus 4X HD surfaces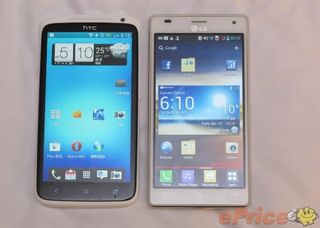 A photo has surfaced of the LG Optimus 4X HD (see our hands-on) that shows that a white version of LG's first quad-core phone. It looks pretty sharp and will no doubt be in demand once this finally hits the shelves. It's too bad that we don't have a release date yet, since this was announced back at Mobile World Congress in February, and we're already starting to see quad-core flagships from other manufacturers. Hopefully we'll get a release date sooner rather than later.
For the forgetful, here's the spec sheet for LG's upcoming flagship --
4.7-inch IPS display
Android 4.0 (Ice Cream Sandwich)
Tegra 3 quad-core processor
8MP rear camera
1.3 MP front-facing camera
2150 mAh battery
Once we hear anything further about color options or release dates, you'll be the first to know, so stay tuned.
Source: Unwired View
Come to verizon( without tegra 3 of course)

Nice specs but the corners are a little too sharp for me. I like the curves of the one on the left.

Hate the design, but looks good in white. LG though? LMFAOOOO. I would never.

LG????? What a shame. I was hoping the rumors of the next g4x to be the htc one x were true. After the G2x debacle....and crapware I am holding, I will never buy LG again. No way. Not me.

Sorry LG. Not going to happen.

LG makes a white Infuse?... Nice

Funny that the two things that would make these quad core pea great, the processor and lte aren't present on the same phones. Sure dual core is fine, but if I have a gnex or any other dual core lte phone on on VZW, why would I upgrade? Wait till fall, or next year for that matter. Of course unless your still on a continuum or something.

I guess I`m the only one who loves the G2X. :( Me want G4X now!!
Android Central Newsletter
Thank you for signing up to Android Central. You will receive a verification email shortly.
There was a problem. Please refresh the page and try again.