Which do you think is better — Galaxy or Pixel?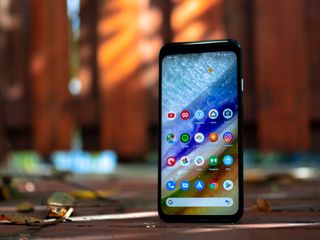 (Image credit: Daniel Bader / Android Central)
If you've spent any amount of time in the Android world, you've probably come to realize that some folks are really passionate about which style of phones they gravitate towards. Some people love OnePlus phones, others love what LG kicks out, and so on.
One of our AC forum members recently shared their story about why they're ditching Samsung Galaxy phones for good and moving over to Google's Pixel lineup (specifically, the Pixel 4).
This got a lot of people talking, with some of the responses going as follows:
All of this got us to wondering — Which do you think is better — Galaxy or Pixel?
Get the Android Central Newsletter
Instant access to breaking news, the hottest reviews, great deals and helpful tips.
Joe Maring was a Senior Editor for Android Central between 2017 and 2021. You can reach him on Twitter at @JoeMaring1.
I use both the s10+ & the 4xl. So, which one do I like better, BOTH? Even though the 4xl has a 90hz display the brightness levels are so much better on the plus. There both excellent. Tie? Speed wise again, 😍 pretty much equal. 📷, portrait shots the pixal, videos, the s10+. These two phones are pretty much equal in most instances. Is one better than the other, not really. But i did pay full retail for the s10+ but the pixal was 300 off, 599.00, at that price it's definitely 👍 🔥 worth the 💰?

The only people who can answer this question are people who have used both, otherwise every response would be biased.

I was going to come up with a snarky response, but I get your perspective. A lot of times I get hit back by people who have never even touched one of the phones I'm discussing. This is particularly amusing when I have both phones on my desk in front of me, and the person trying to correct me doesn't have either one, lol.

Have both, like them both. Best two android phones ever. But I like iPhones also. So the best three phones ever. Everything else is irrelevant lol.

I have a Pixel 4, my husband has the Pixel 3. He came to that from a Galaxy S7. He said he'd never go back to a Samsung, and I'd have to agree. Samsung versions of Android are so disjointed, with often duplicated apps that amount to bloatware, hard-to-find settings. The Pixels are just easier to use, and do everything we need with excellent results.

It's so easy to swap the Samsung launcher for something better than either device, then just hide the apps you don't want. I don't get what major software advantage Pixel offers, I wouldn't buy a device based on marginally simpler Settings.

Apples and oranges. Pixels offer vanilla Android and (usually) faster updates. Samsung offers a front end (although I eschew the UI for Microsoft's excellent launcher), removable memory (which is why I'll never use a Pixel long term except for testing) and its interoperability with other Samsung products. I can do with my Gear Buds+ and my Samsung laptop, tablet and phone what those iZombies insist is the "greatest" feature of the Apple architecture. So Samsung works for me; but for another Pixel might be ideal.

It's as apples to apples as you can get.

I'll give it to Samsung for hardware (software is bloated, convoluted, confusing, redundant) and I'll give it to Pixel for software if you like vanilla Android. Of course I think Pixel needs a better launcher for a few tweaks that vanilla lacks. So it's really a matter of preference based on having used both.

Define what constitutes 'better'.

Samsung is the better of the 2 as far as I'm concerned. For a vanilla experience, I use an iPhone as my secondary device, that pretty much meets my needs. I like all the bell and whistles samsung phones come with, from the display experience to spen capabilities.

I bought the S20 a few months ago and I chose it because I usually find something in Samsung's bloatware and hardware that I really like. I can ignore most of the bloatware. The 120hz screen is a game changer in my S20 and I really like the camera set up. I think the bare bones of Pixels is too bare. I'd need to use something like Nova Launcher for customisation anyway like I do on my Samsung. The updates would be nice but then do carriers in the UK still have a say on Pixel updates? Pixel hardware and design aren't up there either. You can guess I have never used a Pixel but I don't think they are good value when I feel Samsung's offer more, even if it is just a better looking phone and better hardware imho.

Given the choice, it's Pixel all day long over Samsung, I'm just not a fan of their UI and software, it's hideous and bloated. I'd rather use an iPhone over both which are trash against the iPhone.

I don't think my Note9 is better than my Pixel 4XL or vice versa, but I prefer my Note9 because I need the S-Pen.