Where should you host your 360-degree videos?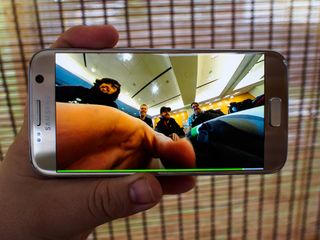 One of the things that made 3D functionality on smartphones die so quickly was the inability to share your experiences with anyone else. Hooray, you captured this thing in 3D mode. Now what? For the most part, there was no answer.
Sharing 360-degree videos doesn't have the same problem. In fact, you're spoiled for choice. With Facebook and YouTube supporting 360 degree videos, and just about every manufacturer of 360-degree cameras offering its own hosting service for the images and videos your create, choosing where to host and share your 360-degree videos becomes more about the kind of experience you want your viewers to have, and less about the video itself.
Here's a look at a video captured on a 360fly camera that has been uploaded to Facebook, YouTube, and the 360fly video service, to see which serves your needs best.
360fly
As the creator of the camera and its software, you'd expect the 360fly hosting service to have the best quality when viewing your video. While that's certainly true of this video, the player is missing a number of features. There's only a couple of places you can easily share the link to this video to, and none of them grab your attention and let you know there's something cool happening here. You can't fullscreen the video in your browser, and you need the 360fly app to watch the video on your phone. It's not the easiest to share, but it sure looks nice.
Facebook
Facebook doesn't make it particularly easy to embed its videos elsewhere — you have to snag the embed code from the post on your timeline — but it's available immediately in auto-playing to anyone following you. Seeing a 360-degree video auto-playing in your feed is incredibly cool, grabbing your attention immediately and encouraging you to play along. The quality is degraded both on the app and the browser when compared to the 360fly service and YouTube, but it's on Facebook and immediately gets plenty of attention.
YouTube
As the golden standard for free video uploads the world over, there's a feeling of inevitability when it comes to publishing a video on YouTube. It guarantees just about everyone has a way to watch it, and on mobile there's and interactive quality with 360-degree videos that is worth noting. Like other YouTube video formats, uploading a 360-degree video can take a little while to fully process, which means the quality suffers a bit for the first hour the video has been published to YouTube. After that, you have a video that looks nice on just about every screen and can be viewed in Google Cardboard with the push of a button.
There are clear reasons to want to use any — or even all — of these services to host you 360 video. YouTube and Facebook are all about the audience you're trying to reach, but if your 360 camera manufacturer offers a decent hosting solution it's probably worth considering. What really matters is that you can share what you've captured with everyone, something that has never been easier than it is right now.
Sign up for Black Friday email alerts!
Get the hottest deals available in your inbox plus news, reviews, opinion, analysis and more from the Android Central team.