Where to buy a replacement Oculus Go controller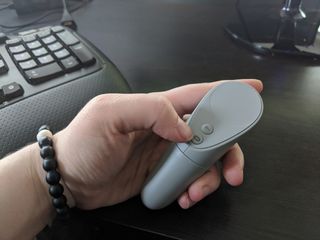 Whether your Oculus Go controller was lost, stolen, or broken, it's a good idea to be able to find a new one before or after that happens. Maybe if it's just a simple connection issue, you could possibly fix it instead of replacing it. It might not have been your fault if it was lost or even broken but maybe it was. Either way, replacement is key to get back into your virtual reality. Unfortunately, the only place you can get a replacement is from Oculus themselves.
Since Oculus sells the go as a bundle deal, they don't generally sell the controllers on their own. The package deal is usually the only way to get on part of the headset, and there isn't even a way to buy a controller on eBay. Luckily for you, the replacement controller through Oculus isn't a huge price, as it comes in at only $25 (opens in new tab).
Seeing as the controller is dier to your Oculus enjoyment, you're going to have to give over the money in order to play. It could be worse than what you have to pay, and at least you're not picking it up at a third-party store that might charge you way more than Oculus does. Thankfully, if you've spent a few hundred dollars on the headset already, it won't hurt to give up about thirty dollars.
See at Oculus (opens in new tab)
Android Central Newsletter
Get the best of Android Central in in your inbox, every day!
Thank you for signing up to Android Central. You will receive a verification email shortly.
There was a problem. Please refresh the page and try again.