Where can I buy a Galaxy Watch charger replacement?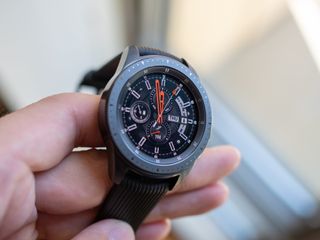 (Image credit: Andrid Central)
Best answer: You can buy the Samsung Galaxy Watch Charger from Samsung's official website. While the Galaxy Watch charges using Qi technology, not every Qi charger will work with it. Therefore, it's best to stick to Samsung's official charger.
Keep it official
When it comes to essential accessories like chargers, it's always best to get them from the source. The official Samsung Galaxy Watch Charger is available for purchase on Samsung's website. While the Galaxy Watch does indeed use Qi charging, the watch's charging coils are much smaller than most Qi charging pads. This means that attempting to charge it with a random Qi charger isn't guaranteed to work. Even some of Samsung's phone-sized Qi pads aren't quite compatible with the Galaxy Watch, so be careful in your selection.
What else do I need?
Samsung only includes the actual dock in the box for the Galaxy Watch charger. Don't expect your purchase to include the required Micro USB cable or AC wall adapter that actually power the dock and allow you to charge your watch. Fortunately, many Samsung users will have an extra Micro USB charger and wall plug lying around the house somewhere. However, if you don't, Samsung is happy to sell you a fresh set on its website for an extra $30.
It's worth noting that if you're willing to spend a bit more, you can get Samsung's Wireless Charger Duo that not only lets you charge two devices at once but also promises fast charging capabilities. This is great for users who want to be able to charge their Samsung phone and their Galaxy Watch at the same time. This charger might cost a bit more, but plenty of customers will view it as money well spent.
Get charged
Samsung Galaxy Watch Wireless Charging Dock
Charge up your Galaxy
The Samsung Galaxy Watch charger is the best option for charging your smartwatch. It has a built-in magnet for secure placement and an LED indicator to show whether the watch is still charging or fully refueled.
Speed it up
Samsung Adaptive Fast Charging Wall Charger
Fast charging
This wall charger uses technology that'll recharge your device faster than what you expect. It also comes with the detachable Micro USB to USB charging cable, so you'll be ready to go.
Double the power
Samsung Wireless Charger Duo
Charge two devices
If you want double the power, you may want to consider investing in the Samsung Wireless Charger Duo. You can use it to charge your phone and your watch at the same time.
Get the Android Central Newsletter
Instant access to breaking news, the hottest reviews, great deals and helpful tips.