What's your favorite thing about the Galaxy S20?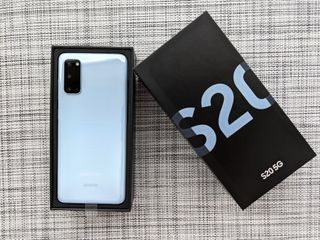 (Image credit: Ara Wagoner / Android Central)
If you picked up any version of Samsung's Galaxy S20, you're probably starting to understand why we've praised all three models so much. Whether we're talking about the S20, S20+, or S20 Ultra, you'll get an incredible AMOLED display with a 120Hz refresh rate, excellent cameras, and long battery life — just to name a few of the highlights.
There are a lot of reasons to get excited about these phones, but depending on who you are, some features are bound to be more important to you than others.
Some of our AC forum members recently got to talking about one feature they're particularly impressed with, the S20's display.
All of this talk got us to wondering — What's your favorite thing about the Galaxy S20?
Android Central Newsletter
Get instant access to breaking news, the hottest reviews, great deals and helpful tips
Joe Maring was a Senior Editor for Android Central between 2017 and 2021. You can reach him on Twitter at @JoeMaring1.
Samsung is the absolute king of displays? There is no finer? Plus it's compact compared to the other two? But when is 6.2 dislay compact, what, huh?

Every single thing except the price which I will not be paying.

Loving everything about the Ultra so far, I was coming from the Note10+ so the screen was already great, the 120 just takes it to the next level. And something I missed from the S10+ was the round corners, both are already larger phones but it makes the device feel better in the hand.

The high refresh screen is awesome when I have it enabled, battery life is awesome, with the 12GB RAM and latest CPU long load times are nonexistent, and One UI 2 is a nice improvement from One UI 1 on my S8+. I like that Samsung has made it even easier to never use Bixby. The power button can be changed to show power options instead of Bixby, and double press can launch an app. I haven't accidentally launched Bixby once.

Most definitely the 120hz refresh rate. I been putting it on other people's hands. IPhone users and previous model Galaxy users and ask what they think. Their reactions are the same as mine.. Wow this thing is fast and snappy! Can't believe something so simple makes such a huge difference. I am really impressed. Second thing would be battery life for me and last Samsung UI combined with Android 10 its quite enjoyable, I feel like I made a great purchased.

120Hz is basically only visible when scrolling, and most people will not notice it the way you do - especially those coming from iPhones, which have far better scrolling performance than the average Android phone, anyways. You can buy or build a gaming PC that can run a 144Hz monitor for gaming at these prices. I wouldn't waste money on a phone for "gaming," just for this. Especially when you could get a Razer Phone 2 for like $3-400 fairly recently. Yes, someone coming from a Note/S 8 or something is going to notice it more, for obvious reasons. I didn't notice it as much compared to my iPhone 11 Pro when I tried it in Best Buy. It's more noticeable compared to my Note9, because iOS is smoother than OneUI in those areas. I'd have preferred Samsung to actually optimized their software better, rather than placebo it with high refresh rates. A phone shouldn't need 12GB RAM, and OneUI shouldn't have RAM usage comparable to Windows 10 or macOS out of the box. This is just sloppy coding covered up by specs (which ultimately gets exposed when the phones start receiving major updates - though they barely get any of that :-P ). This is not "good enough" where I feel like I should want it. I definitely wouldn't choose a phone supported this badly - long-term, given the prices - over the iPhone (or switch over for it), just for that screen refresh. I'll just use iPhones and wait for Apple to add it in. They're probably going to implement it better/more efficiently, anyways.

You'll probably wait a long time for Apple to add anything useful or that people actually want

Keep drinking that Kool-Aid!

120Hz is ignorable to me. Simply not a factor, and it's only supported at FHD+, anyways. The bad long term software support, however, isn't. That's why I'm not buying a Samsung or Android phone until this issue is rectified. I don't trust Google hardware, and their phones are always fugly and lacking symmetry, anyways.

My god Zzzzzzzzzzzzzzzzzzzzzzzzzzzz 😴
Android Central Newsletter
Get instant access to breaking news, the hottest reviews, great deals and helpful tips
Thank you for signing up to Android Central. You will receive a verification email shortly.
There was a problem. Please refresh the page and try again.