What's in Hayato Huseman's gear bag?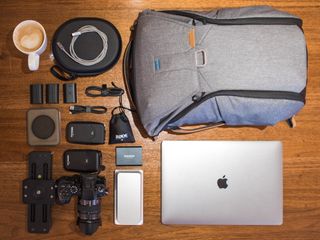 I do a decent amount of moving around for my job here at Android Central. When I'm writing or editing video, I usually stay home, but it can be hard to stay on task with my games and guitars sitting just a few feet away — so when I get stir-crazy, it's time to pack up and migrate to the local coffee shop. Then there's the trade shows and press events that pull me away from Indianapolis entirely for days at a time.
No matter where I am, I need to be able to carry all of my gear with me. You never know when a photo or video opportunity might arise, and there's never a bad time to write or listen to music. Here are the things I carry whenever I travel for work.
The bag: Peak Design Everyday Backpack
I've been searching for the perfect backpack for years, and I think I've finally found the one from Peak Design. The Everyday Backpack comes in two sizes — 20 liters or 30 liters — and boasts one of the cleverest designs I've ever seen in a bag.
The Everyday Backpack features three adjustable dividers for organizing your things, with foldable subdividers that help keep smaller items from moving around. They attach with velcro, meaning you can move the dividers around to best fit the contents of the bag. You can unzip the Everyday Backpack from the sides, making it easier to access your things at the bottom without having to take everything else out first. The top of the bag is attached by a large magnet, making it easy to attach but locking it in place to prevent unwanted access.
If backpacks aren't your style, Peak Design makes a few other bag styles, too. Andrew Martonik uses the Everyday Sling, and the company offers a number of messenger bags, totes, and pouches.
The laptop: MacBook Pro with Touch Bar (Late 2016)
Around this time last year, Apple released the first iteration of its new lineup of MacBook Pros ... yep, the ones with the weird Touch Bar that replaces the function row. It's usually not recommended to buy first-gen products, but my previous laptop was on its last leg, so against popular advice I ordered one as soon as it was available. While it's certainly not perfect, I'm glad I bought it — especially now that I'm regularly editing 4K video.
I've gone all-in on USB-C, so the lack of Type-A ports doesn't bother me, but a year later I'm still constantly frustrated at the omission of an SD card reader on an otherwise professional-grade laptop. Still, the specs inside are plenty capable for my workflow; a 2.6GHz Core i7 processor, 16GB of RAM, and an Intel HD 530 GPU.
Despite what you might've heard about the Touch Bar MacBook Pro's battery life, I've actually been really happy with how long mine lasts. When it does finally run down, I absolutely love that I can charge it with a USB-C cable, since that allows me to carry just one charger for my laptop, my phone, and pretty much everything else I use. Touch ID is super convenient as well, though it doesn't always work as well as I'd like.
The Touch Bar MacBook Pro is unconventional and often inconvenient, and if Final Cut Pro X worked on Windows I might've opted for something like a Dell XPS 15 instead, but overall I'm happy with my purchase. It handles large 4K videos seamlessly, and it's light enough that I hardly notice it in my bag.
The phone: OnePlus 5T
It doesn't have the glitz of the Galaxy Note 8 or the insane camera of the Pixel 2, but the OnePlus 5T has been my phone of choice for the last few months. Before it, I carried the OnePlus 5, so I've been spending a lot of time with OxygenOS this past year. It's almost identical to stock Android, but a bit more customizable without having to go as far as flashing a custom ROM.
I love the 5T's 2:1 aspect ratio, and I'm surprised at how much I've really been enjoying the new face unlock software — especially now that we're regularly dipping into subzero temperatures here in Indianapolis, and fingerprint sensors aren't exactly known to work through gloves.
The rest of the phone is stellar, too; the Snapdragon 835 and 8GB of RAM mean that it's going to take a lot to slow the 5T down, and its upcoming Oreo update will bring some nice features over from the Pixel, like picture-in-picture Google Maps and YouTube. If you're shopping for a new phone and you're sitting around a $500 budget, it's really hard to go wrong with the OnePlus 5T.
The carrier: T-Mobile
As far as the SIM card that goes into my phone, that duty belongs to the Un-carrier. Full disclaimer: I worked for T-Mobile off and on for nearly four years. While I don't get the employee pricing anymore, I do still appreciate features like free WiFi on airplanes and free international data roaming (though the speeds you'll get overseas are abysmal).
It also helps that I have a GSM carrier handy for this job, since most of the review units we handle won't work with CDMA carriers like Verizon or Sprint. Luckily, T-Mobile works great in most of the parts of Indianapolis and Chicago that you'll normally find me ... but I'd be lying if I said it's good everywhere. My last few visits to Manhattan and Brooklyn were full of 3G speeds. I don't want to talk about it.
The camera: Panasonic GH5
I spent every day of 2017 going back and forth between sticking with Panasonic or moving to Sony for my next camera upgrade. My Panasonic GH3 was still a great workhorse video camera, but it didn't shoot in 4K — an increasingly desirable feature these days, even if you export in 1080p. It also didn't have a lot of the software features many filmmakers today would consider essential, like focus peaking or histograms.
When I started at Mobile Nations, one of my first assignments was pretty video-centric, which meant it was time to finally upgrade. It made the most financial sense for me to stick with Panasonic since I already had a fairly expensive lens for my GH3, so I finally decided on the GH5, and I'm really, really glad I did.
The GH5 has just about everything you could want on a prosumer level; 4K video at 60 frames per second, a flat color profile for more flexible grading in post, dual SD card slots for redundancy, and even USB-C so I can copy my footage to my computer without a stupid dongle. The image quality looks incredible, and with a fast enough lens, it's even pretty decent in low light.
Most of the time, I carry my GH5 with a Peak Design Slide Pro strap. It connects with small quick-release anchors attached to the camera, and the adjustment system is designed for one-handed use, which is super convenient.
The lens: Panasonic 12-35mm f/2.8
Yep, just one lens. I've been using Panasonic's popular 12-35 exclusively for the last couple of years now, and it's been an incredibly versatile piece of glass. With an f/2.8 aperture, it's bright and sharp, and you can really pull some great bokeh out of it under the right conditions. On top of that, it's relatively compact, and I absolutely love the built-in stabilization.
I won't lie, though — I've been eyeing Sigma's new native 16mm f/1.4 lately. Maybe it'll show up in my next bag post.
The mic: RodeLink Wireless Filmmaker Kit
It's hard to beat the convenience of wireless audio. When I was with Daniel Bader and Andrew Martonik for the OnePlus 5T event a few months ago, we used Daniel's wireless lav kit from Rode for all of our audio, and it worked out great. The sound quality was excellent, and to my surprise, the wireless signal had no discernible latency, so I was still able to monitor audio directly from my GH5's onboard headphone jack.
The RodeLink lav kit comes in three parts: a receiver that attaches to the hot shoe mount on your camera, a transmitter that clips onto the talent, and of course the lavalier microphone itself. All three pieces fit pretty easily into my bag, so I never have to go anywhere without a way of capturing high-quality audio.
Everything else
For the sake of versatility, I like to carry as much video gear as I can without weighing my bag down too much, and the Edelkrone SliderOne is a perfect example. It's a 6" video slider that I can use either on a table or on my tripod to get smooth movement in my shots.
Attached to the bottom is the Motion Module, which adds a bit of heft to the SliderOne but allows me to automate its movements with an app on my phone. It's a bit finicky, but this combo has helped me get some nice-looking shots in my videos, and being able to carry a slider around with me is just so damn cool.
I also don't go anywhere without my Tylt Portable Battery 10X, which carries a whopping 20,100mAh and charges in and out with USB-C. It's a hefty battery and takes up more space in my bag than I'd sometimes like, but the massive capacity means I'm never worried about running out of juice on any of my gadgets — it even charges my 15" MacBook Pro, which has been a lifesaver for mobile video editing.
Speaking of lifesavers, Sony's newest noise-canceling headphones, the WH1000XM2, have become an essential part of my everyday life — backpack or not. Like the Bose QC35, these cans have incredible active noise-canceling, which is especially handy for working in loud coffee shops or blocking out engine noise on a plane. On top of that, they sound great, too, and the battery lasts for days at a time.
For storage, I carry around a 1TB Samsung T5 SSD. It's lighting fast, well-built, and it's about as small as a credit card. I was hesitant to pick one of these up because of the hefty price, but the first time I transfered a 20GB file in less than a minute ... well, it's pretty hard to go back to anything else after that. The T5 plugs in through USB-C, and comes with both a double-sided Type-C cable and an A-to-C cable.
Finally, let's touch on the loose ends. I carry a few cables around; the two cables included with the T5 SSD, and a longer USB-C cable to charge my laptop or phone with the Tylt battery bank. I also use that longer cable to plug the GH5 into my laptop for file transfers, but I also carry a Hootoo Shuttle USB-C hub with a built-in SD card reader just in case.
There are always a few spare batteries in the side compartment of my bag — two Canon LP-E6 batteries for my slider, and a Panasonic BLF19 battery for my GH5. I also carry a variable ND filter from Platinum in case I need to shoot in direct sunlight.
That's everything I carry when I'm traveling for work! Have any recommendations for new gear I should try, or how your carry might differ from mine? Spill it in the comments!
Get the Android Central Newsletter
Instant access to breaking news, the hottest reviews, great deals and helpful tips.
Hayato was a product reviewer and video editor for Android Central.