What would you like to see in the Galaxy Note 11?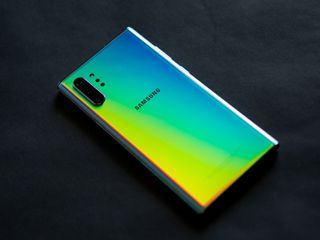 Samsung just released the Galaxy Note 10 and Note 10+ into the wild, and both are really great phones. However, the smartphone market never stops moving, and as such, some of our AC forum members are already daydreaming about what they want to see in 2020's Galaxy Note 11.
It's obviously too early for there to be any concrete rumors regarding what the Note 11 will bring to the table, so for now, here's what members of our forum community are putting on their wish lists.
What about you? What would you like to see in the Galaxy Note 11?
Join the conversation in the forums!
Joe Maring was a Senior Editor for Android Central between 2017 and 2021. You can reach him on Twitter at @JoeMaring1.
All the features they removed from the Note 9 back! LOLOLOL
Thats for starters. Then:
Lower price
90Hz refresh rate on screen
ZERO Bixby, take it off
Get rid of the under screen fingerprint reader (or add another on the back).

90hz display and better set of cameras and software

I would want a tea making function.

6.5 inch display, in display fingerprint reader that works by touching anywhere on the bottom half of the display, 120hrtz screen, 6500mAh battery with 60w charger included in the box, full screen (no cut outs), at least a 10x optical zoom lens, headphones jack (even though I'll likely never use it), IR blaster, power button on the right side, centered rear camera, smaller chin.

Last Qualcomm SOC (or Exynos equivalent)
6.7" screen (at least in the + version)
120MHz refresh
12MB RAM LPDDR5
Graphene battery (at least 5000mAh)
45W charger included
108Mpx main camera sensor at max. f1/8
Front camera 32Mpx That would be a flagship again. Below this, I am not sure I would still stick with them. Note 10 was enough of a disappointment, Samsung cannot afford the luxury of missing the target twice in a row.

All the features they removed from the NOTE 4 (IR blaster, head phone jack, heart rate and UV sensors, SD card slot) and then some new ones like a refresh rate higher than 90hz, a 3D mapping front facing camera for secured face unlock, a 4500mAh battery, more S-Pen features like having it recognize handwritten mathematical equations and opening the calculator simultaneously to assist in solving, a faster ultrasonic in display FPS, shatter proof or stronger glass panel (maybe sapphire) used in the front and back, built in hi-fi DAC, better cameras, NO DUPLICATION OF APPS (all apps that are not core to the OS should be easily removed, not disabled, REMOVED), QHD display, an extra button that can be mappable, the latest Qualcomm SoC with a 5G modem that can access both mmWave and 600 MHz spectrum, and a reasonable asking price less than $1000.

One version of the phone, not two.

Move the buttons to the right side
Better on-screen finger print reader
Flat screen instead of curved
Larger battery
Louder speakers

PRICED UNDER 500.00... WAY OVERPRICED

It needs a headphone jack and SD card support and at least a 5,000 mh battery. Also, it should have the highest quality screen on it too. All of the Galaxy Note models must be top-of-the-line and support all peripherals and be the best! The Galaxy Note 10 models are "nerfed" and are not the best.

It isn't too early to discuss?

120hz display, base model 12gb's, return the headphone jack. 32bit DAC like the LG phones,45watt charging, base model, that's it for now!

Note 11e and Note 11 with same exact specs but only difference is in the size department. Then the price difference can be only $100 to $150 a part. Oh yea, and a 90hz screen would help.

I miss the iris scanner. It worked flawlessly for me. Plus, there is more than enough room for the heart rate sensor.

Headphone jack
MicroSD support across ALL models, not just the most expensive one
Larger battery
A low-light camera system that rivals the competition
90 or 120 Hz display
Ditch the slow in-screen fingerprint reader and put a capacitive scanner on the back of the phone where it belongs
Power button on the right side where it belongs
Android Central Newsletter
Get the best of Android Central in in your inbox, every day!
Thank you for signing up to Android Central. You will receive a verification email shortly.
There was a problem. Please refresh the page and try again.