What we're playing: Our favorite Nexus 7 games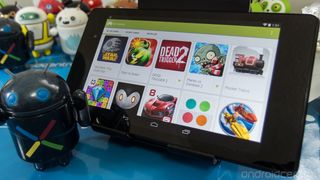 See what your AC editors are playing on their Nexus 7 tablets when they should be working
I'm not going to lie. A job that involves playing great games on an equally great tablet like the Nexus 7 is amazeballs. We look through and evaluate hundreds of new apps each month, and plenty of them are games. Then we get choosy, and make sure you know about the best ones. It's a responsibility we take seriously, but it's also pretty fun.
Of course, it also means we each have our favorites. You'll see games here that we may have already talked about a little, but they are the ones we love to play and keep going back to. We wanted to share the list with you guys and gals. Jump through the break and have a look, then tell us your top games in the comments!
Phil Nickinson
Asphalt 8: Airborne: Download from Google Play (free)
Never mind that Asphalt is a huge in-app purchase scam. Well, fine. Mind it. Mind the hell out of it. Be more than a little bit insulted, actually. But it's also one hell of a car-racing game. The graphics do get a little repetitive, but the gameplay makes up for it. Just hide your wallet. Trust us.
Plants versus Zombies 2: Download from Google Play (free)
Plants versus Zombies 2 is the highly successful follow-up to the highly successful original that pits you, Dave, and your plants against zombies looking to eat your brains. And you're also in search of a taco. (Just go with us here.) Gameplay is the same as the original, only you've got new monsters to beat, and new lands to do it in thanks to a little time travel. Yeah, there are in-app purchases available here (spring for the extra plant food), but not nearly as intrusive, necessary or insulting as in other games.
Badland: Download from Google Play (free)
This newer game from Frogmind is a little tough to describe, but it's already got more than a million downloads on Android. You control a sort of hedgehog-looking flying forest creature through lands, collecting clones and leading them on to the next level. It's part puzzler, part side-scroller and one hell of a good time.
Jetpack Joyride: Download from Google Play (free)
Still one of my favorite side-scrollers on Android, which is funny because it's so simple. Strap on a machine-gun jetpack and fly through the lab, collecting coins and vehicles. Either high-five the scientists, or make them wish they didn't come in to work today. This is my go-to time-waster.
Jerry Hildenbrand
Bloons TD 5: Download from Google Play ($2.99)
I love tower defense games, and I love anything that's a bit goofy. Monkeys that throw darts at balloons, trying to keep them from reaching the end of the path qualifies on both fronts. Place your monkeys, pop balloons and earn coins, use coins to buy more monkeys — simple. But addictive.
Dead Trigger 2: Download from Google Play (free)
There is a plague of Zombies out there, and it's your job to waste as many of them as you can. In Dead Trigger 2, you're part of the human resistance and fighting for your life (literally) to rid the world of zombies who are intent on ridding the world of you. Play this one with a game pad for maximum pleasure.
Knights of Pen and Paper +1: Download from Google Play ($2.99)
Old school Dungeons and Dragons meets new school Android. In this indie game, you create a party of characters — choose from the classes you know and love like the Paladin, the Mage or the Rogue (and more) — and enjoy the best pen and paper RPG simulator anywhere. You have plenty of monsters to deal with on your epic campaign, and they all need killed and looted.
Riptide GP2: Download from Google Play ($2.99)
Console-quality gaming, right on your Nexus 7. Jump on your hydrojet and race against the computer, or against your friends via Google Play games. Vector Unit knows how to build incredible mobile games, and if you like racing games you'll fall in love. Add in upgrades to your hydrojets, and full multiplayer, and you have a total winner.
Zen Pinball HD: Download from Google Play (free)
Everybody loves pinball, and playing it on your Nexus 7 is pretty darn fun. Simple tap controls make Zen Pinball HD a winner, and the graphics and gameplay are excellent. There's also a ton of DLC, including Marvel superhero tables and Star Wars themed tables, but my favorite is the one included with the free download — Sorcerer's Lair. Zen Pinball is a ton of fun.
Richard Devine
Real Racing 3: Download from Google Play (free)
Sure, EA is on a total IAP blitzkrieg with Real Racing 3, but that doesn't mean it isn't one of the best racing games you can get your hands on. The graphics, controls, circuits, everything is sublime. I wish I could pay even $20 to unlock everything, it's that good. But sadly, that's not a thing.
Despicable Me: Download from Google Play (free)
Because Minions. It's kind of like Temple Run, only way more fun. Set in various different locations from the movie, run, fly, jump as far as you can. In fact, you don't need Temple Run at all if you have this.
Rayman Jungle Run: Download from Google Play ($2.99)
Still one of the most fun mobile games I've played in a long while. I played it, put it down, then picked it up and played it all over again. Simple, good looking, and best of all designed properly for touch screen controls.
Shine Runner: Download from Google Play (99 cents)
An oldie, but a goodie. The Vector Unit team knows how to make great games, and this is one of them. Make your money running moonshine (and other 'interesting' products) across the bayous. And take out the swamp cops while you're at it. This one never, ever gets old.
Andrew Martonik
Sprinkle Islands: Download from Google Play ($2)
I enjoyed the first Sprinkle as a casual "sit on the couch and play" sort of game, so when the new version, Sprinkle Islands, was released I jumped to it right away. I tend to play it most on my Nexus 7 because it has simple controls that translate well to the big screen, and the graphics and animations just look fantastic. I'm not sure what it is, but the developer just has a knack for doing amazing things with motion and color in their games.
Fieldrunners 2: Download from Google Play ($2.99)
After completely skipping the original Fieldrunners, I caved into the hype surrounding the Fieldrunners 2 release and got hooked. The drag-and-drop style of this top-down game just lends itself so perfectly to a larger display, I end up playing this on the Nexus 7 regularly. The rather long levels tend to limit your playtime to when you have a good chunk of the evening to kill, so be ready to spend some time on the couch with this one.
Epoch: Download from Google Play ($1.75)
While I don't think Epoch gets as much attention as the larger titles, this Unreal Engine game from Uppercut Games is a great third-person shooter. I often have issues with complicated on-screen controls for shooters (I really need a controller for those), so Epoch strikes a good balance between being on rails and having a little free motion in the controls. The storyline isn't the most engaging, but it has robots, machine guns and great art. It's a winning combination.
Granny Smith: Download from Google Play ($1.99)
I put this in the "oldie but goodie" category, and it is one of the first games I install on any new device I get — specifically tablets. Being made by the same developer as Sprinkle Islands, Granny Smith has simple controls that scale perfectly to the 7-inch screen, and it's hard to beat the combination of great-looking levels and fun characters.
Jerry is an amateur woodworker and struggling shade tree mechanic. There's nothing he can't take apart, but many things he can't reassemble. You'll find him writing and speaking his loud opinion on Android Central and occasionally on Twitter.
Good list. Riptide is one of my favorites. Can I play Asphalt and really enjoy it ( I'm talking REALLY enjoyment) without having to make any in-app purchases?

With just about every racing agme, at a point it will be impossible but not for quite some time im still enjoying it and havnt paid a dime yet. much more longer than real racing 3

With the latest update you can. You can win various prizes for winning (i.e. finishing in the top three) multiple races in a row in multiplayer races, one of which is the credit doubler which makes getting the credits you need to buy all the cars a lot easier. Posted via Android Central App

I had it for as long as I could without doing the "free" update until it forced me. Once I did that, it only let me use it for a week or I'd have to give them more money.
So I end up uninstalling, no more racing for me.

Zack you can add me on Google plus bhatiadeep9@gmail.com . We can play multiplayer. I love riptide gp2 as well.

There's games that are specific to the Nexus 7? Posted using Android Central App on my Samsung Galaxy S4 T-Mobile

Well it is like the perfect mobile gaming tablet.

No there are not, at least not to my knowledge. It's just that the Nexus 7 is a rally good tablet for games.

No one is playing Samurai Siege? Soooo addictive! No Kingdom rush either?

Kingdom Rush is kind of meh, it was fun, but blew through it pretty quick. I have never heard of Samurai Siege.

It's a Clash of Clans knock off. Kind of meh.

Ditto on Samurai Siege...highly addictive!

great post! took some recos. thx :)

Punch Quest has been on constant rotation on my Nexus 10 since someone (Jerry?) mentioned it here a while back. And god dammit, thanks for reminding me of Jetpack Joyride. There go the last lingering shreds of my productivity. Sent from my iPhone

Punch Quest is great, I need to DL it again, great time waster and love the art style. I played the crap out of Jetpack Joyride and I just can't do it anymore. I am looking forward to some of the Halfbrick Studio games that iOS has had for a bit.

Are these 'Nexus 7' exclusive or am I missing something here?? _______________________________________________
This message was brought to you by the numbers 0 and 1

No. They are not Nexus 7 exclusive.

Yes, you're missing something. This is a list of games that are great on Nexus 7. It's a list of games for Nexus 7 owners. Nothing about it says they're exclusive to the Nexus 7.

There is no such thing as xyz exclusive, it's Android.

Bloons Tower Defense 5 is probably the greatest tower defense game ever. It's that good. Posted via Android Central App

I used to think that until I played Kingdom Rush: Frontiers. I love the adventure/upgrade aspect thrown into the game.

I actually can;t believe how much I've played Bloons 5. I've hit level 65, purchased everything I can with tokens and cash, and there's really not much left to unlock. It's crazy how intensely the game hooked me.

I don't have a tablet. But can someone recommend a space game, that would play good on the S4? When I was a kid, there was this Nintendo game called Gyrus that I enjoyed a whole lot. Posted using Android Central App on my Samsung Galaxy S4 T-Mobile

Old School:
https://www.androidcentral.com/e?link=https%3A%2F%2Fwww.anrdoezrs.net%2F...
https://www.androidcentral.com/e?link=https%3A%2F%2Fwww.anrdoezrs.net%2F...
https://www.androidcentral.com/e?link=https%3A%2F%2Fwww.anrdoezrs.net%2F...
https://www.androidcentral.com/e?link=https%3A%2F%2Fwww.anrdoezrs.net%2F... New School:
https://www.androidcentral.com/e?link=https%3A%2F%2Fwww.anrdoezrs.net%2F...

Terrene. I love Terrene. -----------------------------------------------------------------------------------
Posted via my thumbs and Google Keyboard.

personally I play Neon Shadow & Shadowgun Deadzone. (one is kind of like Halo the other like Gears of War.) Posted via Android Central App

Is Alex being replaced by Richard?

Not in the slightest. AC is back to having two regular Brits. Because you can never have too many Brits.

The U.S. thought so at one point in history ;)

BURRRRNNNNNN. (inside, I'm 12 years old)

I like Brits! My favorite musician is Phil Collins, who is from Surrey England. Posted using Android Central App on my Samsung Galaxy S4 T-Mobile

What about, Archangels for 2 bucks i believe?

@ Illustrator Joe, thanks a lot! I will check them out. Posted using Android Central App on my Samsung Galaxy S4 T-Mobile

+1
Gyrus is a classic. ಠ益ಠ

Wow, someone actually remembers that game! Awesome! Posted using Android Central App on my Samsung Galaxy S4 T-Mobile

Any list without Hay Day and Colossatron is incomplete.

My girlfriend has been losing her shit over Hay Day lately. It's not my kind of game, but it looks cute and well designed. Sent from my iPhone

Where's The Room? Can't wait for The Room 2.

It was great to see Shine Runner on the list. This is my all time go to game on Android. It's a perfect cross of racing and the old school "Drug Wars" game. I also always have LEDFootball 1 on my Nexus 7 (and phone), but it's from "another Android Market" app (cough, Amazon, cough).

Yes an article about Nexus 7 games. I just got my nexus 7 two weeks ago and it's rooted, 32 GB, and I love it. I just got a USB OTG cable so playing certain games and loading music and movies to it works perfect too and saves storage on the actual device for games. The games that were listed are perfect. Can't recommend Dead Trigger 2 (1 is good too)and Asphalt 8 is enough. I'll have to try despicable me it looks like fun. For Nexus 7 or 2013 model too I recommend Sonic Dash, Subway Surfers, Worms 2, Ski Safari, Beat Hazard Ultra, and Meltdown. Also, with my moga hero controller and being rooted I can map the controls to any game similar to six axis. I bought spider-man along time ago and was never able to play it. Now I finally can. Being able to free roam web swing on android with the moga controller is incredible. Really, so many games play better and look better on the nexus 7 2013. Love this tablet.

Thanks for pointing out Zen Pinball HD. I love playing it on my Xbox 360, and now I can take it with me! Had no idea it existed for Android, too (and yes, Sorcerer's Lair is one of the best tables).

Got to DeadTrigger is the best and latest updates have been good like EA Real Racing but pissed that when turned to cloud storage lost my account gold cars everything cause it never linked and when signed in had to start from scratch. Notice you don't mention coms2us Golf Star absolute quality game but keeps crashing on my Nexus 7 but up until week or two ago best Golf game on Android without a doubt,Vector is pretty good for a side scroller.

dead trigger 2 is amazing!

If you are active riptide gp2 racer and if you are interested in playing online multiplayer add me on Google plus bhatiadeep9@gmail.com
We have riptide gp2 group chat on hangouts where all the top racers of world can meet each other. Just send me a message on hangouts I'll reply

Great list. I wish that google play games features were implemented in more games by more developers. Its become something I factor into what makes me download a game, I enjoy the achievements and universal leaderboards a lot. Posted via Android Central App

Real racing 3 is excellent, as well as zen pinball, but a game I spent many hours on was Galaxy on Fire (GOF). I think any people who appreciate small details will love this game. A seemingly endless amount of side missions, along with the main storyline made this one of my favorite games. On RR3, they constantly have a sale on Ferraris, and I'm a bit far from those events.

Am I the only one experiencing freeze-ups while playing Plants Vs. Zombies 2 on the 2nd gen Nexus 7 ? The 1st gen works fine with the game.
Android Central Newsletter
Get the best of Android Central in in your inbox, every day!
Thank you for signing up to Android Central. You will receive a verification email shortly.
There was a problem. Please refresh the page and try again.