What to watch out for if you're buying a cheap Android tablet today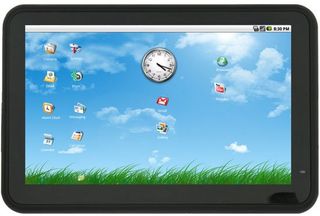 Today's Black Friday in the U.S., and across the country, turkey-filled Americans will hitting the stores looking for bargains. If previous holiday sales are any indication, there are sure to be plenty of low-cost Android tablets looking to lure buyers in with the promise of a big-screen Android experience on the cheap.
Just because a tablet doesn't cost the earth, doesn't make it bad. The Nexus 7 has proved that you can get a decent Android-powered tablet without breaking the bank. Nevertheless, there are some things you'll want to watch out for if you want to avoid being sold a dud. We went through some of these points a few years back in a post-Christmas tablet guide, but it's time we brought it a bit more up-to-date.
Build quality and performance
If it looks like it's going to fall apart the minute you pick it up, it's probably not a great buy. In-store demo units often take a lot of abuse over the weeks and months that they're on display, but if a tablet seems creaky, or parts are loose or missing, then you might want to reconsider your purchase.
On a similar note, play around with the tablet and get a feel for how well it performs. Sometimes demo devices are loaded up with random apps, or are unstable because they've been tinkered with one too many times by passers-by. But you should at least be able to get a general feel of how fast a device is before parting with your cash. If it's sluggish or laggy in-store, it probably won't be much better once you take it home.
Specs and screen
For the less technically-minded, specs are difficult to judge. Lower-end tablets will tend to obfuscate specs that identify them as such, and specs for mid-to-high-end tabs. For example, there are lots of dual-core CPUs out there, and many of them deliver wildly different performance.
Displays are easier to judge, and you can often do so right then and there in the store. Be sure to check how photos and video, as well as menus and widgets look to get the best idea of screen quality.
And as far as touchscreen tech goes, definitely avoid resistive touchscreens on any tablet. These are screens that require you to apply pressure -- rather than just touching lightly -- for them to register input.
Android version
To own an Android device is to wait for updates. The only tablets running the very latest version of Android, 4.2 Jelly Bean, are the Nexus 7 and Nexus 10. Cheap tablets won't always ship with the latest software, but you'll want to insist on at least Android 4.0 Ice Cream Sandwich to get the most out of your tablet. That gets you access to newer Google apps like the Chrome browser and Gmail 4.x, as well as improving performance compared to old versions.
If it's running Android 2.x (Eclair, Gingerbread, Froyo), it's something to steer clear of. Honeycomb (Android 3.x) tablets are probably worth avoiding too. If they're still running this version of Android, chances are they're not getting updated beyond Honeycomb.
Check the tablet version by loading the Settings app, then heading to "About phone" or "About device." You'll find it under "Software version."
Google Play support
As a general rule, you'll want Google Play support on your Android tablet. The exceptions here are Amazon Kindle and Nook devices, which have their own diverse content ecosystems. On other devices, the lack of Google Play usually indicates a tablet of poor quality, as it won't have passed Google's certification process.
Check the app drawer for a "Play Store" app (sometimes "Play Shop" or "Android Market" on older tablets.)
Brands and price
This rule doesn't always hold true. There are some decent budget tablets from less well-known vendors (as well as some crappy devices released by the big brands). Nevertheless, you'll generally have fewer problems if you don't go with a no-name or generic brand.
Black Friday tends to stir up all kinds of crazy deals, but if you're looking at tablets priced at or below the $100 mark, it's likely you're going to get exactly what you pay for. The Nexus 7's $200 price tag remains the sweet spot for Wifi-only tablets.
Any questions? If you've already taken the plunge, you'll find plenty of pointers in our "Help and How to" forum.
Alex was with Android Central for over a decade, producing written and video content for the site, and served as global Executive Editor from 2016 to 2022.
If its a cheap android tablet and it doesn't say NEXUS on it, don't buy it.

+100000000000000000000 would be foolish to buy those cheap quality tablet when nexus 7 is inexpensive and has a quality build. it might come with latest OS now but later the os wont be updated and even if you try to put CM it wont be possible because no one supports it.

There's cheap, and then there's garbage. The market has established $199-$249 as the "cheap" price for good tablets, with last year's models taking a $50 cut. Anything cheaper than that is not worth it. There's tons of garbage tablets you can find in odd places for less than $100, often at $80, and not just on black Friday.

Not so fast. I got my father an acer iconia 200 from Gamestop for $199. Now before you flame me, I know its not the latest in specs or software, its a 10 incher (so he doesn't have to squint & I has expandable memory. He doesn't need or care about the latest tech. So there's that.

THIS. Not everyone has an innate desire for the latest and greatest. If it's for the kids or just for someone who doesn't give a damn, let them buy whatever the hell they want while you go bugger off somewhere. Of COURSE an Android enthusiast will know what to buy, but if it's just for someone who doesn't care, let them have it.

shouldnt have this come out BEFORE the sales? lol

The nexus 7 8gb model is only $169. If you ask me, that's the real sweet spot. These so called $100 tablets always offer around 4gb of memory and a poor quality screen/processor and 512 ram. The nexus, for 69$ more than doubles the memory, ram and at least 3 times to processing power.

but still has no sd card slot.....!!!!

The nexus 7 must suck compared to the competition then.

Ahhh. I see what you did thar. But seriously. Spot on. Nexus 7 is the best priced per performance tablet on the market. Period.

Do yourself a favor. Don't buy ANY Android device that doesn't have NEXUS in its name. That applies to phones as well as tablets. If you want to go cheap, get the 8GB model and use StickMount to attach USB flash memory to it.

At least get a 16GB Nexus 7. 8GB of space won't get you no where.

If you don't have $200, then the 8GB Nexus 7 is a great buy.

As much as I'd like to believe that... I'm really happy with my non-Nexus phone that: - has a fingerprint reader for lockscreen authentication (and even locking individual apps if I wanted to!)
- has a Sony camera and Fujitsu microchip for image processing
- only 4.3" screen, very comfortable to use
- on-screen buttons
- mobile TV, mobile wallet
- it's water and dust proof
- software-wise, it has this "human centric engine", ie it knows when it's in my pocket vs lying flat on the table, and will automatically set the ringtone volume; never getting caught out in a café with a loud ringtone, these days (very impolite to even talk on the phone in a café, where I'm living), it knows when I'm holding it so it won't turn off the screen, and so on
- has LTE, with a battery that generally lasts me through the day
- and so on (It's made by Fujitsu btw, yes Fujitsu makes phones) (I'm also happy with my Nexus 7) Lotsa things I'd never get with a Nexus, sure I'd get updates faster but at this point it's not a big a deal as it used to be, and I'd rather have all these goodies than the latest clock with a bold font. It's not perfect, neither are the nexuses, so there's always certain compromises you have to make when you choose a phone.

Agree with the article. My cousin just bought a Coby Kyros 8.9" for her daughter and wanted my input on it. I said it's an offbrand, and showed her some mid-range to low reviews on Amazon. Told her to pony up a little more money and go with either a Kindle Fire or Nexus 7.

Sorry it took a while for me to comment. Using my Pandigital Supernova....

3:30: Submits comment using Pandigital Planet
4:56: Comment uploaded

The BlackBerry Playbook at $129 easily takes the honor of best cheap tab.

+9000. The Playbook, The 8GB Nexus 7, the Nook tablet, and the Kindle Fire are selling cheap for the holidays. There's absolutely no reason to buy a cheap knockoff. Hell, if someone is willing to buy used, you can find a 1st gen iPad, Samsung tab, or a Xoom on Craigslist, Swappa, etc for only a little more than the price of a knockoff.

While I wouldn't get one for myself, the craplets aren't bad for young kids as their first tablet. Sure it doesn't have the Google Play Store, but you can sideload any apps that you can't get off of GetJar or whatever market. Install a kids launcher, throw on some educational games (and Angry Birds, because what kid doesn't like that), and you've got a sub-$100 useful device for kids. And if it breaks, you're only out $100. I'm thinking of getting a couple for my two oldest (which are 4 and 6 years old). Both of them like playing games on my wife and my phone. This way they'll have something of their own for that.

I dunno... They CAN be bad once they start noticing performance deficiencies (as my 4-yr-old has). When he presses a button, he expects things to happen right now, as they do on daddy's high-spec gadgets. I let him play with my old Tab now, and have had to teach him about patience (and the Tab wasn't exactly a slouch). And never mind when he wants to play the latest games on "his" Tab.

Doctor, I want 200$ hi-end tablet...

Nexus 7 32 GB $ 230.00 at Home Office today and tomorrow, while supplies last.

Office Depot, sorry and thanks.

Just wish the Nexus 7 and Kindle fire where out when I bought my budget tablet( complete and utter ***** ) Lesson learnt though. Now saving up for either a Nexus or Kindle fire or if the wife will let me something a bigger than 7inch.

A worthy and important article, but since the topic is cheap and off-brand Android devices, I feel like the author missed the most important potential problem with the low-cost devices; namely MIPS vs. ARM cpu architecture. I have both lower end (Nook Color, Ainol Paladin 7", Polaroid 7", Samsung Transform M920, Huawei Fusion) and higher end devices (Nexus 7, Galaxy S, Galaxy SII). I love to pick up the lower end ones on a whim when I see them at Big Lots for $79 or Ebay for even far less, and then I get to tinker with them endlessly with rooting and roms. Fun! If there is anything problematic I have noticed with certain lower end devices, it isn't their processing speed, memory or displays, which tend to be adequate, that is, they don't tend to surprise me because those specs are on the side of the box and the devices benchmark right where one would expect them to according to the specs. Stock OS versions aren't that bad, either (especially Gingerbread) as these devices often have a good choice of roms out there at XDA developers or on youtube. The problem is the MIPS cpu, which is the cpu on a growing number of low cost Android tablets. The existence of MIPS (the company) isn't a problem, I'm actually glad the low-cost California chip maker is getting deeply involved in tablets and challenging the dominance of ARM cpu's. But the fact is that MIPS based tablets (and phones, if there are any yet) have very serious compatibility problems with applications. Clever devs have come out with "Magic Code" which increases compatibility with apps, but as things stand right now, I would say a tablet with a MIPS cpu can only run about 25% of the apps on Google play, and with Magic Code, you might run about 35-40%. So, my advice to anyone shopping for a cheap Android (lets face it, the prospect of getting 3 or 4 cheap 80$ tablets as gifts compared to one Nexus or iPad Mini is very appealing) is to make sure you know what cpu the tablet is running, and then think of the relative skill level of the tablet's user. Look at the specs...does it run an ARM cpu or a MIPS? If it is running ARM, you're fine, as long as the CPU (800Mhz+, 1ghz preferred) and base memory (512mb minimum) are ok. But if it is running MIPS, you had probably better stay away from it as a gift because the recipient will be a bit frustrated by the MIPS incompatability with apps unless they are a tech junkie and will actually ENJOY tinkering with the device....and there certainly are a lot of people out there like that. That said, I'm still glad MIPS is getting into the game, I just hope that processor-specific instructions in apps become less problematic in the future so that compatibility won't be such a huge issue. I would agree with the author that frugal buyers should stay away from devices running Eclair or Froyo, but I would disagree about Gingerbread. 2.3.4+ remains a very viable and powerful system, especially for a lower cost tablet that probably wouldn't handle Jelly Bean well anyway. A big part of the ICS/JB appeal is the look of the OS, so a fellow can just throw on something like one of the great free launchers (Apex, Nova, Holo, or whatever) and then they can have the ICS look on a GB tablet.

Just get to play with it first. I have been asked to help setup two cheap tablets bought off eBay that have been just unusable. Nice and cheap at under a hundred dollars but with painfully bad resistive touch screens. I had to bluntly say to their owners "You can't use this. You've blown a hundred bucks, sorry". It doesn't have to be a cutting edge machine at that price. Just be usable.

I saw a lot of these with only 4 or even 2 GB. But they are tempting at such cheap prices. They didn't seem to be flying off the shelves today though so hopefully people are wising up a bit.

Thank you for these very good tips. I read a lot of reviews (in particular, except of you, i appreciate this http://www.tecnologici.net/google-nexus-7-recensione-completa/
I think i'll buy a Nexus 7 :)

I agree with all the Nexus 7 comments, don't get me wrong, I've bought two of them (one for myself and for the girlfriend), and have a TF300T as well that is also at the high end of tablets, just in a different size.... I've been looking for a cheap-o tablet to use as an extremely expensive "monitor" for my front door's security camera -- stop it, I'm not rich or living in a mansion, it was $50 from China and we didn't have a peep-hole on our door of the house I'm renting, plus, I can view it from anywhere on my SGSIII too. While I'm in the office, I like being able to see when people arrive or if it's worth a trip to the front door when solicitors, you know, the ones who can't read the signs in the neighborhood restricting solicitations, come-a-knockin'. I've been using my old as dirt (1.5 years old) Atrix 4G on my old car mount, but it's been having serious issues, mostly because it's a Motorola that was "ahead of it's time," whatever that's supposed to mean.... Having a 7" screen to burn on all the time would be nice, and I'm not going to put my N7 or even larger TF300T through that duty, so I've been eyeing the PIPO Smart S1 on eBay at $100 for a JB device, capacitive screen, 1GB of RAM, and a whopping 8GB of storage for the ONE app I would run on it. Seems good enough for my needs and is only $100 for a 4.1 device, most ICS devices are that price or more, with JB coming in a whole $40-70 more (see 8GB N7 pricing). Sure, I could buy an even cheaper Gingerbread 7" tablet *shutters* but why would I NOT want this, anyone? http://rover.ebay.com/rover/1/711-53200-19255-0/1?ff3=4&pub=5575095911&t... Take note of the $8, 2 year warranty from SquareTrade. I've used them for a TON of stuff in the past and they've always been very good, put their prices have been outrageous recently. That's about as good as it gets right now, not to mention I have six 35% off coupons to burn through before 2013 arrives! Someone try and talk me out of this, if you have a valid point, thanks!

Well, I am using an HP Touchpad loaded with Cyanogen 9 (Android 4.0.3), and it is great. No crapware, fast, reliable, adequate screen resolution and quality, etc. Only cost $99 and is far better running Android than WebOS. While HP's fire sale was admittedly a bit of a fluke...it seems to have worked out :-) The camera is not working due to proprietary code, and while it is being readied for Jelly Bean - at some point, like most hardware - it will be out of date.

Sweet! I'm just gonna run out and buy my very own $99 HP TouchPad. Oh wait. They sold out a year ago. Your comment was utterly pointless.

I would have bought that $40 tablet from Kmart on Thanksgiving... for the lulz.

I bought a Asus transformer Yesterday for 279. Was this a tablet worth getting?

definiteely...thats a pretty good (but not the absolute best) price, I assume you got a refurbished one. I just used my friend's Eee Pad Transformer last night for an astronomy app while looking up ephemeris data and streaming music at the same time. It handled everything I threw at it with great speed, and then some.

I got it for 279 at best buy brand new. But how do i get flash player on this thing?

Stay away from the Acer Iconia A700. I bought one in June, and through five months I've had hardware problems galore. Two weeks after I bought it a speaker just died out of nowhere. I got it repaired and just this week I turned on what's left of my screen (after having the tablet sitting, off, on my locked dorm room's desk over the weekend) to a touch screen filled with lines and a rainbow of colors for no apparent reason. And no, before someone says it, I've never dropped the thing, lol. Now comes dealing with that excellent Acer warranty program again... (sarcasm)
In addition to that it doesn't run the greatest either. The Tegra 3 inside is the lower-end one running at 1.3ghz(same as the N7, actually) vs. the high-end 1.6ghz T3 in the Transformer Infinity and it's not the right one to be pushing all the pixels of that 1080p screen. The Jelly Bean OTA made it a lot better, but it still hiccups.
With all that said, it's a solid device , but if you can live without the 1080p look at one of the Galaxy Tab 2's. And if you need the screen resolution, go Asus Transformer Pad Infinity or with the Nexus 10.

Nexus 7 or nothing! Got one for my daughter and we all love it!

I got a Nook Tablet 16GB for $93 and I'm very happy with it. Rooted, installed Holo launcher and it does exactly what I need. I can access all the Nook stuff, plus all the Google Play stuff, read, watch Netflix, play Need For Speed. I'm happy.

Hi, i know this is an old thread but might i ask what build and model your nook, is what did you use to root it and which version of Holo did you install? I'm just thinking for $93 you can't go wrong if it's rootable?!

I have the 8" polaroid and can't seem to get the weight watchers app loaded. At first I thought it was just a memory issue and when I got a 8gb sd card it still says it is unable to intall it. Any tips?

I bought a tablet Zeepad 7.0 here:
http://www.cheaptabletandroid.com/zeepad-7-0-allwinnwer-a13-boxchip-cort...
and it's price is only $ 79.9, I'm happy with it because of its quality compared to the price

without those,some of you said 'garbage', tablets, there is no 'low price' nexus 7. competition is good for consumers.
there are still people who cant afford nexus 7. after all, $150 is triple of $50. if you choose carefully, you can buy a tablet slightly less/equal performance with nexus 7 for a third or half the price of nexus

I bought three Zeepads from nomorerack.com this Christmas. I want to register them for support. How do I find out what support there is for these devices?

I sure wish I had read the reviews of the Google Zeepad before I bought one ! It seemed like a good deal at the time, but I purchased it online from NoMoreRack.com and when I got it, it wouldn't even charge up or turn on. Then to make matters even worse, they wouldn't let me return it for a refund or exchange! What a waste of money! Guess I'll just stick to my reliable old PC!!!

Didnt answer my question was searching for what is sucking my battery life?
Android Central Newsletter
Get the best of Android Central in in your inbox, every day!
Thank you for signing up to Android Central. You will receive a verification email shortly.
There was a problem. Please refresh the page and try again.