What kinds of files violate Google Drive's content policies?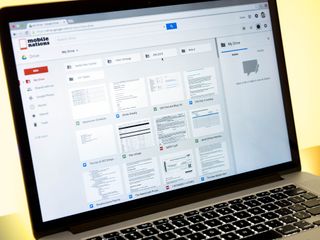 (Image credit: Android Central)
Best answer: As of December 2021, the types of files that violate Google Drive's content policy include: child sexual abuse and exploitation, dangerous and illegal activities, harassment, bullying, threats, hate speech, malware, misleading content, explicit non-consensual imagery (NCEI), phishing, sexually explicit material, violence, gore, and violent organizations and movements.
What kinds of files violate Google Drive's content policies?
Google recently made public the latest terms of its Abuse Program Policies and Enforcement policy. The newest policy spells out exactly how it applies to content uploaded to its Google Workspace services, which includes Drive, Docs, Sheets, Slides, Forms, and new Sites features.
As part of the update, Google shared a complete list of content that may be removed or blocked on services, including Google Drive based on applicable laws. In addition to applying to offenses such as account hijacking and inactivity, the latest version of the Google Drive content policy more specifically applies to the following content:
Child sexual abuse and exploitation
Circumvention
Dangerous and illegal activities
Harassment, bullying, and threats
Hate speech
Impersonation and misrepresentation
Malware and similar malicious content
Misleading content
Non-consensual explicit imagery (NCEI)
Personal and confidential information
Phishing
Regulated goods and services
Sexually explicit material
Spam
Violence and gore
Violent organizations and movements
It's worth noting that when it comes to applying these policies, Google does make some exceptions based on artistic, educational, documentary, and scientific considerations. The company is also transparent about not blocking or flagging content in situations "where there are other substantial benefits to the public from not taking action on the content."
How does Google apply these policies
While Google previously promised to file a report with the appropriate authorities to investigate the matter regarding any illegal material and activities, until recently, most files that violated these terms were simply flagged and restricted from being publicly shared.
As part of the latest policy update, however, Google also sends users who go against the policy an email detailing the violation and explaining how they can request a review of the restriction. This gives users who may have uploaded violating content on accident the chance to review the issue and submit an official appeal.
According to Google, this new accountability measure has already begun to roll out on both Rapid Release and Scheduled Release domains. It will continue until it's activated for everyone across all Workspace tiers and G Suite licenses. While there is not currently a timeline for when the latest policy update is coming to personal Google Accounts, it's likely to happen in the future based on previous launches.
Business made easy
(opens in new tab)
Google Drive and more
Google Workspace makes it easy to keep your professional and personal life organized with tools like Gmail, Drive, Calendar, Docs, Sheets, Slides, Meet, and more.
Keegan Prosser is a freelance contributor based in the PNW. When she's not writing about her favorite streaming apps and devices for Android Central, she's listening to a true-crime podcast, creating the perfect playlist for her next road trip, and trying to figure out which fitness tracker she should try next. You can follow her on Twitter @keeganprosser.
Android Central Newsletter
Get the best of Android Central in in your inbox, every day!
Thank you for signing up to Android Central. You will receive a verification email shortly.
There was a problem. Please refresh the page and try again.