What keyboard app are you using in 2020?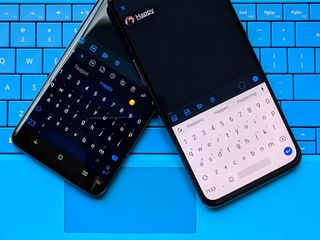 (Image credit: Android Central)
Your phone's virtual keyboard is one of the most important things you interact with every single day. It's how you send emails, texts, and create spicy tweets.
Every phone comes with a pre-installed keyboard right out of the box, but if you take a look at the Google Play Store, you'll find a variety of third-party keyboard apps that can elevate the out-of-the-box experience.
Some of our AC forum members recently got to talking about what keyboard app they're using here in 2020, and this is what they had to say.
What say you? What keyboard app are you using in 2020?
Joe Maring was a Senior Editor for Android Central between 2017 and 2021. You can reach him on Twitter at @JoeMaring1.
I use Samsung own or switch to Google keyboard

I bounce between SwiftKey and Gboard. Samsung has made strides, just not quite there yet.

I use the standard Gboard, but have found that for several months the dictionary does not work properly. It highlights the word but does not correct it. It also dose not store new words like it used to. A some one who's dyslexic I found this both a valuable tools for learning but also for checking the composition of what I'd typed. I really liked the BB keyboard too. Shame you have to have the rubbish that comes with it though.

+100000 What is so frustrating about gboard and correction is that when you type incorrectly in chrome search, google knows almost EXACTLY what you are wanting to write and fixes it appropriately, but gboard underlines spelling mistakes and doesnt offer up a known correction. Why can't the people at chrome teach the people at gboard how to do it right????

This. Makes me want to throw my phone.

BlackBerry keyboard for me. Tried others but always return to it.

SwiftKey. Switched after a week from Gboard and Samsung Keyboard. Did not regret it.

Used swiftkey since it was launched.

Gboard. The one and only.

Gboard since it allows me to switch easily between English, Malayalam (Indic language) and Spanish (for Duolingo).. easy switching

BlackBerry Keyboard https://cobalt232.github.io/blackberrymanager/

I have always used SwiftKey

BlackBerry Keyboard all day, been using it since I was forced to move to Android.

Swiftkey. It's one of the first app that I re-install on any new device, right after turning off all sounds.

Keyboard that came with the phone which on the Pixel 2 is the Google keyboard.

SwiftKey. Large, high contrast (black) minimal is awesome. But what I really wanna know is, why do mobile cameras insist on making a shutter clicking sound when you take a photo?

Samsung default keyboard.

Just downloaded and tried swiftkey for the first time in like 6 years and nope, not as good as GBoard

BlackBerry keyboard The physical one
Android Central Newsletter
Get the best of Android Central in in your inbox, every day!
Thank you for signing up to Android Central. You will receive a verification email shortly.
There was a problem. Please refresh the page and try again.