What do you consider to be the phone of the year for 2018?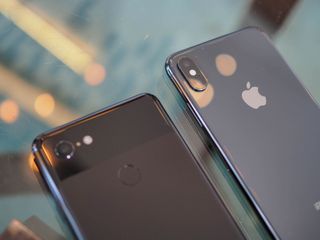 Even though 2018 isn't over quite yet, we've already seen a plethora of excellent handsets released throughout the year. Samsung came in swinging early with the Galaxy S9 series, LG's had a couple surprise hits with the G7 and V40, and Google's all-new Pixel 3 + Pixel 3 XL are easily two of the best Android phones you can buy right now.
With so many quality phones out in the market, is it possible to name one as phone of the year?
Some of our AC forum members appear to think so. Here's what they have to say.
What about you? What do you think is 2018's smartphone of the year?
Get the Android Central Newsletter
Instant access to breaking news, the hottest reviews, great deals and helpful tips.
Joe Maring was a Senior Editor for Android Central between 2017 and 2021. You can reach him on Twitter at @JoeMaring1.
Definitely the Note 9 for me. The battery lasts me 2 days with 6 hours screen on time. It does everything I need it to do with no lag. The camera's are great. Its just an all round great phone and the s pen is a bonus, I have to admit I don't really utilize the pen to it's full potential but it comes in handy sometimes.

The Xiaomi Redmi Note 5. It's the phone I'm recommending to 3/4 of the people who ask me. It strikes an incredible balance at an irresistible price, and firmly establishes low/mid-range phones as "delightful" now, not merely "good-enough" or "passable" as they were in years past. You can pay less but you lose a lot, you can pay a lot more but you gain a little and in specific uses. The quarter of people I recommend something else to either want/need something cheaper, or need better low-light pics, or are locked-in to iOS. And I personally am getting the Mi Max 3, which is the giant version of it.

The year isn't over yet. Not only will there be new models for the holidays but new OS updates can beef up some existing phones. So far my votes goto the P20 Pro. It has the most versatile camera (even though Pixel 3 software is impressive, it still can't match on zoom or manual use and if early pics are an indication, in low light), 2.5 days of battery life, super fast charging (which is far more useful than wireless charging in this day and age) the ability to notch or not, and it is just a gorgeous design. EMUI 8.1 is a bit of a let down but 9.0 might eliminate this a disadvantage.

U12+ Once again the HTC is so underated. Just a shame can't actually get it on any of the UK networks.

Are people really picking a phone they don't own yet? Geez, I am sure the Pixel 3 will be good but it's too early to tell. So far I'd say the Note 9. Great hardware and loaded features in the software with a big battery.

If there is a value in a thousand dollar phone the note9 is my choice. Every premium feature including the kitchen sink. The note gets my vote! The display rated by u tube the best for viewing video's!

Note 9
Pixel 3
Then iPhone XS Max

Right there with you. Pixel 3 is my choice. Samsung offers a the most fearured package if you can stand their software and the iPhone is still one of the most consistent experiences around and excellent hardware. Pixel comes on top in key areas for me, leaning heavily on software performance.

iPhone XS Max
Note 9
Pixel 3

I use apple phones and the xs max is far from the phone of the year. It's rehashed crap. I just hope they keep 8 in their product lineup as long as they kept the 6. I hate what apple has done to their phones. It's trash. The phone of the year so far would be the mate 20 pro that was just released. I am sure the camera in that is going to be slick!

I think the best phone of 2018 hasn't been announced yet, Samsung Galaxy X. If that doesn't happen than my vote goes to Poco F1

Mate 20 Pro/Mate 20X by the look of today's Keynote

P20 pro since a benchmark phone shame more android website forget about it any only talk pixels one plus and Samsung's...any other phone Huawei, lg, HTC, Motorola, nokia etc hardly get mentioned bar the odd article

My vote is for the RED Hydrogen One. We'll get to hear more about it soon enough =).

Overrated and outdated. I don't think the phone will ever see the light of day.

Check back in a month. I've been using it for over a month and it will be publicly released next month =).

Mate 20 range all others look poor in comparison

Overall note 9. Not the best at everything but checks all the boxes in hardware and had many software features the others lack!

Note 9
One Plus 6
Moto G6 Plus

Mate 20(not Pro} and Mate 20 X

Definitely the Galaxy Note 9. However, I would choose the S9+ if I were going to actually spend that much money. Then me and the cat would have to take turns eating. Today I eat tomorrow is his turn.

time to put the cat into an adoption home jimmy. If a phone would do that to you, you cannot afford the cat either. Pets are expensive.

Tell me about it. And cats are especially entitled. I've recently had to cancel his weekly Zen therapy sessions and deep tissue massage. He's been in a snit ever since. He hates humanity in general except me and he's presently rethinking his opinion of me. I'd give him up but we've already bonded. Well at least I have.