What are you doing to prepare for the end of unlimited storage on Google Photos?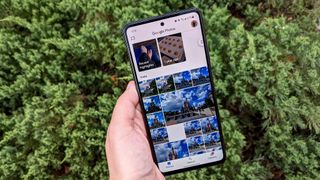 (Image credit: Ara Wagoner / Android Central)
Last November, Google announced that starting June 1, 2021, photos uploaded to your Google Photos account would start counting against your Google storage quota. Users who go over their quota will then have to purchase additional Google One storage or decide to move to another service. There is, of course, the caveat that previous content up to June 1, 2021, will not count against user quotas.
Naturally, this decision makes sense from Google's perspective. With more and more people uploading more photos and videos than ever, it is an expensive logistical proposition to keep dolling out free storage space. Just as naturally, many loyal Google Photos users have been upset by this decision.
While we think that Google Photos is still a better option than most of the competition, even if you have to pay, we recognize that there are plenty of great alternatives out there. Some of the best Google Photos alternatives such as Amazon Photos still offer free storage (with some caveats of their own), and there are great local storage solutions like NAS options.
Ultimately, where you choose to store your photos is up to you. So let us know, is the upcoming Google Photos deadline going to sway you to move your pictures someplace else?
Jeramy is proud to help *Keep Austin Weird* and loves hiking in the hill country of central Texas with a breakfast taco in each hand. When he's not writing about smart home gadgets and wearables, he's defending his relationship with his smart voice assistants to his family. You can follow him on Twitter at @jeramyutgw.
There's no buying into Google One option?

I'm sticking with Google photos and have already upgraded to Google One, I have way too many photos that stretches back years and I like Google photos. Plus when I get my Pixel 4a 5G I'll have unlimited storage again anyway.

Here we go again with the Pixel is the king and everything else is crap scenario.

I never said everything else is crap, I just prefer the Pixel for my software as it's clean which 8s just the way I like it and the fast updates. Nothing against Samsung as they make great hardware and their software is fine but it just isn't for me and they're getting as bad as Apple with their recent decisions of late.

Buying another Pixel and Google One. Google Photos is one of my favorite Google products and will only get better.

Back up to One Drive. This is done automatically on my Android devices. Plus, this is where I back up my "real" camera photos.

I wouldnt pay Google to lick my butthole much less have access to any of my personal data.

Six comments below a butthole mention. Someone call Guinness.

*before a butthole. I need everyone to know. I can't live until we all understand.

This doesn't affect me with my pixel 3a xl and pixel 5

The phone is backed up to the NAS, which in turn is backed up to Amazon Photos. I never liked the fact that Google's free tier compressed my shots, and Amazon not only gives me raw files for free, it treats the PSDs as free as well. Now that they finally have a decent upload client, it's really the best of both worlds. The worst part is that I hit my video limit ages ago, but I don't care-- I trust my other backups for that. It's just annoying having to constantly clear the warnings from the client. One of these years, I'll move them out of the folder that's being watched so I can get rid of them.

I don't want another company mining my data, especially Amazon, Google is the lesser of the 2 evils.

Tried Google Photos once, realized unlimited storage came with a severe impact to image quality and stopped using it. I'm not paying for several terabytes of cloud storage to keep my photos online.

Pixel phones will move to unlimited high quality...other Android phones, oh well.

I use my NAS for all backups. I ain't paying for storage online.

I already use a paid Google drive for stuff so no impact on me.

i use google rewards to collect google money and use it to pay google one .... good luck!
Android Central Newsletter
Thank you for signing up to Android Central. You will receive a verification email shortly.
There was a problem. Please refresh the page and try again.