What are smart outdoor lights and do you need them?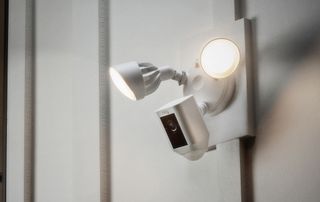 (Image credit: Android Central)
Best answer: Smart outdoor lights are designed to offer all the functionality of your standard motion-detecting floodlights with the added benefit of being connected to your smartphone for alert notifications or remote control. Depending on the system you go with, you can control things from your phone or with your voice using Alexa or Google Assistant.
Do you have security concerns on your property?
Motion-detecting floodlights are a safe way to keep your home well lit at night but only when the sensor detects a person or animal, and you don't need an expensive Wi-Fi-connected system for that purpose. Deciding whether or not to upgrade your outdoor lighting system to something a bit more high tech is going to depend on a couple of key aspects of your home, including the reputation of the area and how many dark corners or areas of entry there are around your property.
If your house is accessible through a back alley or is in a part of town that sees high foot traffic, some well-placed motion-triggered lights can be a great deterrent to keep away unwanted visitors. Motion-detection floodlights are nothing new, but smart lights that are connected to your phone can be scheduled to turn on or off, notify you any time unusual motion is detected, and can be linked to a security camera to capture any would-be thieves in the act.
We recommend going with a starter kit from a reputable brand that's also known for video surveillance, and your two best choices are Ring (opens in new tab) and Arlo (opens in new tab) which each offer unique features and advantages.
If you're tech-savvy and interested in home security you may already own a Ring Doorbell Cam (opens in new tab), so you're one step ahead of the game and might as well stick with Ring for its all-in-one motion detecting flood lights with built-in cameras. Meanwhile, Arlo offers a more modular system that runs on batteries meaning you don't need to worry about running wires along the side of your home or garage.
Hardwired installation
(opens in new tab)
Ring Floodlight and Motion-Activated HD Security Camera
An all-in-one unit that is packed with features.
Ring is best known for its smart video doorbells, but the same convenient tech powers this floodlight/camera combination. You can check in on the camera using a smartphone app at any time or use the other security features such as two-way talk and a remote-activated siren to help you scare away anyone who might be caught snooping around your home. It must be hardwired to your home with a weatherproof electrical junction box.
Wireless and modular
(opens in new tab)
Arlo Home Security Starter Kit
The better option if you've got multiple angles to cover.
Arlo offers the best outdoor security system if you need to set up cameras or lights in tricky areas around your property. That's because each camera and light are wireless, with built-in batteries that can be recharged when need. Because this system is only triggered when motion is detected, the batteries should last multiple weeks before needing to be recharged.
Fun ways to brighten your yard
Now that we've got the serious stuff out of the way, you can also have a lot of fun setting up your outdoor lighting with smart bulbs and lighting strips. A more functional upgrade is to swap out any existing bulbs with a Wi-Fi connected smart bulb — just as long as it's close enough to the home to connect to the Wi-Fi network. There are many great options available for smart bulbs of all shapes and colors (and prices), but just be sure the plug and electronic components aren't directly exposed to the weather.
Philips Hue A19 Bulb (opens in new tab) ($41 at Amazon)
If you've already got outdoor light fixtures set up around your home, a smart bulb like this option from Philips Hue is a convenient way to schedule a light routine or two. We recommend Philips Hue for its reliability and ease of use.
Philips Hue Outdoor Lantern (opens in new tab) ($50 at Amazon)
For a more permanent upgrade to your home's exterior lighting, Philips Hue has this stylish fixture that offers all the smarts of its other lighting products.
Govee DreamColor LED Strip Lights (opens in new tab) ($40 at Amazon)
Smart lights aren't all security-focused or serious — add a futuristic finish to your porch or patio furniture with these customizable LED light strips that are easy to use and work with Alexa and Google Assistant. They're easy to set up and offer deep customization from the Govee Home app.
Marc Lagace was an Apps and Games Editor at Android Central between 2016 and 2020. You can reach out to him on Twitter [@spacelagace.
Android Central Newsletter
Get the best of Android Central in in your inbox, every day!
Thank you for signing up to Android Central. You will receive a verification email shortly.
There was a problem. Please refresh the page and try again.