What Android app do you use for video calling?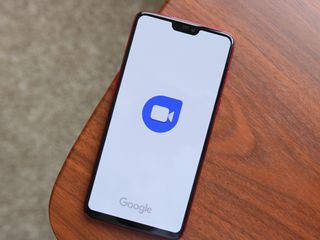 (Image credit: Harish Jonnalagadda/Android Central)
If you've ever used an iPhone, you'll know that FaceTime is the go-to app for video calling/chatting. It's built into iPhones by default, works incredibly well, and is used by just about everyone.
On Android, however, things aren't quite as ubiquitous. Recently, one of our forum members posted a problem they ran into:
https://forums.androidcentral.com/showthread.php?t=970570&p=6589074&viewfull=1#post6589074
So, what's an Android user to do? Another person recommended the following:
https://forums.androidcentral.com/showthread.php?t=970570&p=6589088&viewfull=1#post6589088
That's a good start, but now we want to hear from you. What Android app do you use for video calling?
Joe Maring was a Senior Editor for Android Central between 2017 and 2021. You can reach him on Twitter at @JoeMaring1.
I'm using Android Smoke Signals...works like a charm!😋

Whatsapp, most people in the UK have it and its easy and fast.

WhatsApp and fb messenger

I assumed majority of people have WhatsApp. Guess not. I think I have less than 3 friends that don't have it.

I use Duo and Skype with no issues.

Usually WhatsApp, occasionally Skype

My girl has an iPhone and I have a Note 8. We use Snapchat for video calling. Might be aimed more at the younger crowd but when we're each on wifi or have decent LTE, the quality is pretty good.

I use pretty much Google Duo. Haven't had a problem with it yet. Also both parties have to have the app installed. To talk with the little kids on their tabs when they are with their mom and I want to video chat or when we just want to send messages back and forth we use Hangouts. With Duo you have to have a phone number attached to the account. With Hangouts you don't have to, so it's much easier to use on tabs.

I have lock everyone around me into duo.

In the UK so WhatsApp. I tried Duo but deleted it because it kept sending prompts to remind me it was installed and asking why I hadn't used it, plus it sent countless prompts to my contacts to call me on Duo(several did to ask what is Duo and how can they get rid of it because it was so annoying), and many more prompts to me to suggest I should try calling my Google contacts. Google has an amazing ability to invent and then spoil their own alternatives to world class applications.

Skype. It's about as cross-platform as it gets. Some seem to have problems with it, but it works for me.

Me and my family use Google Duo. I recommend this app for all Android users not only because its Android's de facto facetime, but thats the way iphone users understand it to be as well. Other than that, I use facebook messenger. Thanks for the whatsapp tip. Didn't realize it was so popular. I envision a future where video calling, like texting and voice calling is standardized universally across wireless providers, whereas the user would only need to do is choose which app to use for incoming video calls - like we do for text messaging. Why can't we have that?

At&t and Verizon have this but it's only for the Android phones they sell on their networks and only work with others phones on their networks 🤦🏾‍♂️

We use Google Duo....works well...both with Android and iPhone users in my world.

Skype and Whatsapp. No issues on both. I use Skype because it's the most cross platform.. Amazon store for my kid's Kindle has Skype but not the others.

Signal messenger hands down for me. Cross platform and secure with really good quality in my experience.

Duo and what's app but duo is better

I would say Duo is the go-to video chat app for me. The real question is when I ask some family members with iPhones to download it they ask me: Why should I download an extra app to do that? Some iPhone users can't help but to be difficult lol.

Whatsapp rookies. Whatsapp is all you need. It ain't perfect, but most people on planet Earth have it.
Android Central Newsletter
Get the best of Android Central in in your inbox, every day!
Thank you for signing up to Android Central. You will receive a verification email shortly.
There was a problem. Please refresh the page and try again.