Weather app Dark Sky will disappear from Android after Apple acquisition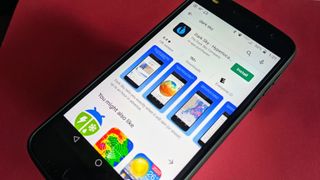 (Image credit: Chris Wedel/Android Central)
What you need to know
Dark Sky is known for its ease of use and hyperlocal weather forecasts.
Originally, it was an iOS-only app until it came to Android in 2016.
The app will be removed from the Google Play Store and stop working for existing users on July 1, 2020.
It's a sad day for weather app enthusiasts — Dark Sky is leaving Android. In a blog post, the company announced it is joining Apple.
As part of the acquisition, the Dark Sky Android and Wear OS apps will be shut down on July 1, 2020. Until that point, current users will be able to continue to get full use of the app, and after the shutdown, any remaining subscription fees will be refunded. While at the time of this writing the app is still available in the Google Play Store, Dark Sky notes that it will be getting removed.
Current users of the weather app are getting notifications of the acquisition as well as seeing it within the app.
Dark Sky is a weather app that offers hyperlocal weather info, as well as forecasts that are dialed down-to-the-minute. The app also offers a clean and simple interface with various information points like hourly wind, precipitation chances, and multiple maps. If you're a current Dark Sky user, what weather app is going to be your go-to?
Get the Android Central Newsletter
Instant access to breaking news, the hottest reviews, great deals and helpful tips.
Chris Wedel is a fan of all things tech and gadgets. Living in rural Kansas with his wife and two young boys makes finding ways to get and stay online tricky. By utilizing his years of experience with the tech and mobile communications industries — success is assured. When not conquering connectivity challenges and testing new gadgets, he enjoys cruising a gravel road in his UTV with some good tunes.
If Apple thinks 1 app will force Android users to iphones, they're sadly mistaken. Just think of all the money from us they'll be loosing. There are plenty of other weather apps out there.

I agree with you! This is greed on the part of Dark Sky because I'm sure Apple must have thrown a small fortune at them, and idiotic at best to cut half the app users off but then...Apple.

Yeah right that's what Apple was thinking, weather apps are so important and let's snap this one app so that all Android users will switch to Apple.
They could care less and probably more of hiring the team for their talent and at the same time probably have some improvements planned for their inbuilt app.

Never heard of the app... Soooo don't care... It's just a weather app...

The fact that you felt the need to comment is... disconcerting.

Never used it so no problem...

Then why you reading the article?

Because I generally read all articles here. And it is actually not your business...

My galaxy has its own weather app so never felt the need to install an additional,
But this is a child's game lol.

I have been using Weather Live for about 4 years. It's great, using local reports from users and other weather info to push a ton of accurate reports to your phone. Hurricane report track, lightning updates. I actually use this one more than the Weather Channel app. All those that invested in Dark Sky only to have the app get acquired by Apple, I am empathetic to those on Android. Things like this can leave a lasting scar to a brand.

I don't get it...isn't the Android user base larger than iPhone's?

Of course, Apple will be loosing millions. But it's just a drop in the bucket for them. Really, how many android users will give up their phones for an iPhone? Not too many, im sure.

Never heard of it until now. "There is no better place to accomplish these goals than at Apple" Good to see money had nothing to do with it /s

Bye dark sky. Don't know you, won't miss you 🙃

Do you comment on every article that is irrelevant to you?

I don't want Apple on my phone anyway.

Dark Sky had the best combination of notification widget, homescreen widgets, app layout, and accuracy. I picked it after trying over 20 weather apps. So, this is... annoying. I'll have to resort to the close contenders, Weather XL (great widget, crappy app layout) or Today Weather (beautiful app layout, widget not quite as good).

This must be one heck of a weather app for Apple to buy it just to force Android users to switch over LOL. I know it's coming, so I'll just tell you. I read articles like this just so I can come to the comment section and see how many posters take themselves way to seriously. It's hilarious.

Kind of missing the point. It's the principle of a company leaving the platform to chuck their lot in with the competition. Pissed me off as I've been a DS subscriber for years and it's accuracy is second to none. So tbh, there may be other weather apps but this one was actually quite good.