We took a look at the GoPro Google Jump camera array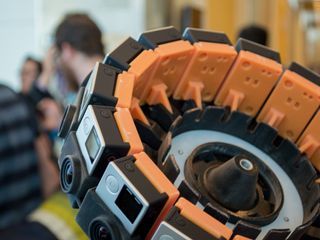 Jump, Google's newly announced VR creation platform, is entering the market with a GoPro camera array. This new camera rig will hold 16 GoPro cameras that will work in parallel to record an immersive 3D video. These new panoramic videos can then be shared to a new YouTube service and then can be enjoyed on VR systems such as Google Cardboard.
There were two models at Google I/O for developers to look at — each different in their own way. While both of the arrays were made out of plastic and stood on top of tripods, one was built to securely hold the GoPro in place while the other allowed for the cameras to just be slid into individual slots. The frame could be adjusted to different angles to allow different vantage points to be filmed from the array. At the top of one of the rigs was a microphone used to record audio of what the cameras were filming.
Image 1 of 3
Using Google Jump, the footage will be taken from the array of GoPro cameras and stitched together to make one completely spherical video. Jump adds depth to the footage so that the frames added to connect video feeds is smoother and easier to view. Google plan to add stereoscopic support to give videos a more 3D look and feel in the near future but for now users will only be able to create non-3D video.
Image 1 of 3
One thing that was talked about was that Google and GoPro were still experimenting with this Jump camera array. There have been models made out of metal, 3D printed plastics, and even some made out of cardboard. The hope is to someday make a setup that would work with any type of camera but for now GoPro is the only camera capable of working with Jump.
Get the Android Central Newsletter
Instant access to breaking news, the hottest reviews, great deals and helpful tips.