We took a look at the GoPro Google Jump camera array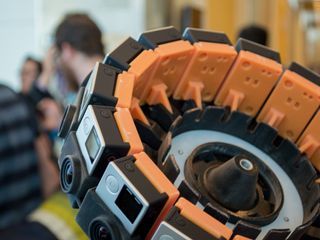 Jump, Google's newly announced VR creation platform, is entering the market with a GoPro camera array. This new camera rig will hold 16 GoPro cameras that will work in parallel to record an immersive 3D video. These new panoramic videos can then be shared to a new YouTube service and then can be enjoyed on VR systems such as Google Cardboard.
There were two models at Google I/O for developers to look at — each different in their own way. While both of the arrays were made out of plastic and stood on top of tripods, one was built to securely hold the GoPro in place while the other allowed for the cameras to just be slid into individual slots. The frame could be adjusted to different angles to allow different vantage points to be filmed from the array. At the top of one of the rigs was a microphone used to record audio of what the cameras were filming.
Image 1 of 3
Using Google Jump, the footage will be taken from the array of GoPro cameras and stitched together to make one completely spherical video. Jump adds depth to the footage so that the frames added to connect video feeds is smoother and easier to view. Google plan to add stereoscopic support to give videos a more 3D look and feel in the near future but for now users will only be able to create non-3D video.
Image 1 of 3
One thing that was talked about was that Google and GoPro were still experimenting with this Jump camera array. There have been models made out of metal, 3D printed plastics, and even some made out of cardboard. The hope is to someday make a setup that would work with any type of camera but for now GoPro is the only camera capable of working with Jump.
YouTube will never be the same Posted via the Android Central App

How is it spherical if the array is linear?

GoPros have very wide angle lenses. And the camera rig moves.

It seems like there would be large holes at the top and bottom even so

You are right. Those geniuses at Google aren't as smart as they thought. How did they miss such a detail?

Ha ha
I wish I was one of those geniuses. Posted via the Android Central App

Linear wouldn't be correct either then, genius, the video will be cylindrical. Spherical is more correct than linear.

Sorry about that. Spheres take up three coordinates. I was thinking of the array on a front to back view emphasizing that it's not spherical itself. But circle makes more sense.

Gopro just got rich all over again. Posted from the Nexus 6, Nexus 5, or the Surface Pro 3

Best camera for activities especially for the prices.

Does it have to stay stationary, or can it move, like if it were connected to a snow boarder or race car?

There is no technical reason it would have to stay stationary.

You think the software could handle it? I'd imagine it's be tough to stitch the videos together.

Not sure if you are being serious or trolling...

Being serious. I think it'd be cool to strap this on a pro snow boarder

3D porn anyone? Posted via the Android Central App

so what. you could look at the camera man?

That's ok, don't want to see bodily fluids coming right at me

I think this the the same concept Google Lydar system for their autonomous cars use to get 360 view of their surrounding. Now they just gave us a sample of that technology... Posted via the Android Central App

3d is much more difficult. There are lots of people that have been building these go pro rigs some 3d even.

what does that have to do with anything?

I would love to see some videos of that

https://www.youtube.com/watch?v=4wsnYFuijeI I've shot this for years using six Go Pros in an 360x180 array. 4k master files. YouTube has finally caught up to the technology. This link is best viewed on the YouTube app on Android.

Such a dumb tactic to sell 16 GoPros. Many alternatives are cheaper. Posted via the Android Central App

Maybe a bunch of old nokia phones with 42 mp that are 3-4 years old, probably $50 a piece. Just would need software and bluetooth to sync them, just deducing

*41 Sloths fight leopards. You can't open a bag of chips. Clearly humans are the weaker species.

Have to remember this is just the beginning of Google Jump. The goal is to make it so any cameras will be able to work with the program. GoPro is only a launch partner. Posted via the Android Central App

I've shot 360° spheres for years using a Nikon fisheye lens. Capture everything with three shots, including the ceiling directly above, and your feet if not careful ;)
But a rig with three cameras would not be as pretty, even though it would be a true sphere instead of a panorama. Posted via the Android Central App
Android Central Newsletter
Get the best of Android Central in in your inbox, every day!