Vysor is an interesting new way to control Android from your computer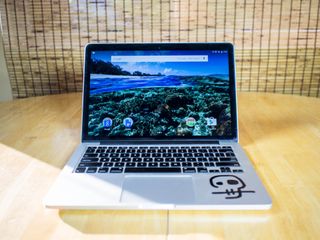 There are a couple of ways to remotely view and control your Android from a desktop, but none of them are particularly easy to use. Some require root access, some require subscriptions, and some aren't really worth using due to low framerates and overall quality. The mind behind Rom Manager, Voice Plus, AllCast, and other popular Android apps has been working on a better way to remote control multiple Android phones and tablets for a while now, and like almost everything Android the work was discovered late last night and leaked before it was finished.
The app is called Vysor, and while it's not quite finished yet we've been using it for a little while now and can't wait to see the finished product.
Unlike your average Android remote app, Vysor is a Chrome app first. You launch in Chrome, turn on USB debugging on your phone or tablet, and connect to the computer. Once ADB connects to your machine, Vysor is installed and your mobile screen shows up on your desktop. Your mouse and keyboard can now control your Android, complete with keyboard shortcuts for back, home, and multitask. In our testing it works great on Mac and Windows, and aside from the occasional need to play with USB connection mode (thanks, Installer Mode nonsense) Vysor works as soon as you plug the cable in after the initial setup.
Framerate isn't the best, you won't be playing fast-paced games or anything, but for most day to day tasks it's smooth enough to be enjoyable. You'll also find the screen on your Android stays on for the transfer to your computer to work, so if you're doing something that drains the battery faster than the connection to your PC can charge it you'll have a problem before too long. Dropping the brightness helps a lot, but your usage is going to vary from device to device.
As cool as a nice, free remote control service is, Vysor Share is where the real fun is. Your remote session can be shared to someone else with Vysor installed on their Chrome instance, and that user has the same ability to view and control the existing Vysor session. In his scrambling to properly announce this service after the leak, Koush explains this feature came from his long desire to remotely deploy and observe code on hardware that wasn't sitting right at his desk. It's a cool way to do exactly that, though the lag you experience in Vysor increases in obvious ways with everything streamed over the Internet.
Everything about Vysor is beta right now, so expect things to not always work as advertised while it's finished and prepared for an actual launch. In the mean time, if you've been looking for a new way to remotely view and control Android phones and tablets you should absolutely give this a shot.
Android Central Newsletter
Get instant access to breaking news, the hottest reviews, great deals and helpful tips
Does this work with a chromebook?

I just tried it on my Lenovo 11e and no dice. I was hoping it would.

works on my first gen samsung chromebook with the arm exynos processor. Due to the type and speed of the chip I get insane lag but it was do-able. Make sure debuging is turned on so it can ADB push an apk which lets the magic happen.

Koush always seems to find niche areas underserved by android, and makes very handy utilities. I like the stuff he makes. Posted via the Android Central App

This will never be a finished product, because never finishes anything. He won't have a problem making money from these unfinished products though.

ClockworkMod Recovery development is basically dead now. Hence why my rooted devices use TWRP now.

One thing I never understood when I switched over from an iPhone is android's lack of PC controlled remote software. I had two or three apps on my old iPhone that let me do this. I used to love using my mouse and keyboard to set up various things. Perhaps there's one I just missed?

Would TeamViewer be suitable?

This is the app I use and its very handy. https://www.androidcentral.com/e?link=https2F2F... They also have one specifically for Samsung devices. https://www.androidcentral.com/e?link=https2F2F... Hope those help!

Ummm... there are a plethora of options available for Android. SideSync (for Samsung devices) and TeamViewer might be the most famous ones, but there are plenty of options out there to control the phone via a PC and viceversa (more so in the phone-to-PC area, though).

@Stillthisguy best me to it. Koush undoubtedly talented but he drops support 5 minutes after a project is released. BTW, does anyone see the security risk involved with something like this? Can you say remote code execution? His code had better be super tight or we're looking at the next malware vehicle in the making.

I would hope that the connection would be secured using SSL or something similar.

It's not the connection that I'd be worried about (MIM attack). If someone finds and uses the source code or reverse engineer's this app, then it could be used to build a way to infect and control an Android device.

It is working for me on my Macbook and my LGG4. The touch input seems to be fast but the video rendering seems super slow. maybe it just my macbook air. what does everyone else see?

It's still in "private" beta and you want fast? That's funny.

did i say i wanted fast? I am aware that it is a beta. I was just asking if anyone else was having the same experience. On my iMac with a better video card the rendering was much better but yes still some lag. I am quite happy with how fast the mouse clicks and swipes register on the device itself

Not working on my work computer with my HTC M8

Same for me.
Update: fixed

how did you fix it? mine is a no-go with m8... :)

Same here with M8 (Unknown product 061a from HTC) found but nothing happens when you hit select.

Just manually run a adb check like "adb devices" command, the comp will ask for the permission on your Android, click "allow" and things should work.

Isn't this just basically sidesync? Never used it, and see no point in this as I don't see any use case. Can anyone enlighten me as to what the point is? Posted via the Android Central App

SideSync only works for Samsung devices and requires drivers. And is also more feature-packed. This does some of the things SideSync can, but with any phone with USB debugging turned on and a Chrome app.

The ability to use my computer keyboard for input would be enough of a reason for me.

I got it to connect to my Huawei Ascend P7, but the Windows Chrome App gives me a blank screen. I can do the keyboard shortcuts and clicks on the blank screen, there's a response on the phone.

Did I misread the article entirely, or is this basically the best of Apple Handoff and Microsoft Continuum all in one, on an Android, working on either a Mac or Windows? Posted via the Android Central App

dont work for one plus one ;) fix and after announce better :)

It worked for me with my oneplus one and a linux desktop. It is supper laggy to render the video back on the computer, like unsuable. Still a great idea. Hope it getts better with time.
BTW, i have a 1gb video card and no graphical applications running, so the prob is with the app itself.

Hi, the app says that my screen is not available, can you help me please? Tks

Anybody knows why is the image quality so bad? Especially when shole image is moving for example in some game. It looks like the resolution gets divided by 4. I thought that cable connection is so fast that it should not havy any problem pushing all the pixels fast enough. Especially when my phone has "just" 720p. TeamViewer QuickSupport seems much better at this. Maybe it is some limitation of Google Chrome...

http://i.snag.gy/LK9S8.jpg i get some kind of error kindly click the link above to. it just doesn't show anything after loading just leave some say "not available at the moment reboot the android" i have done abd device check in my ubuntu it shows. but still not working please click the link for the screen shoot.

Hello i get some problem i couldn't view my phone after i connect USB, debugging options is on, installed app in chrome. i just get some error message since the day i installed. as i have added the link can any one please help me. http://i.snag.gy/LK9S8.jpg

Hi,Mithilacharya,I met the same problem,so,have you deal the problem?

Check your usb cable. Cause when i unplugged mine, i had that image

Since a few days Vysor is horrible adware frequently showing mysterious full-screen ads with no embedded indication of where they are coming from. Wasted lots of time trying to figure out what was going on. Reviewing on Play Store seems disabled, and my complaint in their product forum got removed within minutes. Right.... Needless to say, I have uninstalled it
Android Central Newsletter
Get instant access to breaking news, the hottest reviews, great deals and helpful tips
Thank you for signing up to Android Central. You will receive a verification email shortly.
There was a problem. Please refresh the page and try again.