Volvo's 2015.5 lineup has standard features that can be controlled by your phone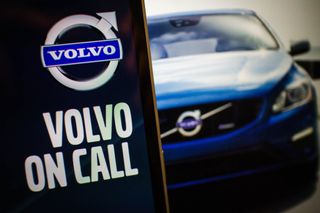 Volvo (volvocars.com), the Swedish automaker, has just announced that their new 2015 models will include the company's Sensus connectivity and infotainment system as standard. This includes the 2015.5 Volvo S60, V60, XC60, S80, and XC70.
Volvo's Sensus Connect system includes smartphone connectivity through a free app called Volvo On Call. It's available on iOS, Android, and Windows Phone. What can you do with app? Let's take a look at the features.
See vehicle dashboard values, such as fuel level, trip meters, and more.
Control your engine block heater, if your car is equipped with a fuel-driven engine block heater.
Locate your car on a map or using the car's horn and direction indicators.
Lock and unlock the vehicle.
Request roadside assistance from the app.
Keep an electronic driving journal that will create trip reports for every trip made with the vehicle.
Even if you do not currently have a Volvo car, you can still install their app and use it in demonstration mode. It lets you preview some of the features being offered.
We can see this app being really handy in the winter. You can start the car and heater already while you're just about to leave work. The honk and flash feature is also handy when you can't find your car in a massive parking lot. You'll also be alerted if something needs to be fixed, for example, if a bulb is broken or washer fluid is low.
The Volvo on Call app is a free download from App Store (opens in new tab), Google Play (opens in new tab), and the Windows Phone Store. It has been available since 2012, but more Volvo owners will be able to use it after the recent announcement of 2015.5 models featuring the Sensus Connect system as standard.
Is this a cool feature? Would you want to be able to control some of the settings in your car from your smartphone? Sound off in the comments!
Via Leftlane
That's awesome. Android / Blackberry fan on T-Mobile!

Wow, proper HOLO. Other car manufacturers and thermostat makers (that's you Nest!), take notice!

Wish it was standard across all auto makers, or at least their own individual app.

Agreed Posted via the Android Central App

Wouldn't it be awesome if it had Tasker support? Sent from my brain using human to phone transport technology.

Robots in disguise..... Posted via Android Central App

A step in the right direction. Recently bought a pre owned dodge with u connect buttons on radio only to find out I needed a $340 module plus installation for limited features with my S4. No thanks I can buy a new radio with Did and bluetooth for less. Making this standard as long as there aren't monthly fees is a good thing. Posted via the Android Central App

If only they had stylish cars...

That's a matter of opinion..... Posted via Android Central App

Wish Toyota was doing this, but I think they are on team Apple. Posted via a Republic Wireless Moto X using the Android Central App

Nice features for automobile vehicles. Wish to see Volkswagen may offer a option for this as standard, included upcoming and 2015 lineup as Golf R400 as well ha. Nice going Posted via LG G3 Sprint

I'm waiting for Android Auto to roll out. Posted via Android Central App

let me know when they have an android Auto variant.

It sure is great, I've been using it for 18 months now. Connecting to my V60 D4 AWD Dynamic Edition MY14 with different smartphones here in Sweden. I use the driving journal for the work related car trips and basically all the other features as well. You did forget the most important feature of Volvo Oncall: the automatic assistance, the car will contact the Oncall center automatically if an airbag is deployed, send the car's position, alert emergency services and allow you to communicate with the center without the need to touch anything in the car as you not be able to. This is the main reason for getting it but the other stuff is handy too.
Android Central Newsletter
Get the best of Android Central in in your inbox, every day!
Thank you for signing up to Android Central. You will receive a verification email shortly.
There was a problem. Please refresh the page and try again.