Vizio 8-inch Android tablet now available for pre-order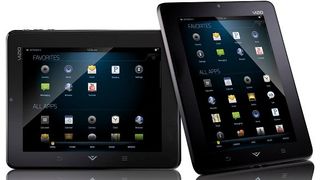 Back at CES Vizio told us that they would be releasing an Android tablet this year, and they have held to that with an 8-inch Android 2.3-powered tablet that is now available for pre-order. We saw the device information and pricing pop up at WalMart, and now you can pre-order it direct from Vizio. The device appears to be launching with a $379 price tag which will get you an 8-inch 1024x768 display, a front facing camera, along with 2GB of available storage, all powered by a 1GHz processor. So, is the price right for you? Will you be snagging one of these for yourself or someone else?
Source: Vizio: Thanks, OJ!
Jared started off writing about mobile phones back when BlackBerry ruled the market, and Windows Mobile was kinda cool. Now, with a family, mortgage and other responsibilities he has no choice but to look for the best deals, and he's here to share them with you.
I've been waiting for this tablet. It seems to have all the right features in the right places. plus an IR sensor to control my TV and Surround Sound system. Only thing i'm waiting on is reviews. From what i've read on beta releases it's a good tablet for the money. But you do get what you pay for.

Price is too high for Android 2.3. Might be interested if this ran Honeycomb. If you want Android 2.3, refurb NookColors are selling for less than $200 on EBay.

half the tablet for 3/4 the price.

I think if I'm looking for a budget tablet, I'll just get the Asus Transformer or wait for the new Archos models.

$100 less than my tab for 2 less inches 1 less processor and no honeycomb? No thanks

Seems like Archos has this thing beat with it running the better operating system (Honeycomb) and about $100 less.

Does everyone on this website have a tablet and a smartphone?

I do! Galaxy Tab 7 and 10.1, IPad 2, along with the EVO 4g. I just purchased a Motorola Xoom from a friend (although I have no idea why). Now I'm having the hardest time trying to resell the Xoom to anyone that will take it.

How much would you want to sell it for? I've been trying to get an Android tablet for a long time but the opportunity never comes around. :(

@Jonathan: I don't want to clutter up this thread, so if you're really serious about needing an Android tablet send me a message offline (although i'm not sure how to send direct messages between users?). The Xoom for sale is the Verizon 3g model, but I am really looking to get rid of it. Selling the unit for $499 with an extra charger, screen protector, two cases, and all original packaging intact.

Yes, I am very serious about needing a tablet! I've been contemplating which phone out of my G2x and Sensation to keep. Seems kinda silly to have two small (in comparison to a tablet) screens. I don't see a method for sending PM's or anything of the sort. We can communicate through email, I suppose. My Gmail is jonathanlongoria3579 @ gmail.com

nexus one night xoom wifi. Woot.

Ugh a 4:3 on a tablet? May as well shell out another $20 for the Asus Transformer.

I always wanted a high end remote, but didn't want to spend the $300-$400. I could however live with this :)

there are going to be a lot of suckers buying this when for just a little more they can get a vastly superior tab from Asus. I was actually planning to get the Asus until I came up on a great deal on Craigslist, got a couple of weeks old Wi-Fi xoom for $350. Rooted it and overclocked and it is running great.

It is only $340 at Costco(with shipping).

Really love Vizio but Archos got some good looking models coming out though.... Cant beat vizio tvs tho just sayin

Costco has it for pre-order @ $329!
http://www.costco.com/Browse/Product.aspx?Prodid=11663717&whse=BC&Ne=500...|84|90753&N=4047929%204294919901&Mo=0&No=0&Nr=P_CatalogName:BC&Ns=P_Price|1||P_SignDesc1&lang=en-US&hierPath=84*90753*&topnav=
Android Central Newsletter
Get the best of Android Central in in your inbox, every day!
Thank you for signing up to Android Central. You will receive a verification email shortly.
There was a problem. Please refresh the page and try again.