Vivo Apex confirmed for public release, production to begin mid-2018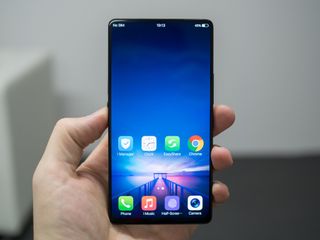 During MWC 2018, one of the gadgets that caught our attention the most was Vivo's Apex concept phone. If you don't recall the device by name, you probably remember it for its 91% screen-to-body ratio and front-facing camera that pops out of the top frame. Vivo was originally marketing the Apex as just a concept device, but now it's been confirmed that the phone will actually be sold to the general public.
At an event in China, Vivo announced that the Apex will go into mass-production at some point during mid-2018. Sales will probably begin a few months later, meaning we're looking at a final launch in either late 2018 or early 2019.
The Apex's screen has just 1.8mm of bezel on its left and right side, with a bottom chin that measures in at a mere 4.3mm. Vivo is using a 5.99-inch OLED panel, and the bottom half of it is home to a large in-display fingerprint sensor area. Qualcomm's Snapdragon 845 is powering the phone, and you'll also find a USB-C and 3.5mm headphone jack on the bottom.
Other specs for the Vivo Apex are still unknown, and there's no word in regards to how much the thing will cost. I don't imagine it'll be cheap, but for a phone of this caliber, that's perfectly alright. Also, like other Vivo phones, don't expect the Apex to be sold anywhere outside of China.
Vivo's Apex concept phone has tiny bezels, pop-up camera and in-display fingerprint sensor
Android Central Newsletter
Get instant access to breaking news, the hottest reviews, great deals and helpful tips
Joe Maring was a Senior Editor for Android Central between 2017 and 2021. You can reach him on Twitter at @JoeMaring1.
Awesome! New innovations are great!

Yeah i definitely have my eye on this phone looks stunning and could be onto something big with this device.

So much for a concept. That's what's up!

What if the phone drops while the selfie cam is out, and it breaks? Hope they think about these things lol.

What happens when your phone drops when you have it out and it breaks the screen? Geesh. Why does the MFR have to always assume user error? How bout ask what happens when the motor burns out and the selfie doesn't retract? That's a reasonable question to ask.

Yeah, that's my major concern about the thing. Adding external moving parts to a smartphone just seem like asking for trouble.

Why wouldn't they think that ? Lol

Then it'll break and you'll have to have it fixed, just like any other drop-related damage, I assume. I'm more concerned about mechanical failure in the motor that drives the pop-up module.

I may have just found my new phone. I said I wasn't going to buy anything as my Note8 is suffice, but this, this I just need for no damn reason.

Ideal narcissistic fone , for generation look at me!

Some people like tech advancement. The only people who care about looking at peoples phone are people care to talk about it's for the generation look at me.

Why do you think this phone is for narcissists?

I think it's a pretty phone, but I can also see the front-facing camera breaking down often as well. I do like innovation though, and this is innovative.

That's my biggest gripe, but for me personally I take maybe a selfie once or twice every 2-3 months so I don't see it being an issue for me personally. I wouldn't want to use it just for those reasons. I'd be okay without a FFC all together honestly.

What if they just eliminated the ffc and put a small viewfinder type screen on the back, so you could just use the usually superior rear camera for selfies, vlogging, etc...? I would buy that. Quickly...

I been saying this in a lot of thread about the Note 9 features I'd like to see. Meizu Pro 7 completely did this. I really don't know how this is being overlooked for a full screen on the front. https://www.meizu.com/en/pro7/summary/ Hell it could even be a mod for people who just HAVE to have those selfies.

I also never use the FFC, but I think it is best for people that make video calls (another thing I never do). I think that may be the main downfall of eliminating it altogether. Personally, I would be just fine with no camera on the front, but I am also fine with a bit of bezel.

Hopefully it supports US GSM lte bands. Might consider buying depending on specs and price.

Nope, no Vivo outside SE/SC Asia, as such I'm not a fan of articles discussing their capabilities since they'll never be avail to the US or EU.

India and Russia as well.

Vivo phones are sold in India!!! FYI

I'm all for this! It's great that Vivo is leading the innovation when it comes to phone design. While I don't mind the notch(a lot of people HATE it to the core), this shows that there are workarounds on having that bezel-free design. No product is perfect( the motor mechanism of the selfie camera will degrade over time, just like any other tech component), but this is certainly a step in the right direction.

Now this is the way you do it. It will take up internal space, but think about it: What percentage of time is the selfie camera is in use? 1%? Unless you are a vblogger or a selfie addict or do a lot of video calls, it's likely less than 5%. Makes sense to hide it, with the downside being the limited space of the module affecting sensor size, lenses, and probably ruling out OIS which almost nobody did anyways (HTC 10 excepted).
Android Central Newsletter
Get instant access to breaking news, the hottest reviews, great deals and helpful tips
Thank you for signing up to Android Central. You will receive a verification email shortly.
There was a problem. Please refresh the page and try again.