Viber announces Viber Out worldwide, brings low-cost calling to any number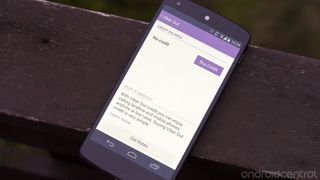 Promises no connection fees and significantly lower per-minute charges than Skype
Viber, the popular cross-platform messaging and VOIP calling application, is rolling out their Viber Out service worldwide. The service uses credit purchased through in-app purchases, or via credit card for desktop users. Purchased minutes can be used on Android, iOS or the desktop client.
In addition, Viber is also adding more stickers to their paid Viber Sticker Market, and will continue to add more content.
The most interesting part — the rates — are detailed after the break along with the full press release.
As you can see, the biggest draw for many will be the rate plans. Offering a substantial savings over Skype for users in various countries, Viber aims to deliver HD audio at rates that are highly competitive. In fact, based on what we see above the rates are actually disruptive and just may cause other providers of Internet calling to re-evaluate their own rates.
Viber has more than 200 million users in 193 countries, with Android, iOS, Windows, BlackBerry, Bada, Mac, Linux, Symbian and Nokia S40 fully supported. To download the Viber app, you can use the Google Play link above.
VIBER LAUNCHES 'VIBER OUT' WORLDWIDE, ALLOWING MORE THAN 200 MILLION USERS TO MAKE LOW-COST CALLS TO ANY PHONE NUMBER
LONDON – December 10th, 2013, Viber announced today the release of Viber 4.1 for Android and iPhone which includes the full global launch of Viber Out, a new feature that allows users to make low-cost calls to any mobile or landline phone number.
Viber had previously enabled Viber Out for users in the Philippines in the aftermath of Typhoon Haiyan to help users contact friends and loved ones. To provide free calls from the Philippines, Viber partnered with telcos across the world including Telecom Austria, Telecom New Zealand, Hutchison, Bharti Airtel, Telecom Italia, Citic, Netvision Cellcom, Mada Communication and Omantel. Viber also partnered with Globe Telecom to allow users worldwide to call the Philippines for free.
Now with the official worldwide launch, Viber Out enables all Viber users to call anyone worldwide at low rates on Android, iPhone and Desktop, coming to Windows Phone in the future. Viber Out credit can be bought with an in-app purchase from the Google Play Store or the Apple App Store, or with a credit card via Viber Desktop. Additionally, Viber Out has a significantly lower price-per-call than other competing services due to lower per minute rates and the omission of connection fees.
"Viber Out gives our millions of users a new way to use Viber and ensures that they can reach any contact at any time," said Talmon Marco, CEO of Viber. "We will continue to improve Viber Out, keeping our users connected at the most affordable rates possible."
Unlike competing services, Viber Out displays your real phone number to the recipient so he or she knows who is calling. Further, Viber Out on Desktop has your phone's address book so you don't have to remember numbers or dial them manually.
Viber Out joins the Viber Sticker Market as the app's second paid feature. As part of this release, Viber added new stickers and will continue to add more content. Viber also released a new promotional video highlighting one of its signature characters – Violet.
Senior Editor — Google Ecosystem
Jerry is an amateur woodworker and struggling shade tree mechanic. There's nothing he can't take apart, but many things he can't reassemble. You'll find him writing and speaking his loud opinion on Android Central and occasionally on Twitter.
I live in the Middle East, and was using Jajah which closed down recently. Viber may be good for me, with calls to relatives in the USA.

I don't pay anything close to those rates for my Skype Out. I don't know where they got those inflated rates. Still, the option of being able to call my viber contacts directly when they're not on line does appeal. Posted via Android Central App

Why does Viber have so many permissions required?

Hi, could you please clarify your question?

thought it suppose to be cheap that's no where close to low cost calls Posted via ACA on LG G2

thought it suppose to be cheap that's no where close to low cost calls Posted via ACA on LG G2

What deliberately misleading rates. They're posting the rates to mobiles in those countries. Landline calls are much cheaper. Viber landline calls are still cheaper than Skype but not by such large margins.

what exactly is misleading about it? even if they fail to state that those rates are for cellular it is still their higher rates available. if you want to call a landline you'll be pleasantly surprised the rate is cheaper.

I don't know anyone that uses viber never have and never will Posted via Android Central App

I would venture to say that you don't know that you don't know anyone who uses Viber. Posted via Android Central App

Which phone is that in the picture? Flat design looking cool, I think I have seen that phone somewhere else too. edit: I found it, LG Nexus 5, back side isn't pretty.

Um... those don't reflect Skype Out rates?

Check the mobile rates. Viber is too expensive compared to Skype. Where did they pull these rates up? Posted via Android Central App

Hi, could you please clarify?

Aside from the table not fairly comparing rates, both are still extremely expensive. I'm using Mobilevoip app with betamax labels, Takes some time to find the best rate, but they're 4x as cheap as Viber. I don't see what makes their rates so good?

I think, those skype rates are "Pay As You Go" rates including connection fee, VAT etc
US -2.3c/min + 4.9c connection fee + VAT. I donno how much VAT will be. However, connection fee and VAT are independent of number of minutes, I think. So, that fee would be for the quality and amount of data used for the call!
Skype subscription rates are much cheaper. And a non-VOIP option of gvoice is much cheaper.

I have a skype subscripption, so for about $30 per year, I can call anywhere in the US and Canada. Does Viber offer any such subscription? Works for me when VOIP is the main way I use voice communication.

Not yet, but we might offer that in the future.

WTF ? They are BOTH way more expensive that Google Voice calls.

if you get credit for viber out ,can you use that credit for the same number on a device that doesn't have viber?
also,do you or the people you're calling need to have internet to make/take the call?
any help would be appreciated thanks

Hi every body
I have purchased viber out credit, but when I tried to call through viber out it ask me again to purchase credit. So I am unable to use viber out credit. Any body can reply me.

Read more here
http://viberdownload10.com/

Read more here
http://viberdownload10.com/
Android Central Newsletter
Thank you for signing up to Android Central. You will receive a verification email shortly.
There was a problem. Please refresh the page and try again.