Vertu's refreshed Signature Touch brings high-end specs with a luxury price tag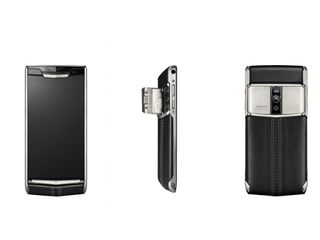 Luxury (and we mean luxury) smartphone maker Vertu has announced a refreshed version of its Signature Touch smartphone, bringing a sizable bump in specs to the fore.
Vertu's latest Signature Touch packs in some notably high-end specs — something you'd expect when you're paying thousands of dollars for a phone. The phone runs Android 5.1 Lollipop out of the box, and packs a Snapdragon 810 processor, 4GB of RAM, and 64GB of internal storage with an additional 64GB of storage from an included microSD card. The phone's sapphire display is also kicked up to 5.2-inches with a 1080p resolution, and there's a 3,160mAh battery inside powering the whole thing.
As far as cameras are concerned, there's a 21MP shooter round back with a 2.1MP front-facing camera. The smartphone also packs support for QuickCharge 2.0 and Qi wireless charging.
And, of course, there's the reason that Vertu's phones come in at nearly $10,000 a pop: services. The company's latest Signature Touch smartphone comes with 18 months of concierge service, through which users have access to a dedicated line for setting up travel arrangements, finding gifts, and much, much more.
If you happen to have a lot of money to throw around, the new Vertu Signature Touch will go up for pre-order at Harrods in the UK and "at selected boutiques globally" between September 25 and October 8. And while you're counting your pennies, be sure to check out our review of last year's Signature Touch at the link below to see what we thought of this luxury handset.
Source: Vertu
Couldn't get a 820 Snapdragon, 4K screen, 5,000mAh battery, USB Type C, Marshmallow, 128gb internal with 200gb SD Card in the specs for $10,000? Meh, pass.

Type C doesn't support Quick Charge 2.0 and a 4k display is pointless for a screen smaller than 6 inches. Though I agree that using the SD810 doesn't should like a good idea. Cynicism Evolved

Type c does support qc look at Xiaomi 4c Posted via the Android Central App

Who said so? It might with future updates and a well built processor. We shouldn't be sticking with old generation hardware. Posted.

820 and Marshmallow aren't out, and 5000 mAh would make it a huge brick. Posted via Galaxy S6

+ 1 Posted via the Android Central App

Money can't buy brains Posted via the Android Central App

They know their customers will go for the design, prestige services and image.
People won't compare processors, or know the SD810 has question marks.
The screen combined with it's implementation may be impressive enough.
It will be an easy sell for high end sales people.
Would we buy one if we could? Most of us - no, we do our research.
Thing about these is because of rapid advances and twice a year releases of new components, depreciation will be crippling.
Buy a nice Rolex.

Design? I've never understood why people consider Vertu phones to be beautifully designed. IMO they are some of the ugliest phones in the market. If I wanted to show off my wealth, I would get an iPhone, as even iPhones are prettier than Vertu phones. Posted via the Android Central App

Food or phone... I think I'll eat tomorrow! Posted via the Android Central App

Whenever how beautiful they are, but the Android is the big issue.

Too expensive to have. but look great. i believe <a href="http://www.amztk.com/ankwaysurgeprotectorwithusb">surge protector with USB ports</a> can charge it very fast and support very stable power.

What an ugly phone. It looks like how phone designers from 2006 thought future phones would look Posted via the Android Central App

"Luxury" and "expensive" are not synonymous. Posted via the Android Central App powered by Droid Turbo
Android Central Newsletter
Get the best of Android Central in in your inbox, every day!
Thank you for signing up to Android Central. You will receive a verification email shortly.
There was a problem. Please refresh the page and try again.