Verizon begins deploying VoLTE to select Android phones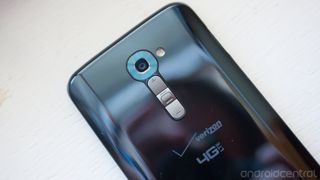 Ahead of the iPhone 6 launch with support for VoLTE, Verizon Wireless has upgraded its network to support voice calls over its 4G LTE and XLTE network. Dubbed Advanced Calling 1.0, Verizon is now supporting HD Voice and Video Calling and the carrier is starting the roll out initially to the LG G2 and the Samsung Galaxy S5.
With Advanced Calling 1.0, even though voice calls are routed as data, you'd still be billed for a voice call, which would go against either your unlimited voice plan or your voice minutes. Video calls will go against your data bucket on Verizon.
For compatibility, both the caller and the recipient must have compatible devices and have Advanced Calling 1.0 enabled on your phone.
Have you gotten the software update on the G2 or S5 yet? Let us know.
Source: Verizon Wireless (opens in new tab)
Android Central Newsletter
Get instant access to breaking news, the hottest reviews, great deals and helpful tips
So this feature is basically useless unless both caller and receiver are using a device on Verizon that supports it? SMH!

I was just saying the same thing to my boy!! And to roll out a update to only two phones. Good Call, Verizon. Posted via Android Central App

Dude, something has to be first. Plus, I think it's compatible cross networks, so you can HD call AT&T, T-Mobile customers that have HD calling.

G2? please tell me you meant to say G3. Posted via Android Central App

He did not mean G3. VZW has been internally testing VoLTE on the G2 for some time.

Basically Yeah lol both parties have to have and compatible phone for it to be HD voice or the Video Posted via the Android Central App

Nope G2 lol Posted via the Android Central App

Support for the s5 makes sense, but the g2??? What about initial support for newer phones such as the M8 and G3. It's not a huge deal though if it only works with calls from Verizon to Verizon but it still bothers me I only bought my phone a few months ago.

They have to start somewhere. Patience! It's not about you.

And they rolled out the test update a few month ago for the G2.

probably because they had more time testing it on the G2 and the S5

Myself and a few friends got the update the video features kind of cool it actually works better over wifi to me and personally I wouldn't use the video off Wifi since it counts toward your data... I personally didn't notice any difference in the actual voice call quality Posted via the Android Central App

The HD voice supposedly works for call to people on T mobile voice over LTE at least thats what and Verizon rep told me Posted via the Android Central App

I'm pretty sure that's not right. HD Voice on HSPA+ for T-mobile has always been T-mobile to T-mobile only. I'm not sure about Verizon VoLTE to T-mobile VoLTE though.

Probably referring to the T-Mobile VoLte that was rolled out in some markets a few months back. Sound quality is incredible on that. It sounds almost as if they were standing right next to you.

T-Mobile VOLTE works on all T-Mobile LTE, not just a few markets. The same goes with T-Mobile, both devices must be on LTE of course. I believe T-Mobile has had this up and running for at least a month if not longer.

Got the update on Verizon

What's the benefit of this anyway?

The biggest benefit to the user is vastly improved call quality. In a big picture sense, it's a step in the direction of all communication from the device going through the same channels and simplifying the network a little. Posted via the Android Central App

Got the update on my and my friends S5. The HD voice is really crystal clear. It's just taking advantage of digital voice over LTE or VoLTE. Posted via Android Central App

I did speak with customer service and they said at this point it is not compatible with ring back tones. So if you do want HD voice for now, you can't have ring back tones as well. Posted via Android Central App

You actually submit your friends, family and co-workers to listen to ring back tones? I didn't know they still did those.

Of course. Why not. Lol. Some get classical, some get country, some get pop and dance. And some get a basic ring lol Posted via Android Central App

On behalf of everyone that calls you, please drop that feature. The horribly compressed "music" is the worst kind of torture.

Horrible... updated it today and it killed my ability to make phone calls. Couldn't call or receive calls all day. Went to a corporate store and they couldn't even help. All they wanted to do was factory reset my phone. I refused and they told me that was the only way. I just went into the my Verizon page denied the hd update and what do ya know, I'm able to make and receive calls. Horrible update. Posted via Android Central App

The update on my g2 messed up touch response. Knock off will work but knock on won't.

How is this going to work If 90 percent of the time a person doesn't have an LTE connection? Posted via Android Central App

It would probably only work 10% of the time then.

Will this update cause issues if rooted?

My wife and I have the S5. The quality of the call is incredible, video is pretty cool too. It should be cross networks...

They skip the legendary HTC Touch Pro2

I can tell you with my S5 on Verizon in the past few days of testing it, it's causing more harm than good. First, I confirmed with a rep that when this is enabled, all calls are going over data instead of regular cell call traffic. Second, I'm noticing on at least 50% of the calls while this is enabled, the call sounds very tinny, almost digitized and like a low-quality sound card...user at other end complains I sound reduced in quality as well. Today as a test, I disabled it and made MANY calls...the issue is gone and call quality is back to normal. Needless to say, it may be nice some day, and if the other user has it/it works as advertised...but leaving this on causes more harm than good.

Verizon has already made it clear that voice calls over voLTE will not go against your data usage. Furthermore, if doing a video call, the voice portion will be deducted from your data usage. I think what everyone is missing is the fact that this is the evolution of cellular voice communication. Old voice protocols will wither and die while VOip takes over. Obviously the first roll out is going to be very bumpy with many devices having update issues, quality problems and outages. I'm down for VoLTE. Been waiting for this for years. There is no opting out of this longterm, as it will be the standard pretty soon. Posted via the Android Central App

Volte will work if other caller don't have the call quality will just be regular digital cell. They were talking about the video chat or should I dare "facetime" app. I'm not taking update and losing root! But I already have it on my note 3! Thanks to jasmine rom newest update 2.3.4! S5/note 3 ported rom have all S5 apps working out the box including Volte, upsm, ect. Plus all the spen/multi window apps. So glad I rooted my Verizon note 3, when note4 comes out I'll at least replace alot of the apks onto my note3. Than I'll have a S5/note4 hybrid running on note3. Lol God I love android, do that with your iPhone hahaha maybe in 2025 just hang in there....
Android Central Newsletter
Get instant access to breaking news, the hottest reviews, great deals and helpful tips
Thank you for signing up to Android Central. You will receive a verification email shortly.
There was a problem. Please refresh the page and try again.