Using the LG Health app on the LG G3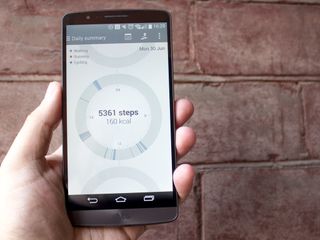 LG is helping you track your daily exertions on the G3, if you know where to look, that is
You'd be forgiven for not realizing, but on the LG G3 you can track your daily activities with the built in LG Health application. It's actually a pretty nice application to have around to track your daily steps, runs, or map your favorite routes.
You'll not find it in the app drawer, though, so the first thing we need to do is get to it.
How to open the LG Health app
If you disbabled the Smart Bulletin, or 'G' home screen, then you'll want to get it back. It's a pain that we need to use this in order to actually get into an app on the phone, but that's just where we are. LG Health occupies the top half of the Smart Bulletin – as well as displaying an overview of your daily steps, distance and calories – and tapping on it will open up the app.
If you need a hint on how to turn it back on – and indeed off again should you wish – check out the link below.
How to get rid of the LG G3's extra 'G' home screen
Inside the app
When the app first opens you'll see this pretty snazzy looking circular widget that fills up with information throughout each 24 hour cycle. In the center you'll see your steps for the day and a little person that will indicate what kind of exercise you're doing – or not, as the case may be. For example, if you start running that little person will change to a runner.
Each 24 hour cycle gets its own circle and you're able to scroll back as far as you like to see past results. Up top you've got a little calendar icon with the current date in as a fast track back to today's information. Next to it is an option to record a new track – more on that below – and the exercise type including walking, running, cycling, hiking and even inline skating should you be so inclined.
Swiping in from the left displays the main menu where you're presented your options for viewing your exercise stats, ranking and the track recording options again.
Before you get started tracking any of your activities, though, you'll want to set up your profile and your daily goal in the settings – accessed through the menu button in the top right. Adding your gender, age, height and weight will give you a target weight and your current BMI – which will probably depress you intensely if you're in similar shape to me. It'll also give you a recommended daily goal which you can choose to ignore, but you enter either your desired steps or calorie burn for each day down at the bottom. Then you're good to go.
Recording tracks
If you like to record your walking, cycling, running – and inline skating – routes, LG Health has you covered. Before you set off hit either the location tag icon in the top bar or "Record track" in the slide out menu. The app will then use the phones GPS and Google Maps to trace the route you take.
It'll also tag in your elapsed time, calories burned, distance covered and your average pace which it will record along with the track for later viewing under the "Track list" option in the main menu. The actual activity information will also be plugged into your daily cycle.
Exercise stats
As we already mentioned, LG Health will record your activities every single day right from the moment you turn it on. Sure, you could scroll endlessly up looking at those fancy circles in the main view, or you could open up the "Exercise stats" from the menu.
In simple terms this is where you'll be able to browse your entire history, displayed either by day, week, month or year. You're given a graph that will differ depending on the type of view you're looking at and it'll display your results of either calories burned or steps taken. When you're looking at week, month or year it'll also give you a figure of your average steps or calories burned per day in that time period. The screenshots above give you an idea of what the main views look like.
If you recorded a track during that time period also, you'll be able to see the what, where and when by pulling up the arrow in the bottom right. At any time get to the current day by tapping the calendar icon along the top. And if you're feeling like showing off your achievements to your friends, tap the menu icon in the top right and hit share. A screenshot will then be posted to the social sharing service of your choice.
Ranking
If you're one of a group of G3 owners then you can all link up together and 'compete' within LG Health. It uses LGs own account services, however, and not Google so it's going to be pretty restricted. But, if it's the sort of thing you get involved in, it's there for you. Or if you're a lone ranger, you'll always be number 1.
LG Health isn't the most full featured exercise tracking application out there, but for a lot of people it's going to do just fine. Why there isn't a shortcut to it in the app drawer still baffles, but it's a great little tool for seeing how active you are from day to day.
For more, see our LG G3 help page, and swing by our G3 forums!
Be an expert in 5 minutes
Get the latest news from Android Central, your trusted companion in the world of Android