Using IFTTT with Google Glass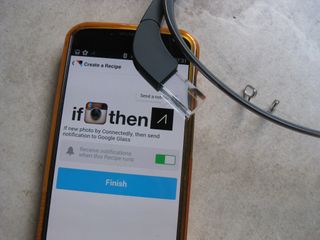 We've talked about using IFTTT with WeMo for home automation, and with Fitbit as a way to get more out of the available data. We also offered an introduction to IFTTT for those not as familiar with the service — and today we are taking a look at how we can use IFTTT to get a bit more functionality from Google Glass.
Google Glass is now available for anyone willing (and able) to shell out the $1,500 purchase price. But while the wearable is readily available for purchase, the apps and functionality may seem a bit limited for some. Limited at least in terms of what you can do in comparison with a regular smartphone. But rest assured — IFTTT can help to increase the amount of notification cards appearing in your timeline.
Our first example may be a bit self-serving, but keep in mind the Connectedly RSS feed used in this example could easily be swapped for the RSS feed of your choosing. A recipe called "Connectedly news to Google Glass" does just what the name suggests, it sends a notification to your Glass timeline every time a new post hits the site.
Stepping back though, using Google Glass with IFTTT gets underway just as it would with any other service/device. That is to say you begin by activating the Google Glass channel on IFTTT. Of course, you'll also need to activate any other necessary channels. Using our previous example and that would mean activating the "Feed" channel.
Another use we found when combining IFTTT and Google Glass involves Instagram. This one is purely for fun. By activating the Instagram and Google Glass channels you can create a recipe that allows you to send images from a specific Instagram username to your Glass timeline. In our case we like to view the images shared by the official Google Glass Instagram account. But if we head back down the self-serving path there may be another suggestion, the official Connectedly Instagram account.
One important aspect to remember about using IFTTT with Google Glass comes in with the Triggers and Actions. In the case of Glass, there aren't any Triggers available. Basically that means you will not be using Glass to activate anything else (any Actions). IFTTT only allows Glass to receive notifications (Actions). While this does limit the possibilities, there should still be enough to make your Glass experience a bit richer in terms of new notification cards appearing in your timeline.
As we've been seeing with IFTTT — the use cases will vary widely from person to person, and from recipe to recipe. For this reason we look towards the IFTTT userbase for some of the current most popular Google Glass recipes. Users are currently sharing recipes that allow you to read your Pocket saves on Glass, to remind yourself of daily to-do items, and also find out if or when you get mentioned on Reddit.
If you are wearing Google Glass and using IFTTT — we would love to hear about any special recipes that you have created!
Get the Android Central Newsletter
Instant access to breaking news, the hottest reviews, great deals and helpful tips.