Using an Android watch with multiple Google Accounts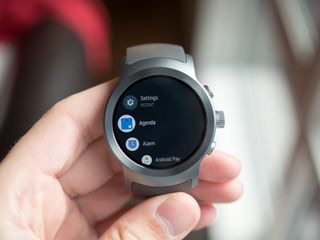 Where previous versions of Android Wear acted as an extension of your phone, anything running Wear 2.0 is designed to work like it's a standalone Android device. A big part of setting up this experience is moving your Google Account over to the watch from your phone.
This is a fairly trivial thing to do with a single account, but if you use multiple Google Accounts on your phone and need information from multiple accounts to live on your watch, there're a few new things you're going to need to know about using Android Wear.
What does it mean to use multiple accounts on Android Wear?
When you move more than one Google Account to the watch, each becomes an option for Google's core services in Android Wear. For starters, it means you can install apps as either of your accounts from the Google Play Store app on the watch. Like the Play Store on your phone, this affects how you manage your apps, as well as where paid apps live when you buy them. Only one account exists at a time in these Wear apps as the "primary" app, allowing you to switch back and forth as you need.
The good news is notifications works seamlessly once you've moved your accounts over. If you get a notification from an account that isn't set as primary, you still receive it like you would any other notification and can interact without needing to manually switch between those accounts. This setup is a little more complicated than what was previously available for Android Wear, but it gives you a lot more flexibility and control regarding the notifications that show up on your watch and the things you can do with apps on your watch.
A good example of why you would need to switch accounts on a regular basis is Google Assistant. Even with multiple accounts available on your watch, you only want to use Assistant with a single account. Additionally, Assistant settings on your watch can only be adjusted on the phone with whatever account you currently have enabled on the watch. Since Google pulls data from the account you currently have selected, it's important to make sure you have the right account set as your default.
How to switch accounts on Android Wear
Most Google Apps on your phone have the ability to quickly switch between your Google Accounts. Watch apps aren't quite as functional, especially those that have not been updated to Android Wear 2.0. For all of Google's core functions, including Assistant, the default account is whatever you currently have enabled in the Play Store on your watch. This means, in order to set the correct Assistant for your watch, you need to have that account set on the Play Store.
Making the switch is simple.
Go to the Play Store on your watch.
Swipe down to access the Play Store settings.
Tap the Accounts icon, and whichever account has green text next to it is the default account.
To switch accounts, tap the account you want as the default, and you'll be returned to the Play Store.
Anything connected to Google on your watch will now use that account as the default.
Questions?
Let us know in the comments below!
Get the Android Central Newsletter
Instant access to breaking news, the hottest reviews, great deals and helpful tips.