Users are having various Bluetooth issues after upgrading to Oreo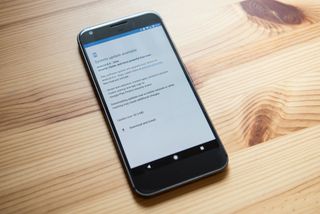 One of the features I've been especially looking forward to with Android 8.0 Oreo was the improved Bluetooth support. One of the first features to be announced was native support for high-quality Bluetooth audio codecs, and later on, we heard some members of the Pixel team describe how Oreo was going to improve Bluetooth errors and iconsistencies.
Android Police reports that Pixel and Nexus users with Oreo installed are still having issues, sometimes even worse than before the upgrade. On both the Pixel and Nexus help forums, users report connection issues, "skipping and clipping sounds" when playing music, Bluetooth phone call support working but media support broken, no media information being displayed on a car head unit, Bluetooth turning off a second after being turned on, and a device freezing up and rebooting when trying to listen to podcasts. There are different types of hardware represented such as car head units that are likely using an older Bluetooth version and headphones and speakers that would likely be on a newer Bluetooth version.
Google has used notoriously bad Bluetooth radios for years now, but with the changes promised in Oreo there was hope that Bluetooth would be more reliable. While a user should not have to do this, one thing I didn't see mentioned in the Google Product Forums was whether or not a user tried factory resetting their device. Google is collecting feedback from users, including specific Bluetooth devices and what issues are present. Hopefully, the Android and Pixel teams will be able to diagnose what's going wrong, and things will be better on Android 8.1 or 9.0.
Are you having Bluetooth issues after upgrading to Oreo? Let us know down below!
Android Central Newsletter
Get instant access to breaking news, the hottest reviews, great deals and helpful tips
Alright! Let's 86 that headphone jack. It always makes me so mental when my Bluetooth acts up in my 2016 f-150. I keep an aux cable in my truck at all times when this happens. I'm not ready for this no headphone jack thing.

No issues so far on my Nexus 6P.

Really mate, I'm using Nexus 6P too, are you sure you not having any issues? Like Notification Badge? What launcher you are using right now? Is it stable? Support Oreo features? Does PiP work with Youtube? Night Mode? Change icon shape? Don't you say you are using Lawnchair launcher cuz it buggy like bruh. Please reply me, I have so much issues after the update and I feel so disappointed.

Bluetooth issues again with a new Android update? Smh

I haven't had any issues on my 6p.

Android feels like it's really going down the drain lately with the new direction it's heading...all-white UI everywhere, generic iOS-like emoji so we can all look the same, generic iPhone-like hardware from the Pixel line, Google's 79 chat apps that all mimic functionality but none being 100% full-fledged, bluetooth being a POS all these years with promises of it being improved now only to find it worse than before... Let's hope they work out the kinks sooner rather than later.

This is why I have absolutely no problem waiting several months to get an Android update. Apple releases a relatively bug free update and everyone gets it immediately, If there is a really bad bug like this it gets fixed very quickly. These bluetooth issues have basically become a feature of Android that linger for months and sometimes the life of a device.

You beat me to it. That's why I don't understand why so many people have to be on the absolute most up-to-date version when their existing version works fine.

Very quickly? Like their struggle with iOS 10.2.1, to fix things causes by iOS 10.2 that got even worse to the point Apple allowed downgrades eh? And the excessive battery drain, Raise to Wake stopping, and "Hey Siri" not working on iOS 10? This doesn't seems to be relatively bug free at all.
Some folks at my job wanted to throw their iPhones at the wall, but they have remembered how much they paid for them... This "bug free" thing people tries to spread about iOS is a bit lie.

No problems on my 5x. Switching between audio devices and maintaining communication with personal accessories like my watch and garmin cycle-computer seems a little more consistent. Buletooth actually works better than being plugging into aux devices. I still get audio pops and clicks that seem to match the devices thinking processes whenever audio is on pause or not playing. This did, however, improve somewhat following the tail end of the Nougat updates. Explain this, though... If cheap bluetooth radios are part of the problem, can software really fix that?

I couldnt skip songs in my car when connected to bluetooth this morning after joining the beta last night. Kind of annoying tbh but everyone knew the risk of coming across bugs was more likely than not.

The HTC U11 also seems to have a problem with Bluetooth since the Bluetooth 5.0 update rolled out. Coincidence?

The HTC U 11 has not yet gotten the Bluetooth 5 update so not sure why you think you have. They only announced that it will be available when the phone gets the Oreo update.

On Oreo for about a day now - no problems with bluetooth. Only connected to one device so far, but have used it quite a bit without issue.

Pixel XL. No media information on my BMW's iDrive. A remove and re-pair fixed the issue. No other issues so far

I haven't had issues connecting to media or phone (headphones and car head unit), but I have not been able to unlock my Chromebook with my Pixel via bluetooth, which I previously used to be able to do. It simply won't connect to the chromebook, despite being paired.

I'm having the same issues. I also had to do a factory reset to get text messages on Verizon. I can get text messages but now I can't reconnect to my Chromebook wtih bluetooth. I did like the feature of unlocking the Chromebook when my phone was unlocked but apparently that is messed up too. Very frustrating. This might be my first and last Google Phone. Going back to Samsung.

I've been on Beta for several months. The most notable Bluetooth/device connection issue I've experienced is the inability to download playlist from Google Play Music to my Android Wear 1.5 device (Moto 360 Sport) I'm hoping the AW 2.0 update resolves this.

This is why I don't mind waiting on the update from vendors like Samsung, HTC, LG, etc. Yes, Nexus and Pixel users get the update first. And they get to deal with the bugs while the rest of us can wait until those bugs have been found and fixed.

My Sony MDR-XB650BT bluetooth headphones paired up and work flawlessly for both music and phone calls.

These stories and the problems they describe just never stop. It's like water torture. This is why I bailed on Android after owning every single Nexus through the 6. Happy perfect iPhone since March. Google is awesome at breaking stuff that should be rock solid, especially when they spec'd and designed the hardware.

I have not noticed anything as far as sound quality when connected via Bluetooth but occasionally have no media information being displayed on my head unit in my truck...

Things will get better on Android 9.0? lol

My brand new Moto Z2 with 7.1 will not properly connect my Pebble 2 after trying many things. I may take the phone back. I don't want to, but I'm going to do a factory reset.

On my Google Pixel XL....the Oreo update fixed my previous problem of having the audio cutting in and out. But now the music information no longer shows on my display... and if i take a phone call while a song is playing, i can no longer resume the song once the call has ended. It shows it's still connected, but i lose all functionality. I have to basically disconnect and reconnect. I'm yet to try a factory reset with Oreo (but shouldn't have to)

Removal on the head unit and forgetting on the phone, then re-pairing fixed all of that for me. Interesting side note: when you forget a device on Oreo and it has a customized name, the OS remembers that custom name and displays it in the Available section. I don't recall this behavior on Nougat

After updating my Pixel XL to 8.0 a couple days ago, I get no bluetooth audio from media sources in my car (BMW X3), even though it's playing on the phone and no metadata is displayed on the screen. I've only had on call so far and that seemed to work. I had no problems with Nougat. In the user community forums, there are a ton of people with a wide variety issues on a wide variety of bluetooth devices. While many devices and many car companies are represented (Ford, Dodge, Honda, Jeep, Suburu, Audi, BMW, etc.), it appears that LOTS of 2013 and later BMWs are affected.

Having the same issues with my BMW and Nexus 6P. Ironically, 7.1.2 on the BMW was the most stable bluetooth connection i had ever had in a car!

I have a Pixel XL. The only time I had Bluetooth issues on 7.1.2 was when I had my phone in my pocket and I was walking around the yard doing lawn maintenance. My headphones would constantly cut out like it was losing the signal and my phone was literally two feet away. I didn't have problems with the same headphones when connected to an iPod or my previous phone when doing the exact same activity which leads me to believe it's an issue with the Pixel XL Bluetooth transmitter. I haven't had the opportunity yet to run the same scenario with my phone on 8.0 since I just received the update last night. I'll probably get a chance this weekend to do something similar as I'll be doing a ton of walking around downtown Atlanta. I've had no issues in my car on 7.1.2 or 8.0 using a Besign BK01 Bluetooth receiver/transmitter plugged into my cars aux port.

I have a Pixel XL by Verizon wireless.
I updated my Pixel XL to 8.0 a couple days ago.
After updating, I can connect to my car (2016 ACURA MDX) by bluetooth, but when I receive a phone call, It was disconnected.
And, one more issue for GPS.
GPS work with WiFi but, doesn't work with cellular data after updating to 8.0 also.
Android Central Newsletter
Get instant access to breaking news, the hottest reviews, great deals and helpful tips
Thank you for signing up to Android Central. You will receive a verification email shortly.
There was a problem. Please refresh the page and try again.