Multipurpose tools can save you both time and money, especially with an offer like this one. Use coupon code BJ7IYAD3 to drop this Gooloo Digital Tire Pressure Gauge from $29.99 down to $17.99 at Amazon. We've seen it drop down to $15 in the past, but if you're in the market and missed that discount, this is your next-best bet. You can either spend at least $25 or use Amazon Prime to get free shipping.
What's Up?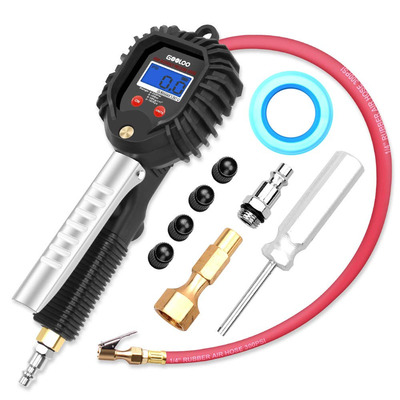 This handy tool can be used in a multitude of ways, and its price is close to the best we've ever seen. You can use it to check tire pressure and connect the tool to an air compressor to inflate tires as well.
$17.99 $29.99 $12 off
This tool's pretty simple. It measures PSI. It has a leakproof lock-on air chuck and an automatic shutoff feature to preserve battery life. There's a built-in air bleeder to quickly decrease pressure, too, and you can use it in conjunction with an air compressor for inflation as well. You'll have no trouble reading the data thanks to the rotatable backlit LED display. You can also switch between a few different measurement units. So far, it has received a total of 4.1 out of 5 stars based on an average of 113 customer reviews.
If you don't need a pressure gauge, and you'd rather just have something that can inflate your tires on its own, consider springing for a portable air compressor. You'll have a higher out of pocket cost, but considering that the Gooloo tool doesn't have a compressor built-in, you won't be able to use it to inflate tires without a separate tool. If you do have an air compressor around, however, the Gooloo Digital Tire Gauge should do the trick just fine.
We may earn a commission for purchases using our links. Learn more.