U.S. Cellular support now officially available in Project Fi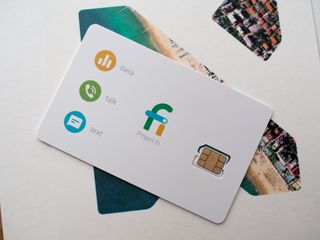 U.S. Cellular support is now officially available for Project Fi customers. You'll need to update the Fi app to ensure that everything is working properly on your end with connecting to the new network. With this addition, Fi customers will now have three different networks to bounce between to ensure they always are using the best network in the area they are in.
T-Mobile and Sprint were the original partners with Google on Project Fi, and now U.S. Cellular joins as the third. As previously mentioned, be sure to update your Fi app (opens in new tab) so you can see if this enhances your coverage at all. Be sure to let us know if you notice any differences in the comments!
Android Central Newsletter
Get instant access to breaking news, the hottest reviews, great deals and helpful tips
Jared started off writing about mobile phones back when BlackBerry ruled the market, and Windows Mobile was kinda cool. Now, with a family, mortgage and other responsibilities he has no choice but to look for the best deals, and he's here to share them with you.
Nice! I'm not in an area that has this network, but it's great to have choices.

I'm in the bay area and I SignalSpy's dialer code for US Cellular doesn't appear to be working for me. Anyone else in that area using any other Fi app to hook into US Cellular?

I doubt many folks will see US Cellular all that often, as USC doesn't have a ton of its own coverage, it's mostly roaming partners in large parts of the country. In those areas I assume Fi will prefer Sprint or T-Mobile first.

Yup, I realize that but according to their coverage maps, the areas I'm concerned with have LTE coverage and since I assume they own their own network, I wanted to test their data speeds.

Looking at the coverage maps for all 3, US Cellular has LTE coverage in large parts of the country where Sprint and T-Mobile show no LTE Data or Roaming LTE. I looks like Sprint's LTE Roaming is in the areas were US Cellular has it's own coverage. This will help Project Fi have LTE in most of the country now. Especially in the mid-west and northern New England.

You are looking at the wrong map. Fi doesn't support US Cellular roaming partners, it's home network is crap and its only in 20 states

This has been my biggest hold up on trying fi. Both Sprint & T-Mobile suck in my area, but U. S. Cellular is great. Posted via the Android Central App

Yeah.....the only problem is US Cellular is none existent in North East and Fi doesn't support its roaming partners, so it's only partial coverage in 20 states now

But Fi utilizes T-Mobile and Sprint as well, so you'll still have coverage from those... you know how Fi works right?

This won't change much at all for the majority of people. You will still likely be on Sprint or T-mobile most if not all of the time. Posted via a still buttery smooth nexus 7 2013 .

I never even considered this possibility when Fi came around. Traditional carriers can add a tower here and there, Google just goes an adds a whole new network at once!* Pretty neat. *Please don't reply with "so and so carrier still has better coverage". I don't care, I just think adding a whole network with something as simple as an app update is really, really cool.

Cool when it works good, but it doesn't in my area. Fi drops signal and searches for better one while my T-Mobile phone keeps weak signal and doesn't drop anything, 5 minutes later T-Mobile is back to 5 bars LTE and Fi is locked to ****** slow Sprint LTE or sometimes 3G

Fi doesn't switch networks on the fly, it drops connection and then searches for new one.....

Huh? My 5x switches on-the-fly with NO problem. It can even switch 100% flawlessly within a phone call. You don't even hear the switch. Totally seamless as I just keep on talking.to the same person.

you can control this process manually with the fiswitch app, or just manually enter the dial codes to swtich to Tmobile, sprint, or back autoswitch.

I wonder if Fi will ever use Verizon's network too? I know, i know, wishful thinking for something that will probably never happen.

I recently left VZW for Fi in NJ. I am a salesman, traveling throughout the state, usually about 150 miles/day. First time in years, I experienced a multitude of dropped calls, data drops, and service blackout areas. All of this has led me to port back to VZW. While Fi is simple to sign up for, and a breeze to port your number to, their coverage is nowhere near that of VZW.

The us Cellular coverage makes a giant difference in the Midwest. Sprint and T-Mobile are terrible here but now Fi is awesome.
Android Central Newsletter
Get instant access to breaking news, the hottest reviews, great deals and helpful tips
Thank you for signing up to Android Central. You will receive a verification email shortly.
There was a problem. Please refresh the page and try again.