U.S. Cellular introduces new pre-paid smartphone plans starting at $35 a month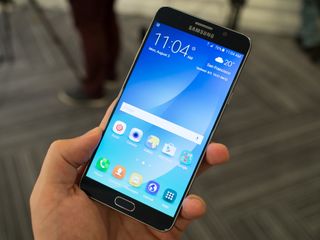 U.S. Cellular has introduced a new set of pre-paid Simple Connect plans. The carrier is also offering a limited-time bill credit promotion for customers who spend $50 or more on their pre-paid plan.
The new plans from U.S. Celluar start with a $30 per month plan for basic phones, which nets you 500 minutes and unlimited text messages. More smartphone-friendly plans with unlimited talk and text start at $35 a month, which nets you 500MB of high-speed data. For $45, you can get 2GB of data, while $60 per month grants you 5GB of data. Data will be slowed to 1x speeds after your pre-paid data allotment is reached.
For a short time, customers who spend $50 or more on their pre-paid plan can get $50 in bill credit, which is paid out in increments of $5 per month for 10 months. Pre-paid customers are also eligible to get an LG Logos for free after a $50 mail-in rebate.
Source: U.S. Cellular (opens in new tab)
Get the Android Central Newsletter
Instant access to breaking news, the hottest reviews, great deals and helpful tips.
500 mins ? LoL...wtf is 500 mb of data.......stupid plans Posted via the Android Central App

You would love to live in Canada. 30$ (no subsidy, budget carrier) give you 200 minutes and 100mb of data. Posted via the Android Central App

That's because you guys have little to no competition. We have competition. US Cellular is in 5th place. Even Sprint's prepaid offerings (Virgin Mobile and Boost) offer better value. Hell, even Straight Talk does. They have 5 gigs for $45/month.

US Cellular isn't aimed at the market who would be using Virgin or Boost. US Cellular thrives in markets where they are the one of few, or even only carrier that provides service in many rural areas. Living in a rural area, you often don't have many choices for a wireless carrier.

Just because you have a small footprint in the rural area region, doesn't make it right they're overcharging for data.

Customer goodwill doesn't increase profits like price does. In Australia the main carrier is Telstra. They have reception just about EVERYWHERE (thanks to the fact they used to be government owned) but cost so much more for so much less. Luckily Boost Mobile uses Telstra's network so you get coverage almost as good (and much better than the competitors) for a more reasonable price ($40 gets you 3GB with 2GB added every weekend that expires by the Monday, unlimited calls and text obviously) Blackberry Priv
Nvidia Shield "Portable"
Sony Xperia Z3 Tablet Compact

Cricket is the way to go. 60 dollars a month 10 GB of data and unlimited talk and text. Posted via the Android Central App

I probably do not use more than 500 minutes in reality, maybe close some months but I'm mostly data and text usage Moto X 2014 XT1095
Nvidia Shield K1

Seems like a bad deal; Cricket with autopay is $35 a month for unlimited talk & text, 2.5 gb data. And you get AT&T's coverage area. Posted via the Android Central App

People use US Cellular because of their rural coverage, if they have USCC they likely get poor service with other carriers.

lol, look at this troll defending USCC

$55 a month for 10GB on cricket and I get AT&T's network. Posted via the Android Central App

In panama supposedly a 3rd world country u get 3gb of 4G lte at $15.00 http://www.digicelpanama.com/es/4g/planes-4g
I've used it and average about 7mbs download in most if not all populated areas.
Tsk, tsk, United states.

LOL what a crappy deal. Do they even monitor the competition? Family Mobile that is part of the T-mobile network yields you unlimited calling, text and data (5gb at 4g) for 40 bucks a month for prepaid. Posted via the Android Central App

Just checked and AT&T/Cricket coverage is MUCH better than US Cellullar in one of their strongholds (West Virginia) . AT&T/Cricket even have better coverage than Verizon in West Virginia (according to their maps anyway)

I'm sitting pretty with my cricket $60/month and 20 GB of Data. Posted via the Android Central App