The latest Alcatel Idol 3 update promised a better camera — and it delivered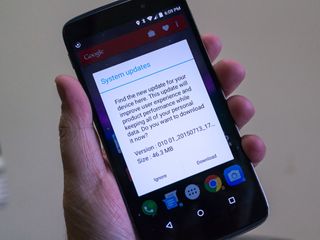 A recent update for the Alcatel Idol 3 — one of our favorite budget-friendly Android phones of 2015 — came in to address some minor issues like double-tap to unlock sensitivity, and general performance. Like many minor (this one was only 46MB in size) updates, it also told us to expect "refinements to camera performance."
I'm usually pretty skeptical when it comes to mystery updates that claim to make the camera better. But this time, I was pleased to be wrong. The update really does make the Idol 3 camera better.
The Idol 3's camera isn't as good as some of the top of the line phones that cost hundreds and hundreds of dollars more camera's are. It was always "good" but not really great. If you snapped a picture with the goal of sharing it on Facebook or Google+, it was perfectly fine.
It's still not as good as what you'll find in the Galaxy S6 or the LG G4, but the update has made a pretty dramatic difference.
The camera handles color much better, focuses and snaps the picture faster, and most importantly, gets the focus right when taking a picture of things in front of and behind other things. We're not talking any Depth of Field effect here, just getting the focus right so all of the picture looks good. That picture above (see the original here) is a tough one to get right. Plenty of colorful things, plenty of not-so-colorful things, and things behind a fence that are also in front of a fence. All taken around sunset to add the weird yellowish glow. The Idol 3 did a great job at capturing the scene exactly as it appeared. I might be able to take a better picture with a much more expensive phone, but I'm pleased with the Idol 3's camera here. Very.
The update doesn't turn the Idol 3's camera into a DSLR replacement, but it does make one of the best phones you can buy under $300 a bit better.
Buy an Alcatel Idol 3 on Amazon (opens in new tab)
Jerry is an amateur woodworker and struggling shade tree mechanic. There's nothing he can't take apart, but many things he can't reassemble. You'll find him writing and speaking his loud opinion on Android Central and occasionally on Twitter.
Jerry, how would you compare the camera performance now with your Nexus 6?

Pick up phone, point it at something, snap a picture — Idol 3 is now as good as the Nexus 6. If you move around, find the best light, and fiddle with settings the N6 can take better pictures. But not much better.

But jerry, is it better than the Galaxy nexus XD Posted via the Android Central App

I can also attest that the Idol 3's camera after the latest update rival's my Nexus 6. I just bought the Idol 3 myself with the intention with test driving it as my daily driver for a week. Afterwards I would decide if I wanted to switch from my Nexus 6. I read a lot and pretty much watched every video review available before buying. To me, it's pretty much a poor man's Nexus 6. I don't have the Quad HD display or the aluminum build, but my battery life also lasts about 20 longer than my Nexus 6. On my N6 I'd get anywhere from 2 to 4.5 hours of SoT. On the Alcatel I get anywhere from 3 to 6 hours of SoT. The screen resolution is fine at 1080p. The LCD is nearly top-notch. Very good color accuracy (~92% sRGB). Brightness that rivals the N6's to an extent. But I don't have the salmon hue if I turn down brightness with adaptive brightness on (N6 has that). I still get the dual front-facing stereo speakers (I admit they might be better quality than Motorola's) and the same camera hardware (too bad it doesn't support Camera2 API). One downside is the single LED flash is a bit too powerful. So night shots with flash might turn out whitewashed a bit. Nexus 6's dual LED flash, though not as powerful, offers a much nicer blend of light (at the cost of double shadows in some cases). A better front facing camera (8 MP vs. 1.9 MP) maybe (I rarely take selfies). I miss Qi charging and the Quick Charge 2.0 ability. The QC2.0 ability should have been present considering the Snapdragon 615 should support it. Perhaps there needs to be other underlying circuitry between the SoC, battery, and the USB port for it to function? Storage-wise, I gain expandability (microSD) at the cost of a relatively small 16 GBs of onboard NAND. I still have NFC and gain double-tap to wake. And I don't have the Motorola nano-coating for water resistance. Did I mention reception is actually better? WiFi signal reception is much better. Same network, same places at home. I get ~92%+ signal strength on the Idol 3 and ~70% signal strength on the N6. LTE signal seems to be more consistently stable on the Idol 3. I'd often get drops down to 22% quality or HSPA+ on my commute to work. Form factor is pretty close to a iPhone 6 Plus, so it's easier to handle one-handed (I have big-ish hands) and it's much lighter. Now of course, it's only been about 2 days, but I'm about 80% convinced this will replace my Nexus 6 as my daily driver.

Nice post! Really makes you question why phones like the N6 cost so much doesn't it? Posted via the Android Central App

Well it's a Nexus. Flagship performance and timely updates are two reasons it may be a better handset. As for its cost, it has a wider band frequency support (including CDMA), the latest 801.11 ac standard in WiFi, and has arguably better build materials and quality. Other than bugs with 5.0.x, most flagships won't leave you wanting more. This phone would perform much smoother if and when we get the 5.1 update. Right now there is noticeable lag and stutter composing this reply, switching between demanding-ish apps, and navigating complex ad-filled web pages.

Okay, I'm finally sold on this one over the Zenfone 2 for my next phone. Hopefully 5.1 will be coming soon on it to get some more performance improvements.

Good to know. I've been looking for a replacement for my Zenfone 2 and this Alcatel looks damn promising. Posted via the Android Central App

Since accidentally ruining my Nexus 6 and is now a large paper weight, I've been using the Ai3 for a few weeks now and it's been a pretty solid phone. I purchased it and a 32gb SD for a backup device and little did I know I'd be using it so soon. Close enough experience to a Nexus that I don't miss my 6 overwhelmingly too much. It also doesn't hurt that it has a higher Android version than some of the high-end Androids out there at the moment. Not as overall snappy as my Nexus 6 was of course.. but the camera is pretty decent and the Ai3 will do until the next Nexus release. I was going to get my 6 fixed, but I'll just wait since this is much better than I thought it'd be as my daily driver. Didn't think I would say this but for me 5.5 is actually the perfect size for my hands. I didn't mind the 6" Nex, it's just that now that I've been using this, this actually feels pretty decent and it's much lighter than my 6. If the next Nexus is 5.5 I would definitely buy that over the larger screen size. 5.7 wouldn't be bad either but 5.5 is definitely my new fav.

Yesssss. I just my Idol 3 arrives tomorrow and the camera was my only worry... Not anymore.

IMPORTANT!
This update...
Broke Google Voice calling for me.
When you make a call it connects too quick that the phone skips Google Voice from intercepting the call.

I don't have that same issue. Then again I quit using the GV app after Hangouts added GV integration. I use Hangouts with my GV number, mobile number, and all text/mms. If you are using Hangouts, there is a setting that lets you either have it ring your phone like for a normal network call or ring hangouts separately.

Beat that asus zenfone 2! Posted via Android Central App on 1+1

Jerry, your comments are spot on, as soon as I updated my daughter's Idol 3, after wipe cache Partition, the first thing I did was to take a picture in my Family Room at the same spot where I test all my devices and I was so impressed that I took another one just to see if it was a lucky shot, second one was even better. Not at the same level than my S6 and S6 Edge, but for $200 that I paid for it, I've been very very impressed with it.

Where did you get the idol 3 for $200?

I was interested in this phone before, but wasn't sure about the camera. Now I think I might pick this one up instead of the Zenphone 2

Can you move apps to the sd card on the idol 3?
I've been thinking about picking one up, after this article my only concern is only have 16GB, normally I consider 32GB the lowest I'll accept.

Some can, some can't. It's the standard Android implementation, where the app developer decides which portions of his/her app are able to be run off the external storage.

Thanks Posted via the Android Central App

The idol 3 has been climbing the charts in the Amazon best selling unlocked phone rankings. Word is getting out there. Posted via the Android Central App

I recommended this phone on my Facebook page with one of ur articles. I want one too replace my Nexus 5 which keeps shutting off for no reason. Hopefully next week I'll have the money. Posted via Android Central App on The Nexus 5

Hello I have had my idol 3 for about 2 weeks, I bought it as soon as it arrived in the store, the problem is I can't seem to be able to get the update, when I check it always says that my phone is up to date. But I didn't receive any update since I bought it so it's impossible to be up to date. Note I'm in Greece, may it be because of the region?

Very likely as well as your carrier. You might have to contact your wireless carrier and see when they would be pushing the update out.

I don`t have one, I`m here for holidays. I bought the phone from a electronics store I found around here

The Idol 3. $250 and you get a wonderful midranger with pretty good specs and a great software experience to boot. And the camera also seems to be pretty good. Posted from my "Jack Of All Trades" LG G4

Does anyone else have the issue where e-mail no longer works after the update? It continued to try to sync but would fail. I ended deleting my email account, re-adding it and now it says its all done but there are no emails in my inbox. What the hell?

Werid I haven't had any of those problems. Maybe just used gmail and put all your accounts on that?

The source code for the idol 3 was just posted yesterday on XDA, so expect new ROMs to be coming out shortly. Now to decide between this idol 3 for $250 or the zf2 for $200.
Android Central Newsletter
Get the best of Android Central in in your inbox, every day!
Thank you for signing up to Android Central. You will receive a verification email shortly.
There was a problem. Please refresh the page and try again.