Unnecto Air 5.5 — a dual-SIM phone for the US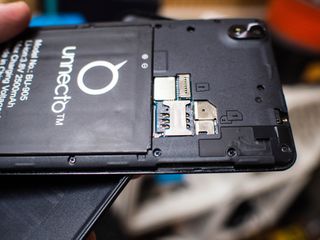 The sub-$200 smartphone market has never been more interesting than it is right now. We've seen impressive offerings from manufacturers big and small over the past year, and news that Qualcomm will be partnering with Cyanogen for the next wave of QRD offerings means the software is about to get a lot less awful for a lot of these inexpensive devices.
That doesn't mean the current offerings aren't compelling, and there's no greater example of this than the latest from Unnecto. The Air 5.5 is a surprisingly functional $169 smartphone built to be sold as a dual-SIM smartphone in the US, but it's not totally clear whether or not that's something useful here yet.
With few exceptions, US smartphones are a single SIM affair. You pick from one of the major or regional carriers, and for however long your agreement lasts you're stuck with that carrier. While we're starting to see more and more of the inexpensive, month-to-month plans across the US, it's still pretty far from normal — which is weird when you consider how divided carrier coverage often is across the US.
Here on the East Coast, for example, I can drive for an hour in just about any direction and find areas where T-Mobile flat out stops, Verizon falters, Sprint gives up, and AT&T just doesn't exist, while at least one of the other carriers is perfectly usable. The biggest reason dual-SIM tech isn't necessarily useful in the US is the prevalence of CDMA networks that aren't at all like the GSM networks we traditionally see being capable of this use case, and that's exactly what we see with the Unnecto Air 5.5.
If you're in need of a dual-SIM phone for jumping between AT&T, T-Mobile, Cricket, or any of the smaller regional networks in the US, this phone will get you what you want. The hardware itself is fairly unassuming, in fact it looks like it came from the same Chinese generic manufacturer responsible for the Yu Yureka, only this phone is using MediaTek's less powerful MT6582 processor with a 5.5-inch 720p display. This phone sits in a class with the 2015 Moto E when it comes to price and capabilities, and as a result adds some valuable inches to the screen size for those who value watching movies or playing games on their phone. The 13MP camera in the back and 5MP camera in the front fill out the specs sheet nicely, and the option to expand storage through microSD or replace the 2500mAh battery my sliding the back cover off is appealing as well.
Image 1 of 7
Where things tend to get a little less fun, as is often the case with these phones, is the software. Android 4.4.2 sits on the Unnecto Air 5.5 with a couple of basic modifications, like a ring-launch lock screen and custom camera app, but the overall experience feels a little clumsy. Everything about the UI feels like a QRD, and not necessarily in a good way.
The camera app is far too aggressive when using auto flash, and the icons are small enough that missing the option you want happens frequently. Settings contains a curious tool for automatically powering off and on this phone, which works exactly like an alarm system only with the ability to turn your phone on at 6AM. The rest of the experience was smooth enough to be enjoyable and large apps loaded with little wait time, but the phone is clearly in need of the 60fps smoothness offered in more recent versions of Android — which we're told is on the way sometime this year.
The one big thing Unnecto has going for it in the Air 5.5 is the dual-SIM functionality, which is managed by an app on the phone for convenient switching to and from the desired networks. Getting that feature in a $170 phone that isn't painful to use is a big deal, especially if your commute takes across multiple networks with gaps in functionality. If that describes you, this could be well worth a closer look.
The Unnecto Air 5.5 is available for purchase now on Amazon for $169
Get the Android Central Newsletter
Instant access to breaking news, the hottest reviews, great deals and helpful tips.