Unlocked HTC Butterfly available from MobiCity for $849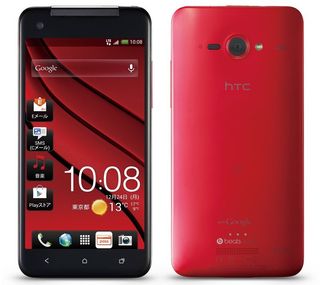 The unlocked, international version of the HTC Butterfly is available from online retailer MobiCity for only $849. We first heard about this device as the HTC J Butterfly bound for Japan. Then, we saw that it was heading to China and a version, known as the Droid DNA, was coming to the United States.
If you've been salivating over the 5-inch, 1080p device, but didn't want to go to Big Red, you're in luck, as you can get the unlocked version, albeit at a price.
The unlocked version has the following network bands: GSM 850, GSM 900, GSM 1800, GSM 1900, 3G 850, 3G 2100.
This is the only place you'll be able to get this version at for now, as MobiCity has an exclusive. You'll be able to get it in red (as pictured above) and white. They claim that it will begin shipping on January 18th, so only a days away.
Source: MobiCity
Get the Android Central Newsletter
Instant access to breaking news, the hottest reviews, great deals and helpful tips.
I know! Amazing deal right? Lol.

this is off contract price - i.e. no carrier subsidy do you really think that free phone from Vzn, AT&T or Sprint is free?

We're not idiots; we know that there is no carrier subsidy lol. However, at $849, this is more expensive than even the Note 2, which can be purchased unlocked for around $650. Hell, this is more than the iPhone 5 unlocked.

Exactly. The "only $849" part is what we are scoffing at. "only"??? There is no way it costs that much when sold to the carriers, it is an outrageous price.

I spent that much on a Galaxy Note on its release week, but that was back when big powerful phones were emerging. I can't justify that much anymore, now with the price of Nexus devices.

Gorgeous phone! I swear these new phones keep getting better and better.

Total rip off! Just buy the Verizon DNA, it's unlocked gsm and around 550

Not a bad idea. Seems to support more UMTS bands too.

Yeah, the DNA would be a steal over this. But, for the international community, the DNA might be out of reach.

the unlocked version is still 16gb only ? no expandable storage ?

According to the link it has a spot for a micro SD card. So you can use your SD card to expand the memory. $849 is still a lot of money however.

You can't expand the memory, but you can expand the storage.

:) Is this the reason they stopped making the s/d cards? Is this the confusion they're talking about?

Yeah, way overpriced for 16GB and I don't care if its expandable. For that price it should come with 64GB.

Damn no wonder nobody can get a hold on a N4. $849 for a cell phone, just not my cup of tea I suppose.

$849 for a cell phone isn't exactly my cup of tea either. However, some people use their phones as their computers as well; so it's not difficult to imagine some people being more than willing to spend the money on a good smartphone, versus spending that same amount of money on a decent smartphone and a decent laptop (even though you can find a good laptop for way under that).

I have both and you would be surprised about how fast the butterfly j is with a 64 gb card in it

I'm going to need someone to hit me in the throat with a baseball bat if I EVER pay $850 for a phone!! Nevermind, that's exactly what my wife would do...LOL!

Lol! You have a good wife. But, I'm sure if you spent $850 for a phone, she would swing that bat in more places than just your throat lmao.

The markups on these phones are outrageous. I mean really, how much does it cost to build one of these bastards? I would much rather pay $299 for another Nexus 4, or just buy an f'n tablet and Skype LOL

thats aussie dollars too so its going to be closer to 900us.

Ouch!
At that price, I can get 2 LG Nexus 4 ...

*drool* I still want it even at that price.

Nyc. I have owned a htc butterfly j red Japan version for about a month and just put. In a 64gb card in it which works perfectely. If you want a phone that blows out every one this is the top of the line. Bargin non braging rights there are no one i know ever seen this phone not evern a ATT store in nyc ever seen it pictures yes but to hold the phone no . So my recommendation if you want high end you have to pay high end if you want a bargin then wait till the phone is about three years old