Understanding the two ending credits scenes in Marvel's Spider-Man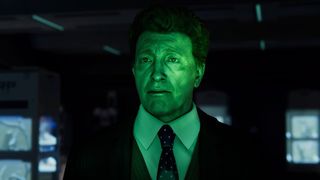 Editor's Note: Everything you are about to read is a spoiler for Marvel's Spider-Man on PlayStation 4. If you have not finished the core story yet, it's probably a bad idea to keep reading. Consider yourself warned.
Marvel's Spider-Man hits shelves this Friday, and it is by any measure a great game. While our full review goes further into details, the sheer volume of things Insomniac did right is gloriously exciting. Easily the coolest part for people watching you play is the way the whole thing feels like a movie, and like any Marvel movie this game includes ending credits scenes. Two of them, in fact.
Whether you're not super familiar with the Spider-verse, or you're eager to see my thoughts on these scenes, I'm going to go ahead and break down both for you.
If you haven't yet, be sure to check out our review of Marvel's Spider-Man!
Scene One - Welcome to Team Spidey, Miles
At the very end of the first gameplay trailer for Marvel's Spider-Man, you get a shot of a kid names Miles. Half the crowd cheered even louder, because those folks knew just how important that name and face is. Miles Morales is, in most versions of the Spider-Man comics, the next Spider-Man. Most of the time he doesn't become the next web-slinging hero until something terrible happens to Peter Parker, but as we see in this game he gets the radioactive spider bite a little early in this telling of the tale.
The after-credits scene with Miles shows him revealing his unique new abilities to Peter, who in turn shows Miles he's not alone in being a little unusual. The scene itself is delightfully awkward, and ends flawlessly with the two of them hanging from the ceiling.
While we did get a few little scenes in this game where you could walk around and hack things as Miles, a full-on Spider-Man game like the one you just finished with Miles as the main character has been a long time coming. And we're clearly in the perfect time for it, as the animated film Spider-Man: Into the Spider-Verse starring Miles is almost ready to hit theaters.
It's time. Give us a sequel to this amazing game with Miles as the main, Insomniac.
Scene Two - Harry's trip to "Europe" is going great
If you didn't get the impression Norman Osborn was an absolute bastard from the entire rest of this game, his ending scene really seals the deal. The game itself was peppered with a few hints that left you thinking maybe we'd see the Green Goblin at some point, but Insomniac clearly has something much darker in mind for this family.
The scene reveals Norman unlocking the secret room MJ breaks into during the game, but then unlocking a chamber you don't get to open when you're in that room. Norman speaks softly, making it clear he's going to keep doing everything he can to "fix" this, and then the camera flips to reveal his son Harry has been here the whole time. He's suspended in this chamber full of green liquid, and covered in black webbing that looks a whole lot like Venom has fused with Peter's childhood friend.
In a way, this ending makes a lot of sense. Venom is basically the only classic Spidey villain who doesn't get some kind of name drop or background tease in the game, and making it something Peter hasn't endured yet closes the only leftover thread in his backstory. We get so much talk about how important Harry is to Peter and MJ, and how everyone wished he was around, but no resolution at all by the end of the main story.
Personally, I think it would be super cool if these two scenes were the basis for a sequel to this game. And I know there are developers at Insomniac swearing at me for talking about a sequel for a game that is just now shipping, but it really would be great. Miles being taken under Peter's wing, learning from him and working together on cool new gadgets, while Harry breaks out of his father's prison and Venom does what it does best and makes trouble. Sounds like one hell of a follow-up to me. Who knows, maybe we'll get more about this in the upcoming DLC.
Sign up for Black Friday email alerts!
Get the hottest deals available in your inbox plus news, reviews, opinion, analysis and more from the Android Central team.