3G and 4G coverage in the UK: Everything you need to know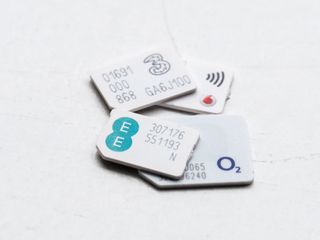 A smartphone is only as good as the data network it's connected to. And even if you live in a major city, speedy 3G and 4G service isn't always a given. So-called "not-spots" can hobble your phone, particularly if service is poor where you live or work.
Fortunately there are a bunch of options at your disposal for checking coverage before you sign a contract with any of Britain's major (or minor) operators. Read on for our breakdown of understanding 3G and 4G coverage in the UK.
The first step: Official coverage maps
Your first port of call should be your chosen network's official coverage map.
EE
EE's coverage checker (opens in new tab) lets you input a postcode and conjure up a summary what the EE network is like in your area. That includes a breakdown of indoor and outdoor coverage, and details of whether double-speed 4G or 4G+ are available.
For a more detailed breakdown, hit the "Map" button to see how far each of the various 4G technologies have spread.
O2
O2's coverage map (opens in new tab) breaks down 2G, 3G and 4G coverage, with a split between indoor and outdoor signal strength. There's also the option to see the placement of individual masts and O2 Wi-Fi hotspots.
Vodafone
Vodafone's coverage checker (opens in new tab) Shows 2G, 3G and 4G footprints, in addition to "planned coverage" expected to roll out in the future. The map also shows optional Vodafone Wi-Fi hotspots.
Three
Three's network map (opens in new tab) gives a detailed breakdown of 3G and 4G coverage over a map of the UK, with an optional postcode search feature.
Independent data
Rootmetrics' UK coverage map is based on data from real users, as opposed to theoretical coverage based on network infrastructure. For that reason, it's a good, impartial indicator of what kind of coverage you'll actually see on each of the country's major operators.
Selecting "Best technology found" under "Layer" is a good way to get an overview of which networks have rolled out 4G in various parts of the UK.
What about smaller operators?
Generally speaking, the smaller mobile operators (MNVOs — mobile network virtual operators) piggyback on the network of one of the big four. As such, the host network's coverage map usually applies to these brands.
Here's a quick breakdown of some of the major MVNOs and which networks they actually run on.
| Brand | Network |
| --- | --- |
| Asda Mobile | EE |
| BT Mobile | EE |
| GiffGaff | O2 |
| iD | Three |
| Lebara | Vodafone |
| TalkTalk | Vodafone |
| Tesco Mobile | O2 |
| Virgin Media | EE |
What else can affect 3G and 4G reception?
There are a whole bunch of factors that can affect mobile reception — from thick stone walls in buildings, to geological formations like hills and mountains, and even network maintenance and outages. Interference from from heavy electrical equipment, or being near military installations or pirate radio stations can also affect your signal.
If you're seeing an unexpected signal drop, it's worth double-checking the coverage maps and service status pages for the major operators.
Patching coverage gaps with a femtocell
A femtocell is a box that connects to your home router and uses your internet connection to boost mobile reception, sending data back to your network provider over the internet. It's a good way to ensure you're able to make calls and texts even if you're in a mobile network "not-spot."
Another option to consider is Wi-Fi calling, offered by Vodafone, EE, O2 and Three on some handsets. This cuts out the middleman, sending calls and texts directly over Wi-Fi on your phone. (If your combination of phone and network is supported, Wi-Fi calling will probably be enabled automatically. However it's worth double-checking with your operator to confirm device support.)
Try before you buy
The one way to be absolutely sure of network coverage before you sign a contract is to try out your chosen operator's service on a Pay As You Go SIM. This can quickly become expensive if you start trying multiple providers, but it's a decent way to ensure you won't have any nasty surprises.
It's also worth reading the fine print in whichever contract you eventually sign, as . Research from the Consumer Communications Panel points to wildly different cancellation policies among the major operators and retailers in recent years. If in doubt, always check in-store, and always ask to see the cancellation policy in writing if you're concerned about lackluster (or non-existent) coverage where you live or work.
UK readers, are you happy with your mobile operator's 3G and 4G coverage? Let us know down in the comments!
Alex was with Android Central for over a decade, producing written and video content for the site, and served as global Executive Editor from 2016 to 2022.
I'm with EE and tried all the other UK networks. EE may not be the cheapest UK network but they're by far the best. Tried Vodafone last and needless to say....never again Posted via the Android Central App

I'm on EE PAYG on my Nexus 5x and a O2 contract on my Lumia 930. I have to say that the coverage from both is very good for both HSPA and LTE. Posted via the Android Central App

EE is the fastest which can't be disputed, 3 are a better for overall network though with all the extras you get.

Happy with coverage. Customer service not so much.... Posted via the Android Central App

This is why I'm shocked we haven't seen providers combining deals.. like a Tmo/AT&T or Sprint/Vz that lets your device work on both networks, but they split the monthly bill. You still only pay one monthly bill, but they internally pay out to eachother. Project FI does this with Tmo/Sprint service and together those certainly compliment eachother.

I am with Tesco so use O2. H+ at my house, where I don't need it, is pretty fast. Take a walk into town and I quickly drops down to 2G speeds. It's kind of ridiculous. I don't know if it's blocked signals (not many tall buildings or even hills near by), or if it's too many people using the same towers, but either way it's not good enough. Posted via the Android Central App

True. Even though the coverage checker says there is good 4G outside and 3G everywhere I often struggle to get 2G in town. Makes it difficult to utilise the O2 Priority offers for free coffee or cheap lunch.

I'm on Tesco and live in London, thinking about switching. Vodafone are way too expensive, EE is £2.50 more a month for what I want which seems ok if the signal will be better... Anyone recommend EE? I find with Tesco there are random spots where signal drops, even if my phone says 4G. Angel and Clapham are both a bit rubbish. Posted via the Android Central App

I agree with the others. EE are by far the fastest but for value and decent speeds Three rule! Vodafone and O2 are cack where I live. Posted via the Android Central App

On GiffGaff here and whilst I never actually get dropped calls or bad call signal, data speeds are fairly horrendous. After buying my 6P I assumed I'd be using 4G in no time (I upgraded from a Nexus4), I'm almost certain my phone has never even seen a 4G signal.

Wish Virgin's phone network was in the same tier as their broadband. No 4G is a poor show. Posted via the Android Central App

BT bought EE, so not sure why they're listed as a smaller MVNO. Posted via the Android Central App

That's because BT Mobile customers are using the EE network for the moment, eventually EE will rebrand as BT Mobile unless they will continue as separate entities. Posted via the Android Central App

Excellent timing, for me anyway. I'll be visiting London this summer from the US and just started looking into UK carrier options for about a week of prepaid service. EE/BT seemed to be the best reviewed option (with the bonus of Wifi in Underground stations), but I'm curious to hear what locals have to say. I have a Verizon LG G4, so I'm pretty sure I'll just have 3G data, but that'll probably be good enough. I don't expect to need data much when we're out and about. More important to have text and voice in case my wife and I split up our we need to make the occasional call to a restaurant or other destination.

I'd go with Three pay as you go Posted via the Android Central App

Strange, I have an LG G4 for work on 02 with a 4g sim, why would 3g be your best shot ? Posted via the Android Central App

If you bought it in the UK, I'd imagine you have the H815 (i.e., international version of the G4). The VS986 version (Verizon) supports different bands, including fewer LTE bands. I've seen conflicting information about whether the VS986 supports Band 7 (used by Vodafone and EE), but it doesn't appear to support Band 3 (used by 3 and EE) or Band 20 (used by 3, O2 and Vodafone). I figure that unless I hear a compelling reason to change my mind, I'll likely go with an EE SIM and if I happen to get 4G service, great. If not, 3G should be fine when I'm out and about.

Ask any ingress player which network to go with. We go all over the country. Most I know are on 3 or EE. Personally I chose 3, better value for money and speeds are fast in areas I visit.
It would be interesting to see stats on network latency as well as coverage. Posted via the Android Central App

I moved to EE when I got my s7 edge having previously been with Three for 4 years. Obviously coverage depends where you spend your time but I've gone from pretty never seeing 4g on Three to pretty much always being in 4g with EE! I'm impressed and pleased I made the switch. Three have become so much more expensive and lost their value for money usp Posted via the Android Central App

On sim only plan with EE, 10gb a month, I work all over the country and use tunein radio, 99.9% of the time 4g connection is flawless, haven't found a dead area yet. Stream Netflix when in hotel rooms if WiFi is rubbish, no problems at all. Nexus 6P user..... Posted via the Android Central App
Android Central Newsletter
Get the best of Android Central in in your inbox, every day!
Thank you for signing up to Android Central. You will receive a verification email shortly.
There was a problem. Please refresh the page and try again.