Try on jeans, get a 'free' phone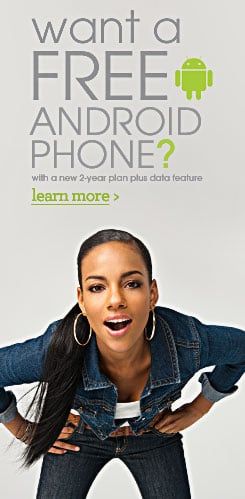 We're going to suspend disbelief here for a moment and imagine that some of you have girlfriends, and that these girlfriends on occasion shop at a store called Wet Seal, which apparently sells "cute teen clothing." (Note to self: Don't ever let your daughters grow up.)
Anyhoo, they might soon be asking about a promotion in which they can get a free Android smartphone for trying on a pair of jeans (and they'll likely be wondering where you're hiding the camera).
Here's the deal: Yeah, they (or you) can get a "free" phone in exchange for trying on jeans. It's free insofar as you still have to sign up for a two-year voice/data plan. So if that's a good deal for you, then go for it. But remember, free ain't quite "free."
Sources: Wet Seal, press release
So much for my "Local Wet Seal Store": "0 Wet Seal store(s) found within 100 miles of..." Can't say I'm surprized; I've never heard of the establishment.

"We're going to suspend disbelief here for a moment and imagine that some of you have girlfriends"
Ha ha ha made me laugh out loud no joke... I'm married and she's a non geek when I run into people they're like... how'd ya'll meet? LOL

Hahahaha I thought that was hilarious. True, but still hilarious.

Screw the phone. Can I get that chick instead? I'll even try on a bikini if I have to.

I'm a guy. Can I try on jeans, find they don't fit, and still get my "free" phone?

Sure - if you're here in Los Angeles... I saw a guy yesterday with breasts - no joke. I'm sure they wouldn't even look at you funny for it.

Do the jeans have to fit? Define "try".

Jeans don't fit? There's an App for that!

Which phones/carriers? Wet seal here we come.

Umm...yeah, my daughter can never see this. (clears history)

That is the strangest promotion I've ever heard of. And I thoroughly enjoy Phil's observations on it. As others have said, I've never even heard of Wet Seal.

I want to hit that women in the picture. It creeps me out.

you mean "hit it with" that woman in the picture right? Otherwise your desire to randomly hit Alicia Keys is kind of creepier.

Thats definitely not Alicia Keys

Um, back to reality where we have no girlfriends because strange women lying in ponds distributing swords is no basis for a system of government, what if I were to try on the jeans myself? Will they not let me because I am a man? If so, it's discrimination and I will win enough money to buy an even better phone and land a gold digging hot girlfriend.

I'm guessing I'm the only female on Android Central.....

Well hi there, I am Eric, I am a Gemini who enjoys long walks on the beach....

LOL Hey... what's you # babe lulz

no, you're not... (but I don't think those jeans would work for me, even if one of those stores was near me. And I already have a contract. Out of luck)

American Eagle did a thing a few months back if you bought a American Eagle Tee or Jeans they'd give you a free smart phone of your picking.

Don't worry. their free phone is the motorola backflip. the android phone from hell. :) just kidding. that aside, it seems like a pretty stupid promotion when you can get almost any phone for free nowadays with a 2 year contract. Just go to the right store and you'll get the deal you want.

I'm not sure what i'm supposed to thing with that facial expression that girl is making in the ad. I don't "get it", maybe to get a guy's attention so they tell their girlfriends/wives?

What about "suspending your belief" to the fact that some of your readers may also even be young girls/women who actually shop at wet seal? Here's a market-shock for you: I'm one of them. I read AC everyday, but I'm also a college girl who likes to shop. Go figure. I'm almost offended by your thought that the only people who read or care about android news are geeky-guys who may have girlfriends. A lot more demographics are interested in android then that. And at least wet seal has figured that out. Maybe you should take a lesson.

Totally agree with you. I was offended by that also.

Can people not take jokes?... I'm a girl too but I have yet to see what I am supposed to get offended about...

I'm a girl who shops at Wet Seal & i thought the intro was hilarious!!!! I swear people nowadays are offended by everything...SMH

"And with over twenty smartphones to chose from, Wet Seal customers are also sure to find the perfect Android-powered device to fit their lifestyle."

awesome, they have one here in Burbank,CA!! we have an upgrade available wonder if it works for upgrades or if it has to be a new line?... EDIT:
I also like how they only have a iOS app but are giving away Android phones :P

Trolling mall at Wetseal soon for this.

Trolling mall at Wetseal soon for this.

>"It's free insofar as you still have to sign up for a two-year voice/data plan." Exactly. Another gross misuse of the word "Free". There is nothing Free about the phone, it is just no down payment.

since when do you have to be a girl!?! I don't give a **** I'll go in and try on jeans right now lol

since when do you have to be a girl!?! I don't give a **** I'll go in and try on jeans right now lol

Gap does this every few months or so as well.

So they're basically having a "deal" that anyone else can get and not try on jeans? Doesn't every major carrier offer a free phone these days? :p
Android Central Newsletter
Get the best of Android Central in in your inbox, every day!
Thank you for signing up to Android Central. You will receive a verification email shortly.
There was a problem. Please refresh the page and try again.