Tricks and treats: Halloween live wallpaper roundup!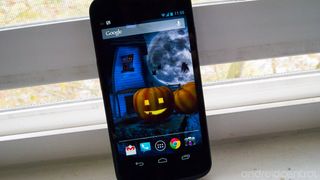 You may not always run a live wallpaper on your Android device, but they can definitely be fun for a couple weeks at a time around different holidays. Luckily, app developers in the Play Store are offering hundreds of live wallpapers for every occasion, including Halloween, for your enjoyment. The unfortunate part is that not all of these wallpapers will perform as well as you'd hope.
So we've spent the time and effort to find the best looking and best performing Halloween live wallpapers in the Play Store today. Take a look after the break and see our top five picks that are real treats.
Halloween Gravity Live Wallpaper
We've seen a few wallpapers like this before. This time it's just more... pumpkin-ey. The basic idea is that you have a haunted background and a variety of jack-o-lanterns bouncing around behind your homescreens. The pumpkins float, but respond to movements of your phone as if they're obeying the laws of gravity. This live wallpaper is free, and the paid version unlocks different backgrounds, themes and objects for just $0.99.
Download: Halloween Gravity Live Wallpaper (opens in new tab) (Free) / Paid (opens in new tab) ($0.99)
Halloween Screamscape
A little more on the spooky side, this wallpaper does a simple continuous horizontal scroll in the background, which is actually a really nice contrast to some of the more "busy" live wallpapers. The free version is very basic and simply scrolls, while the paid version lets you configure it to have some more movement, with zombies, ghosts, witches and bats moving around at random through the landscape.
Download: Halloween Screamscape (opens in new tab) (Free) / Paid (opens in new tab) ($0.99)
aniPet Halloween Live Wallpaper
It's raining ghosts! And skeletons, bats and pumpkins... This wallpaper offers a simple gloomy background and raining little characters that will remind you what time of year it is. It's great as a free wallpaper, but paying for the full version (just $0.99) unlocks the ability to change the quantity, size and speed of the objects.
Download: aniPet Halloween Live Wallpaper (opens in new tab) (Free) / Paid (opens in new tab) ($1.99)
Halloween Pumpkins Live Wallpaper
This more cartoonish wallpaper is very visually appealing and lightly animated. A Halloween landscape is detailed with a haunted house, bats, black cats and pumpkins on the vine. If you tap on the screen, different actions occur. Hitting the pumpkins will squash them into a pulp, and if you watch long enough you'll see them grow back. Tap around and you'll find a lot of subtle things that happen with your interactions.
Download: Halloween Pumpkins Live Wallpaper (opens in new tab) (Free)
Halloween Live Wallpaper
After testing dozens of Halloween live wallpapers, we came away most impressed with this one. It just scrolls the smoothest of the bunch, and is really nice in the settings department. You can change the color of the light inside the jack-o-lanterns, change what happens when you tap parts of the wallpaper, and even change the bat population that flies around. Those of you with arachnophobia can even turn off the appearance of spiders.
Download: Halloween Live Wallpaper (opens in new tab) ($0.99)
Get the Android Central Newsletter
Instant access to breaking news, the hottest reviews, great deals and helpful tips.
Andrew was an Executive Editor, U.S. at Android Central between 2012 and 2020.
Really - a review of halloween live wallpapers and didn't include Haunted House HD availanle in the Google Play store? https://www.androidcentral.com/e?link=https2F2F... The other suggested wallpapers don't hold a candle to this one.

I agree 100% bob. and HH HD isn't a drain on the battery.

That makes three of us. DualBoot Games makes the best live wallpapers of any developer. I can't fathom how HH HD doesn't get a mention

X4!!! How did you guys miss Haunted House HD?!? Especially since it was one of the 25 cent apps @ the play store a week or two ago

Make that 5!
I love all of their live wallpapers. Best out there!

Probably because the store is limiting devices for compatibility. Can't even install on my GS2.

You might check again. I'm running it on my AT&T Galaxy S2 right now.

Running great on my T-Mo GSII.

Running HH HD on my Xoom since the sale, looks great and runs nice too.

Haunted house hd beats the lot!!

This feels very delighted to such creative wallpapers on my android phone. It looks great ,i will have it for my mobile.

I have used Halloween every Oct. for several years now and love it. I consider it my favorite. I am baffled HH-HD is not on the list! It is good but I find it too dark inside the house on a 4.3" screen. Should be awsome on a tablet though.

I never use live wallpapers except for Halloween. And yes I am so glad I picked up hh hd during the last sake. So many options plus you can either be outside or inside the house.

Perhaps a not very well known lwp but you should check out the video preview:
https://www.androidcentral.com/e?link=https2F2F...

Hello guys, Are you planning to make TOP 10 Halloween LIve Wallpaper for year 2013? I have one tip for it:
Happy Halloween: its like small interactive mini game. Here it is: https://www.androidcentral.com/e?link=https2F2F...

Shame no one reviewed our Halloween Town Live Wallpaper - maybe next year https://www.androidcentral.com/e?link=https2F2F...