Top five things you need to know about Android Wear 2.0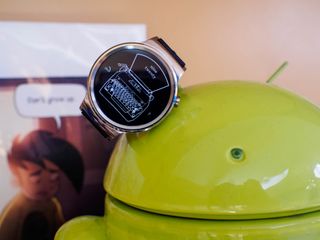 It doesn't matter if you've been using Google's watches from day one or you're just now thinking about adding a computer to your wrist, Android Wear 2.0 is a big deal. It's a massive shift in how Google views wearable computers, and this software update is paired with several timely hardware releases over the next couple of months. While some remain skeptical this OS reboot is going to push Google into dominance of the smartwatch world, there's still plenty to be excited about.
Here are five big things you need to know about this new Android Wear OS, to prepare you for its arrival on wrists everywhere.
Your existing watch is probably getting updated
If you own an existing Android Wear watch, there's a good chance your manufacturer has announced plans to update your watch. The current list of watches ready to be updated is significant, and in several cases are already preparing to release to users.
Not every watch will be updated, because some of the very first generation watches are running slower processors that simply couldn't handle the new software, but the number of watches being prepped for update right now is significant.
These are the watches that will receive Android Wear 2.0
Android Pay is here, but only for one watch
One of the bigger features people are eager to see is Android Pay on their Android Wear watch. The ability to pay for things by pressing your wrist to the terminal is exciting, especially if Android Pay is well supported in your area, but it's not a feature that can just be activated with a switch flip.
You watch has to have an NFC radio in it to use Android Pay, and currently the only watch with that feature built in and ready to be used for payments is the new LG Watch Sport. There will be other watches in the future to support this tech, but if you were hoping your existing watch would have the feature added this isn't great news.
These are the watches that support Android Pay
Apps live on the watch now
Most Android Wear users are familiar with sidecar apps, which let you access basic features from apps on your phone by using a smaller version on your watch. This worked well in the past, but Google wanted apps to be able to act entirely independently of the phone so a change was made. In Android Wear 2.0, this means watches are installed firstly on the watch through a version of the Google Play Store that is also on the watch.
On top of making it possible for Android Wear owners with iPhones to have the exact same experience as everyone else, Google has created a compelling argument for a watch that can completely replace your phone for extended periods of time. Cellular watches aren't as popular now, but with the ability to use them independently we may see that trend change quickly.
Performance is just about the same
A big question about updating to Android Wear 2.0 is performance. On the phone, Google's OS updates usually come with some king of performance promise. Sometimes that means apps load faster, sometimes that means the OS itself uses less battery, but there's usually some kind of improvement.
In out tests on the Huawei Watch running the Android Wear 2.0 Developer Preview, there were no obvious differences in performance. The same basic use case revealed roughly the same battery consumption and app load times as the previous version of Android Wear. You can expect a similar experience on your watch when it is updated.
Google Assistant needs some polish
The big new feature everyone does get with Android Wear 2.0, no matter what watch you have, is Google Assistant. For many Android Wear owners, this will be their first encounter with Google Assistant. That should be a great experience, in general, but it's going to take some getting used to.
In many situations, Google Assistant on Android Wear isn't instant yet. The act of "listening" for your commands takes a second to fire up, and because most watches are using phones for data the process of sending information to Google for an answer can take an additional second or two. It's still a great experience, and will absolutely get better over time, but it needs some optimization before the service is truly running smoothly on these watches.
Everything you need to know about Google Assistant on Android Wear 2.0
Android Central Newsletter
Get instant access to breaking news, the hottest reviews, great deals and helpful tips
Some questions about Android Wear updates, even though Android Wear is essentially the same regardless of what device it is one I am assuming the watch manufacturer itself controls the updates? If so is that list that has been floating around of all the watches that are getting the 2.0 update a list of watches that are technically able to get the update or a list of watches that will get the update? I am new to this whole AW thing.

I'm fairly certain the list is made up of watches that WILL get the update.

"Not every watch will be updated, because some of the very first generation watches are running slower processors that simply couldn't handle the new software" WRONG! My gear live has the same internals as the moto 360 gen 2 and isn't getting updated. Explain that.

"Explain that." Okay..... Samsung.

Yeah except these are google's watches. They are not samsung's. The LG G watch is the same internals as well and is being denied the update. It has nothing to do with samsung or LG

Samsung has gone full Tizen on their smartwatches. Android Wear is now their competition, so they have very little interest in updating their previous, non-Tizen watches. Yes, it sucks, but it's the reality. Feel free to never buy another Samsung product again...

As I said to the other guy, this is not samsung's watch, it is googles.

No. While the OS running inside is Google's, the watch itself is Samsung's. Google can't simply force an update on another OEM's hardware. It can provide the updated software, but it's up to the OEM to actually roll it out to it's devices.

My Understanding is that to receive the update the watch has to have a physical button.

It has a physical button on the right side.

Ah yes. Totally missed that.
It's been a long time since I've used that watch.
Didn't it run the Galaxy Gear manager though? samsung proprietary OS, as in, it's not straight Android Wear

It is straight android wear. Nothing Samsung about the software.

My Mistake. My Brain read "Samsung Galaxy Gear" and not "Gear live"
at any rate I recall a few articles stating Samsung was abandoning AW and going full force into Tizen.

Google assistant on the watch can be a game changer but the long delay in processing information doesn't really utilize its potential. The first android wear watch to have BT 5.0 on board paired with a phone that has BT 5.0 will be able to deliver instant search results to the wrist.....perhaps Google Pixel 2 with Pixel watch in Oct/Nov? Here's hoping!

"Bluetooth 5, projected for release in late 2016 to early 2017, will quadruple range and double speed of low energy connections while increasing the capacity of connectionless data broadcasts by 800 percent. It achieves all this alongside its industry-leading power performance. With the major boost in broadcast messaging capacity, the data being transferred will be richer, more intelligent. This will redefine the way Bluetooth devices transmit information, moving away from the app-paired-to-device model to a connectionless IoT where there is less need to download an app or connect the app to a device."

Performance should be much better (at least if it was slow in the past) since (1) The wear component of phone apps is now optional? and (2) at least the sport has more RAM

I hope AW 2.0 smooths out the rough edges of the Snapdragon 2100. It's not been a good performer on my Fossil Q Wander besides battery life; lots of stuttering and dropped frames.

They keep wanting to make these a "thing"...it's not a thing, it's never going to be a thing. Apple learned their lesson...sales dropped 71% year over year! When will Google realize that this is a stupid idea?
Android Central Newsletter
Get instant access to breaking news, the hottest reviews, great deals and helpful tips
Thank you for signing up to Android Central. You will receive a verification email shortly.
There was a problem. Please refresh the page and try again.