Top 8 things to love about the BlackBerry KEYone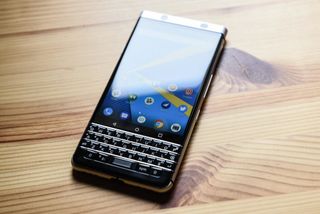 (Image credit: Android Central)
Listen, I know you're tired of hearing this over and over again, but there's a reason so many people are excited about BlackBerry Mobile's new phone, the KEYone. Yes, the keyboard is obviously the main selling feature, but it's just part of what makes the phone so interesting. And after years of mediocre BlackBerry hardware, I'm truly excited about the future of the brand, even if it is under the supervision of another company entirely.
Here's why.
The software is as clean as it gets
OnePlus and BlackBerry are the two companies developing Android software that mainly gets out of its own way and just lets Google's vision for the operating system shine through. Better yet, the changes they do decide to make are thoughtful and congruent with their phones' particular advantages.
The KEYone's excellent Nougat software wouldn't have been possible without the excellent work BlackBerry did with the Priv and the DTEK series, and BlackBerry proper — the Canadian company — is still in charge of building and maintaining the software for the KEYone. That's good news for a bunch of reasons, especially when you think about the other parts of the software experience that the company contributes.
The included apps are actually great
BlackBerry Hub. Calendar. Contacts. Tasks. Boring apps done well. The truth is that BlackBerry needed to build out its own suite of productivity apps because it wanted compatibility and continuity with many of its existing backend services, and while these are very much Android apps, they'll be familiar to anyone who's used a BlackBerry device in the past.
I've said it many times before: BlackBerry is one of the few companies that puts care into the Android software it builds, and even though you may no longer use BBM, you'll find yourself happy to spend some time in the company's other apps.
The launcher is thoughtful
Icon packs and swipe-up widgets may be taken directly from one of our favorite third-party launchers, but I have to give BlackBerry credit where it's due: it's appealing to its core enthusiast user base over here. Not only that, but the launcher is extremely smooth, and it's actually available through the Play Store, making it, like Hub, Calendar, Contacts, Tasks and others, upgradeable over time. And BlackBerry has improved the launcher since its inception.
The BlackBerry Launcher also supports one of the most BlackBerry things of all: the classic red star symbol on an icon to indicate when there's a waiting notification. It's a subtle change and one that Google is implementing more cohesively in Android O, but BlackBerry's version is robust and works really well.
The camera is better than I expected
I didn't really think the KEYone would, for its price, have a flagship-level camera, but that's exactly what you get. While it lacks the HDR+ mode of the Google Pixel, it shares the same Sony sensor, and it performs extremely well in almost every lighting condition. For a phone with a keyboard, you may think the camera would play second fiddle in importance, but even if you get the KEYone for its most notable feature, the excellent camera is a wonderful bonus.
The keyboard really is amazing
I had an opportunity to type on a large number of older BlackBerry devices for a TV segment recently and found the KEYone's hardware keyboard to stand up pretty well. It's not quite as perfectly sized and shaped as the Bold 9900 or the Classic, but it's close, and easily the best on Android.
In fact, I thought I wouldn't even want to type on a hardware keyboard again, but after a few days of using the KEYone as my primary device, touch typing became, once again, second nature.
More than that, though, the keyboard is smart, and even if you're not really into the idea of typing on a physical keyboard, its other features, like flick typing for autocorrect and home screen shortcuts accessed by holding down one of the keys to launch an app or a shortcut. The whole system works really well, especially when you combine it with the flexible launcher. I didn't think I'd use the shortcuts on a daily basis, but here we are months later and I have all of my favorites memorized and ready to go.
Battery life is ridiculous
This has come up again and again with this phone: the KEYone lasts seemingly forever. It's not just get-you-through-the-day battery life either; it's "I don't have to think about my battery", which is pretty astounding on a device that you use all day, every day.
Part of that is owed to the Snapdragon 625 in the phone, but other areas, like the seemingly well-optimized software (the stability and performance of which has improved immensely through a series of software updates) and the relatively low-resolution LCD screen, contribute to the lengthy uptime. And yes, the Snapdragon 625 may not be the most powerful chip on the market, but it has proven, at least on the devices on which I've used it — the KEYone, the Moto Z Play, the Huawei Nova Plus — to be more than capable of running your life.
It's built like a tank
Yes, Zach from JerryRigEverything was able to dislodge the display from the casing pretty easily, but from what I've seen, that issue doesn't affect the overall durability of this metal-clad workhorse. I've dropped this thing many times, by accident and on purpose, and it's come through the abuse relatively unscathed. More than that, the soft-touch rubberized back has worn extremely well compared to many of the metal- or glass-backed phones I've used in recent memory, and I think BlackBerry Mobile made the right decision bucking the trend in this case. The phone may be a bit thick, but thanks to its relative narrowness, it's still quite usable in one hand.
It's just... different
Here's, I think, one of the more divisive parts of the KEYone: it's just different from anything else you'll use in the smartphone space right now. If you're tired of the same ol' rectangle, moving to a more unconventional design will get you noticed — for better or worse — when you're using this thing. And based on how difficult it is to find a KEYone right now, on either Amazon or Best Buy, where the company sells the phone unlocked for $549.99 USD, I'd say that the "distinctly different" tagline is working.
Sign up for Black Friday email alerts!
Get the hottest deals available in your inbox plus news, reviews, opinion, analysis and more from the Android Central team.
Daniel Bader was a former Android Central Editor-in-Chief and Executive Editor for iMore and Windows Central.